The Traffic and Engagement page provides a quick look into the traffic of any website(s), including the number of visits, engagement, rankings, and more.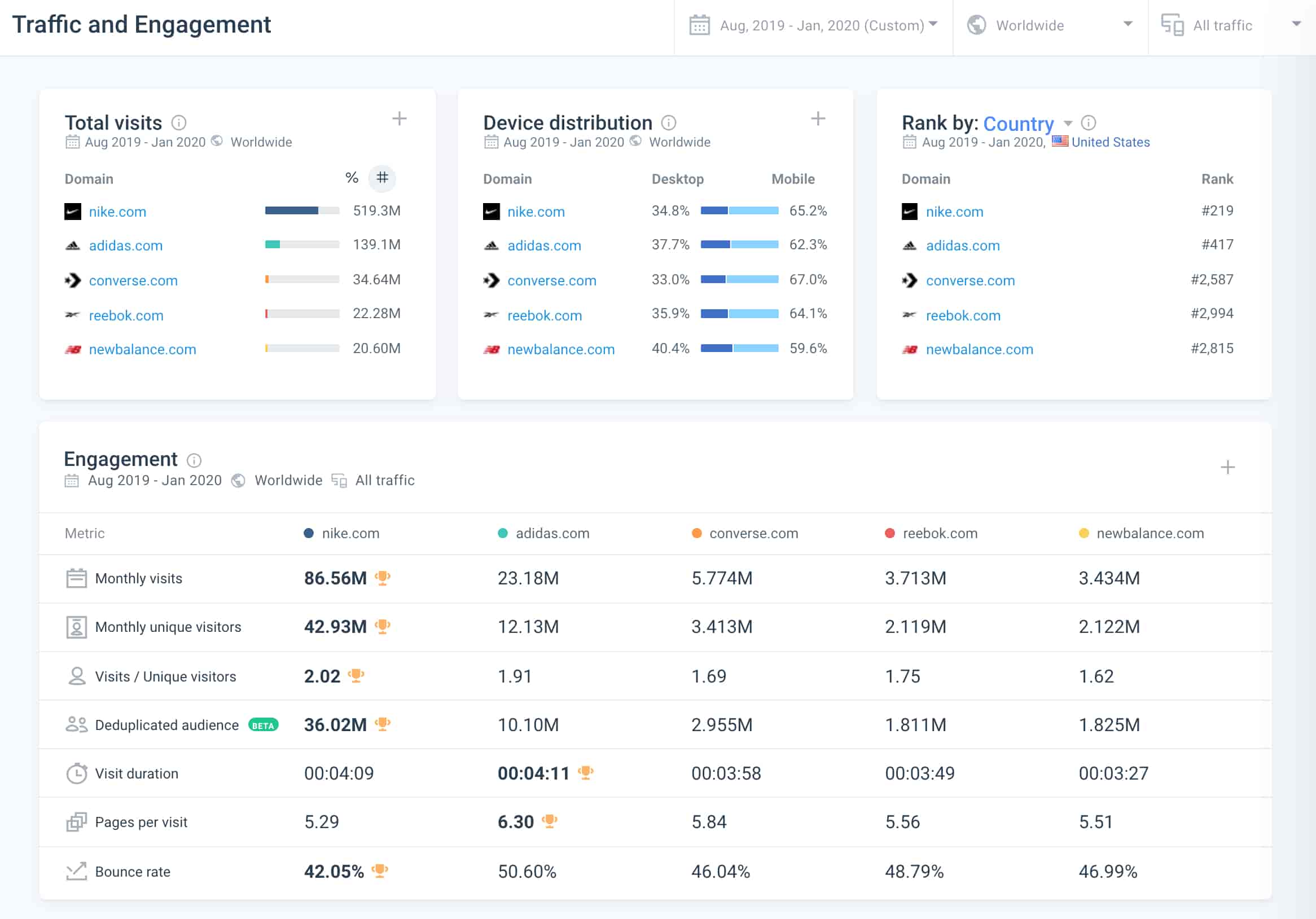 Use Traffic and Engagement insights to measure and compare digital traffic volume and distribution, and to get a clear understanding of the quality of that traffic. With Traffic and Engagement insights, you can:
Gain an overview of a company or brand's digital market share.

See how traffic volume is distributed among your competitors, and where you stand against the competitors.

Understand how well a brand is performing according to its visitor reach and engagement. They may have high traffic volumes, but what is the quality of that traffic?

Discover trends and seasonality by looking at the traffic trend lines for a variety of traffic measurements.

Gain insights into audience behavior over time and across granular time frames (daily, weekly, monthly)

Take a deeper dive to reveal a brand's acquisition strategies.
To compare traffic and engagement metrics for up to five sites, follow these steps:
Go to the Website Analysis module and enter a website.

Use the sidebar to navigate to the Traffic and Engagement page.
Note: Subdomains are included in the results. If you would like to remove subdomains, on the top right of the page, click the three dots and toggle off Include Subdomains.
Benchmark Against the Competition
Analyze Total Visits to benchmark the traffic volume for each brand and understand their market share and potential market reach.

Use % or # to view traffic in percentage share of all visits or absolute numbers.

Analyze the Similarweb Rankings to see how each brand stacks up against one another in terms of reach and engagement on a global, local, or category level

Uncover the Quality and Relevancy of Traffic to Visitors
Compare Monthly Visits to reveal a brand's monthly market potential.

Gain insight into how many people a brand reaches with Unique Visitors.

Understand the impact of a brand, campaign, or specific piece of content by comparing the number of Visits per Unique Visitors (the number of times each visitor visited the analyzed website).

Analyze Engagement metrics of Avg. Visit Duration, Pages/Visits, and Bounce Rate to benchmark the quality and relevancy of visitors of each brand.

Reveal Changes in Reach and Engagement Over Time
Evaluate whether a brand is growing by analyzing traffic (Monthly Visits and Monthly Unique Visitors) over time.

Analyze peaks and drops in traffic and engagement (Average Visit Duration, Pages/Visit, and Bounce Rate) over time to spot trends and seasonality.

Apply different levels of granularity (daily, weekly, monthly) to easily pinpoint trends and user behavior over time.
Try it now! Website Analysis > Enter a website and go to Traffic and Engagement.