With Similarweb Sales signals alerts, you'll receive daily updates of recognized buying signals whenever new opportunities or threats arise in your target audience.
What is the Value of Sales Signals?
Similarweb's Sales Signals empower you with the real-time sales insights needed to stay ahead and never miss a window of opportunity in your target accounts. Simply set up your sales signals alerts to identify new opportunities or potential threats within your target audience. Timely alerts deliver valuable insights and actionable data that allow you to make rapid decisions, nurture leads, and stay ahead of the competition.
With Sales Signal insights you can:
Focus your sales teams on the most promising opportunities. By prioritizing opportunities and engaging at the right time, you can optimize efforts and close more deals.
Increase your response rates and boost the number of meetings booked with qualified prospects
Get real-time insights on the activities and behaviors of your prospects and customers and never miss an opportunity to engage and convert leads into customers. Real time insights also let you adapt your strategy to stay on top of upsells and identify churn risks.
How to set up Sales Signals
Check out this guide on Setting Up Sales Signals and email alerts to never miss an opportunity.
Types of Sales Signals
Traffic Signals
Monitor websites whose traffic and engagement have changed. Segment them by:
Country
Traffic channel (Monthly visits, page views, paid search visits, and more)
% Increase or decline in traffic
Time frame (month, 3 months, 12 months)
Note: Data is updated monthly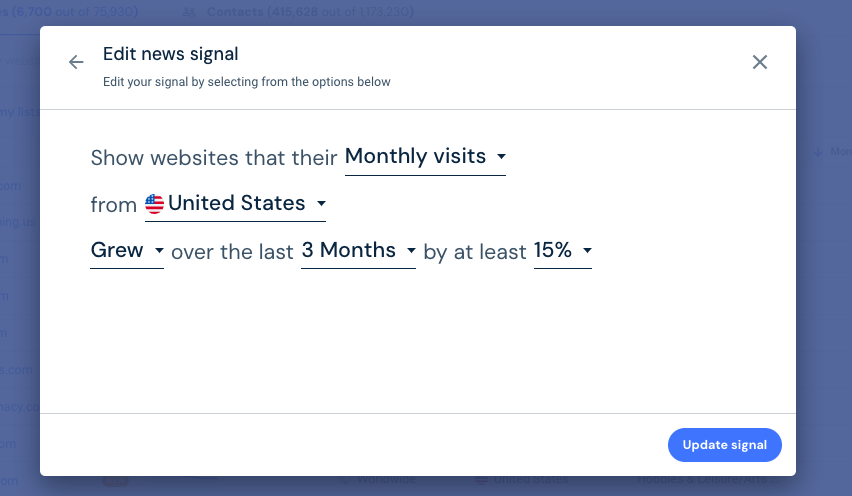 News Signals
Prioritize accounts based on positive or negative news items:
Leadership changes
New investments
Strategy changes
Company growth (news offices, new hires)
Challenges (like layoffs)
Note: Data is updated daily
Technographic Signals
This filter gives you the ability to monitor over 4,500+ website technologies and use it as a trigger for effective outreach:
Recently installed a competitor's software on their website
Recently installed a supported integration
Recently removed a competitor
Recently removed a supported integration
Note: Data is updated daily
Read More: Leverage Technographics to Win More Deals


Ad Network Signals
Create personalized outreach based on the ad network they work with, how your offering can work with that integration, or how you could replace their current ad networks:
Account recently started with
Account Stopped working with
Note: Data is updated monthly
Read More: Find Ad Networks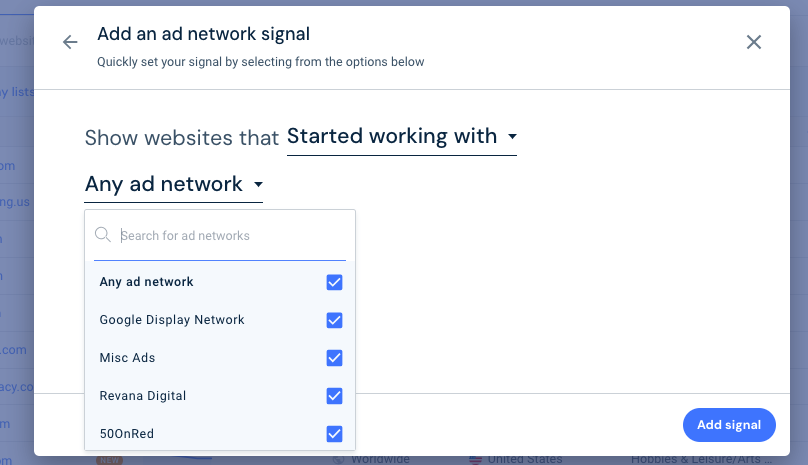 Related Articles
Setting up Sales Signals
FAQs