An essential part of developing your digital strategy is competitive benchmarking. Benchmarking provides visibility into how your overall strategy is performing compared to your competitors and helps you uncover blind spots and discover new growth opportunities.
What is benchmarking and why does it matter?
Benchmarking is measuring key metrics by comparing them to a point of reference - such as an industry average, an immediate competitor set, or best-in-class competitors. Who and what you benchmark against varies based on your business objectives.
Use Competitive Benchmarking to answer key business questions, such as:

How does my website's traffic, reach, and engagement metrics compare to my best-in-class competitors? How does my site rank in specific industry markets or geographic regions? How am I performing in search and across marketing channels compared to my immediate competitor set?
With Similarweb's competitive research tools and insights, you can quickly view your position, measure and monitor your performance, and discover growth opportunities.

Skip ahead to:

Mrs. Meyers is an earth-friendly cleaning solutions company

Objective: Benchmark the performance of their website and evaluate growth potential

Similar Story Use Case: Mrs. Meyer's
An excellent place to start benchmarking is to understand how your site ranks against the competition.
Similarweb calculates website rankings based on several criteria -- including monthly unique visits and page views -- that capture a site's position among engaged audiences. In other words, ranking is based on quality traffic, not just quantity.
Want to know how your website ranks globally, by country, and by category? Let's see.
In the Competitive Research module, enter your website domain on the Website Analysis page.

On the Website Performance page, click +Compare to add up to four competitor sites.

To refine your analysis, use the Time, Geography, and Traffic Type filters located in the upper right of the page.
The Website Performance page gives you a birds-eye-view of the performance of the analyzed site(s) across a variety of performance metrics.
The Ranking insights show how the analyzed site(s) rank globally, within the lead country, and across the industry.

Key Insights: Look at the website's overall rank and rank position among the competitive set. Hover your cursor over a domain to see a description of the company and its total visits from last month.
--
Similar Story Use Case:

How does Mrs. Meyer's website stack up against the competition? How does their online traffic and engagement metrics rank within one country compared to worldwide?

Looking across the ranking insights, Mrs. Meyer's finds that their website ranks well among the analyzed competitive set.
--
| | |
| --- | --- |
| | Tip: Sometimes, industry categories are broader than you need or do not include a company you want to include in your competitive set. To create your custom category, use the Web Industry Analysis toolkit within the Digital Research Solution. |
Give it a try! See how your site ranks and get started with benchmarking .
Now, let's look at the marketing channels that are driving traffic to your website, and see how that volume across the channels compares to your competitor's traffic distribution.
In the Competitive Researchmodule, enter your website domain on the Website Analysis page.

On the Website Performance page, click +Compare to add up to four competitor sites.

To refine your analysis, use the Time, Geography, and Traffic Type filters located in the upper right of the page.

Navigate to the Marketing Channels page.
The Channel overview breaks down the traffic volume by channel for each website. You can include industry averages in your analysis by selecting an industry from the Benchmark to an Industry filter.


Key Insights: Compare how the competitive group stacks up against each other by channel and hover your cursor over the bar graphs to view the percentage (or number) breakdown of online traffic for each site.
--
Similar Story Use Case:

What marketing channel is driving the most traffic across the competitive landscape? How does Mrs Meyer's traffic from each channel compare to the competition? Are there opportunities to adjust the strategy to garner more traffic from an underperforming channel?

Using the Benchmark to an Industry filter, we see that Mrs. Meyer's website receives 8% of traffic from the Paid Search channel and the industry average is 9.55%. There could be an opportunity for growth here!
--
| | |
| --- | --- |
| | Tip: For analyses with a timeframe under three months, look at Marketing Channel Trends. These automated insight cards highlight new channels, traffic jumps, and traffic drops for you. |
Finding traffic volume is only one part of the equation. Next up is analyzing traffic quality. You can measure the quality of traffic by looking at how engaged visitors are once they arrive at a website.
In the Competitive Research module, enter your website domain on the Website Analysis page.

Click +Compare to add up to four competitor sites.

To refine your analysis, use the Time, Geography , and Traffic Type filters.
The Engagement table provides insight into the engagement performance of the analyzed websites. Here you can see who leads the way in several valuable indicators of how well the sites are performing beyond sheer traffic volume.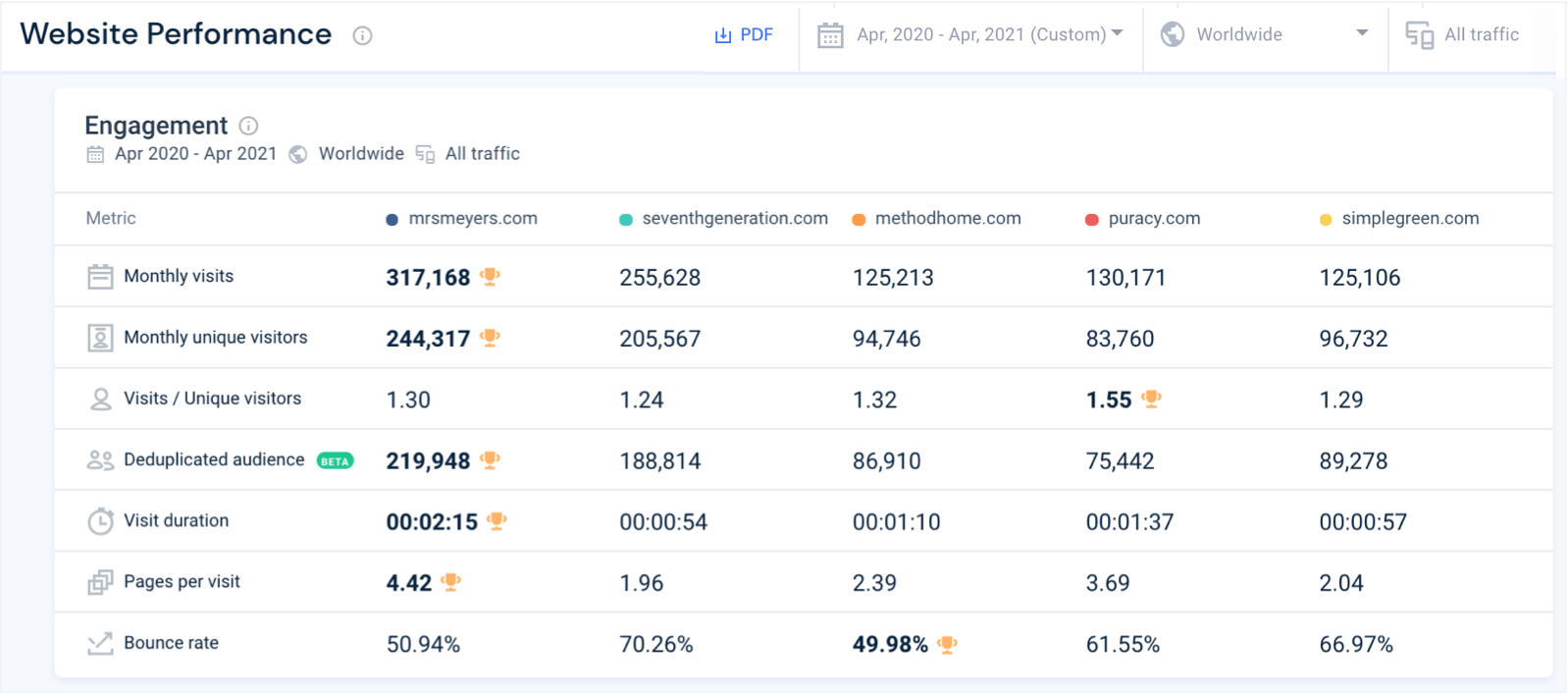 Key Insights: When analyzing this data, think through points of correlation. For instance, compare Visit Duration to Pages per Visit to Bounce Rate. Consider the drivers of engagement and how your company can improve based on the benchmark averages of the competition.
--
Similar Story Use Case:

Are your visitors returning to your site, spending time and visiting multiple pages, or bouncing after just one visit?

Mrs. Meyer's performs very well in the engagement categories with a high volume of monthly visits and unique visitors and visit duration, and pages per visit.

Notable is Seventh Generation -- with the second-highest monthly visits but a high bounce rate, low visit duration, and pages per visit -- has a middle-of-the-funnel opportunity.
--
Now that you know your benchmarks, do you want to increase engagement? For more on building a content marketing strategy that converts more customers, check out this article on the Similarweb blog.
Finally, let's take a look at benchmarking your search traffic.
Search traffic is the traffic that gets to your site through a search engine. Benchmarking both Organic and Paid search traffic can help you uncover unique opportunities that you may be missing out on.
What is the share of organic vs. paid search traffic across your competitive set? How are your keywords performing relative to competitors?
We'll do this in two steps: Benchmark Search Traffic Share and Discover Traffic Drivers.
Benchmark your search traffic share

In the Competitive Analysis module, navigate to the Search > Overview page. Click +Compare to add up to four competitor sites.

Key Insights: Look at the top-level insights to find Total Search Visitsand the breakdown of Organic vs. Paid traffic and Branded vs. Non-Branded.

Further down the page, gauge the quality of the traffic by looking at the Search Traffic and Engagement metrics, including Visits Duration, Pages per Visit, and Bounce Rate.

Who has the largest share of search traffic? Who has the best quality traffic? How does your website compare to the analyzed competitors?

Tip: Want more search traffic insights? Try analyzing just one website and view Search Traffic Insights to look at growth trends.

Discover traffic drivers

Once you have a sense of search traffic share, look at the drivers of that traffic: keywords.

Which keywords are sending traffic to your competitors? Which keywords should you invest in?

Scroll down the Overview pageto Find New Keywords.

Key Insights:

The Insights Cards provide information on competitive, branding, and high-traffic keywords. How many keywords you are missing compared to your competitors.

View Top Keywords and Highly Competitive Keywords to see keywords driving traffic and those which are highly competitive. Which keywords are the competitive set competing for?

Navigate to the Keyword Gap tool. Here you can explore information on All Keywords, Core Keywords, Keyword Winds, and keyword Recommendations.

Under Recommendations, select Opportunities to view a list of keywords sending traffic to competitors but not to your website.

Analyze the data that corresponds with the Search Terms. Ask yourself questions like Which keywords are driving the most traffic? Where are they leading to? What do they say about user interests?

For Mrs. Meyer's, we see that they have the potential to capture an additional 1.3M visits based on keyword opportunities. These keywords include terms like "dimethicone" (a type of silicone), which drives 37K+ visits to Puracy, and their blog article on whether that silicone is bad.

This keyword points to a trend: customers in this category are interested in chemicals and want to learn more about health risks. If you're Mrs. Meyer's, consider building out more content around this topic and associated keywords. That could chip away at that 1M visit opportunity.

Give it a try! Benchmark your keyword performance and discover new opportunities!
To learn more about benchmarking your performance against competitors, check out our blog The Why and How of Competitive Benchmarking .