Find the websites competing with your site for search traffic to help shape your keyword strategy with Organic and Paid Search Competitors.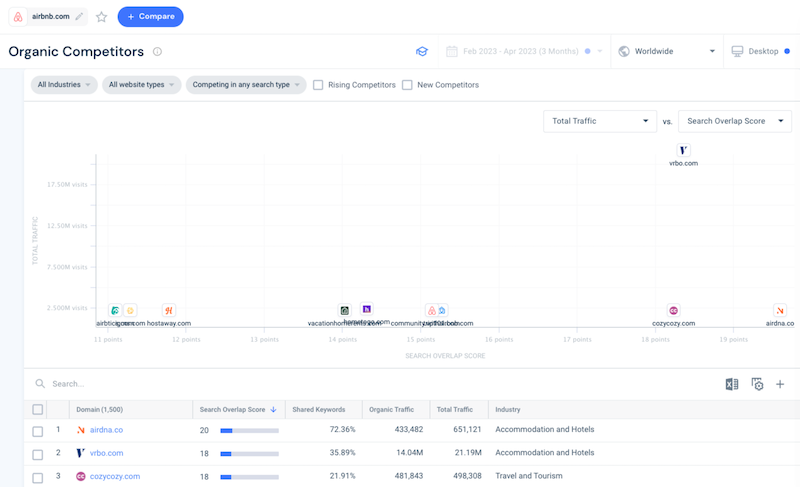 a In order to improve your ranking, you have to understand which websites are competing for the same keywords so you can shape a strategy to beat them. With the Organic and Paid Competitors tools, uncover who you are competing with for search traffic. The list of domains may be very different from your well-known business competitors, especially over a specific geography.
After you identify search competitors of interest, you can use the Search Overlap Score to determine the degree of overlap. Continue your analysis with the Keyword Gap tool to discover how to win traffic share from them.
To discover your top organic or paid search competitors and analyze the degree of overlap, follow these steps:
With the graph at the top of the page, you can visually benchmark a site against its search competitors.

Select 2 metrics that will represent the x- and y-axis. Available options are:
Get a visual snapshot of the top 10 competitors sites, based on the intersection between the two metrics you've selected for the x- and y-axis.
Tip: Don't forget about the additional filters at the top of the graph! Narrow down your analysis by Industry, Website Type, Search Type, Rising Competitors, or New Competitors.
Scroll down to the table to find additional insights on your search competitors.
Key metrics & insights:
Try it now!
Or go to Website Analysis > Enter a website and go to Organic Competitors or Paid Competitors.