Get a comprehensive look at traffic insights for your market, discover traffic and search trends, and find opportunities to grow your business.
In this guide, we'll show you how to use Similarweb to:
Discover the traffic leaders in your industry and the total reach potential

Find the industry traffic trends and the top searches driving traffic in your industry
Similarweb offers a list of dozens of pre-defined Industries to analyze. If the predefined industries are too broad or do not align with your business, you can create a custom industry to narrow in on a niche or define a competitor set.

Step 1: Get an overview of industry traffic
Within the Web Industry Analysis module, select a predefined industry from the list or click +Custom Industry to build a custom grouping and get a personalized view of your defined industry.
The Industry Overview gives you a bird's eye view of the digital performance of the industry based on an index of the Top 100 websites in the category.
Tip: Use the filters in the upper-right to analyze traffic over a specific time period, within a geographic region, or by traffic type (desktop or mobile).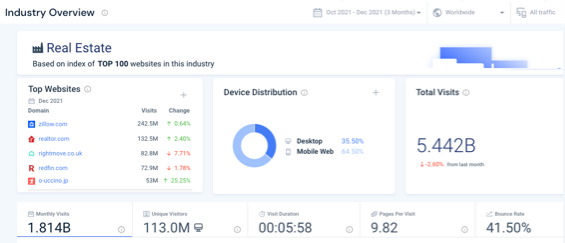 Metrics that Matter:

Top Websites: discover the industry leaders and their traffic share
Total Traffic the sum of visits to the industry for the selected time period shows the reach potential.
Engagement metrics: Analyze the engagement metrics, such as visitors, bounce rates, and page views, to get insights on the quality of traffic.
Use Device Distribution and Top Country data to analyze user behavior and demographics.

Step 2: Find the industry leaders
Navigate to the Industry Leaders page to view the Market Quadrant Analysis and the Industry Leader board.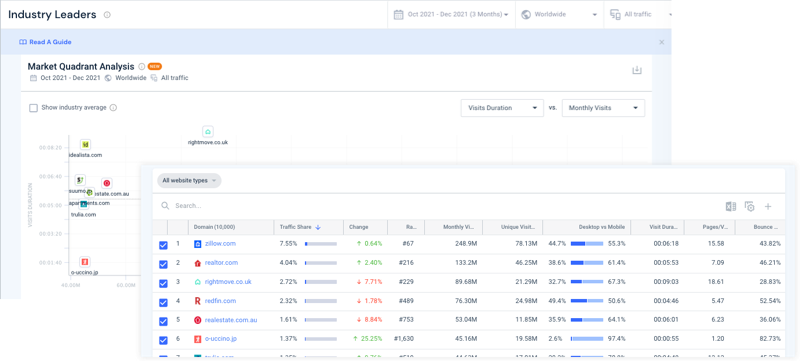 Step 3: Discover industry traffic trends
Next, go to Industry Trends to gain a visual representation of the traffic share distribution of the market and see traffic trends and insights.
The table offers insights on traffic share and traffic trends, website ranking, traffic sources, and traffic engagement.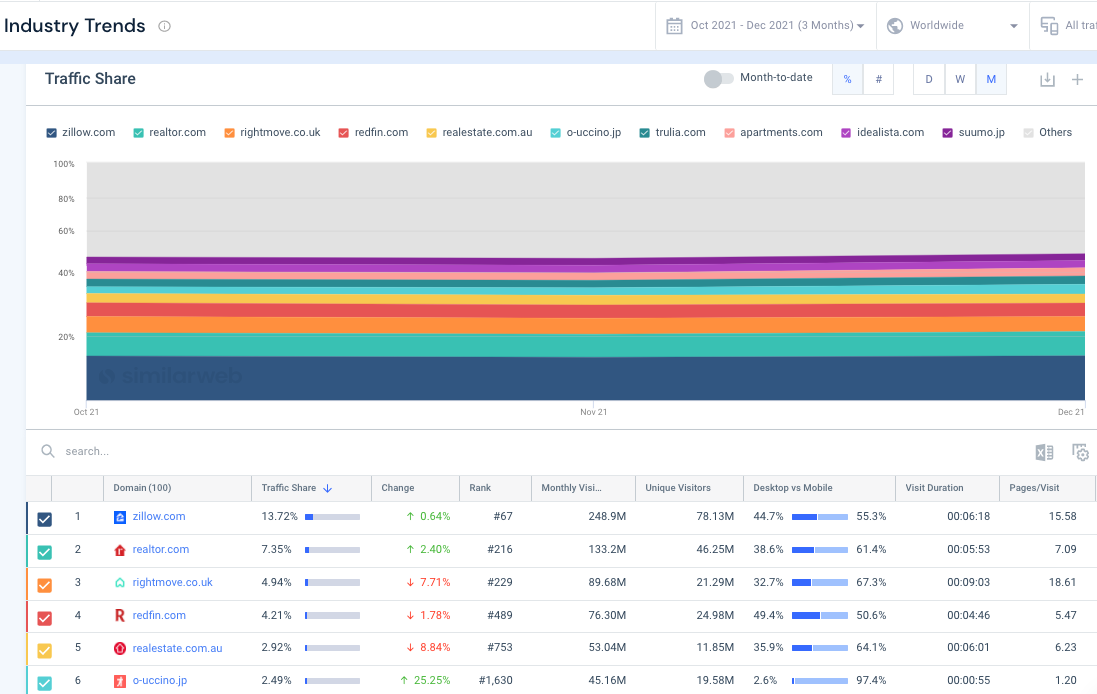 TIP: Hover your mouse over the graph and move along the timeline to see growth or lost share of the market. Note any seasonality trends in the industry.

Step 4: Find trending search terms driving traffic to the industry
Navigate to Search Trends to find the top and trending search keywords in the industry. Search keywords provide a look into audience interests and new and trending searches within the industry.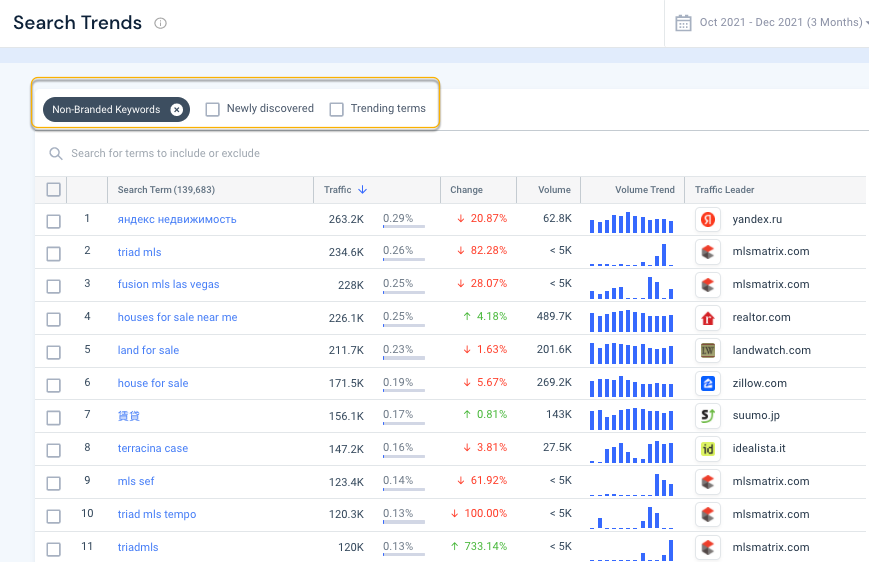 TIP: Use the filters to view Branded and Non-Branded Keywords, Newly Discovered and Trending Terms. Do miss an opportunity to catch a trend.