If you are an SEO or content marketing specialist, you already know how important organic search traffic is for your website. Consumers searching the web with a specific intent are much more likely to become customers when they land on a site that meets their needs.
But how do you find and target the terms they enter into the search bar? That's where Keyword Discovery comes in.
In this guide, we'll show you the fastest way to identify the best keywords for your business by answering:
The first step in keyword research is to look under the hood of your main competitors to discover the search terms driving the most traffic to their website. So, let's take a look.
Go to Competitive Analysis and enter a website.

The website performance page reveals insights for this website.

Click Compare and enter up to 4 competitor websites.

The page is reloaded with a side-by-side view of the traffic insights of your competitors.

From the left sidebar, select Keywords.
At a glance, you see the total number of search visits and the number of organic and paid keywords. The table provides a list of the top 100 keywords and various insights about each one.
To pinpoint organic keywords, filter the table by Organic and Non-branded keywords.
The Keyword page includes various other filters that will help you discover the best keywords to target.
Long-tail keywords are specific search terms that bring in traffic that is more likely to convert people to consumers. The simple reasoning behind this hypothesis -- individuals whose searches are highly focused are probably driven by specific intent.
We will stay on the Keyword page to find valuable long-tail keywords to target.
On the Keyword page, check the Questions queries box and click Apply Filters.

Questions tend to be longer than 3 keywords but still see high volumes of traffic.

From the left sidebar, select Keyword Phrases.

Using the filters, choose two or three words to see a list of the long-tail keywords that drive a portion of the website traffic.
Now that you've got a feel for the keywords driving traffic in your market, let's build a Keyword List with valuable keywords to target.
Using the Keyword Generator Tool you can generate thousands of valuable long-tail keywords, across any language, in a matter of seconds.
Enter a seed word(s) and the tool returns a list of keywords and provides insights on search volume, trends, organic vs paid, and the website winning for each keyword. Filter by phrase-match and question queries to drill down on the long-tailed keywords as well.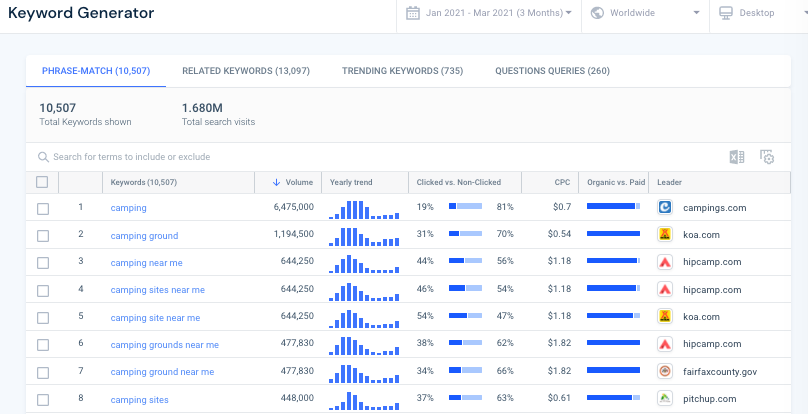 Tip: Don't just look at the first page of results! Keep going to find that golden long-tail keyword with reasonably high traffic and low competition.
Create a keyword list to monitor
Creating a keyword list will help you track and monitor the keywords you've found. Select the keywords in the list, and click Create New List.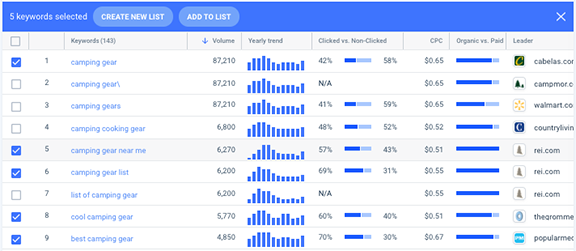 Once your keyword list(s) are set up, select Monitor Keywords in the left sidebar to navigate to your lists.
Once you've surfaced the best keywords to target for your business and you have created your keyword lists, the next step is to make sure your SEO efforts are paying off.
There are several ways to monitor the performance of your keywords and benchmark performance against your competitors.
Start by Creating an Arena that includes you and your competitors. With your arena set up, you can benchmark your site against the competition, identify growth opportunities, threats, wins and losses, and surface valuable insights to optimize search activities.

Once you've created the arena, select Monitor Keywords in the left sidebar to navigate to your Keyword List. Click See All Keywords to open the list.

Click Benchmark against your Arena and select the arena to see the traffic share amongst you and your competitors for this list of keywords. Take note of your share and see if your efforts move the needle!

Tip: Select Recommended Keywords to generate a list of custom recommendations of related keywords.

Lastly, you can monitor the performance of your keywords from the Analyze Keywords page.

From here, select your keyword list to see an overview of all the websites receiving traffic from this list of keywords, their traffic share, month-over-month change in organic traffic, and even the URL that is most visited. Here you can monitor your traffic share, month-over-month change, and gain further insights into how your competitors drive organic traffic.