Ranking Distribution is a powerful tool that lets you quickly understand how well your website and your competitor's website(s) are ranking on Google.
Discover the keywords for which your site ranks in the top 3 positions, top 10, top 20, and so on. See how positions change over time, find what keywords your competitors are winning, and drill down into specific keywords for deeper analysis.
A website's ranking on Google is the core outcome of search engine optimization (SEO) and it is a crucial metric for measuring and improving performance. Using the Similarweb Ranking Distribution tool, you can answer important questions like:
How does your site or your competitor's site rank for a particular keyword? How has this rank changed over the past month? Past year? What can you do to improve this position?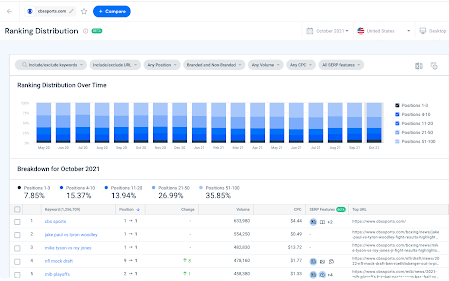 With Ranking Distribution metrics and insights, you can:
Discover the ranking of any site across all the keywords it's ranking for, and get an easy-to-read overview.

Follow ranking changes over time for any website's keywords.

Get the complete list of keywords that competitive websites are ranking for, then slice and dice that list with advanced filters to find keyword opportunities.

Assess how successful your SEO efforts are vs. your competitors.

Drill down to each month of the year and see how a site ranked in a specific period.

Explore the top URL subdomain per keyword and get to know a competitor's content strategy.

Filter to include/exclude specific keywords or URLs, branded keywords vs. non branded, SERP features, and much more.

Grow your keyword list and get a detailed view of a particular keyword's popularity.
To view the ranking distribution of a website:
Go to Competitive Analysis and enter a website to be analyzed.

Using the sidebar menu, navigate to Ranking Distribution.

Tip: Use the filters to refine the results for specific months and countries

Refine the results further by applying filters to the search results. The following filters are available:

* Keywords - include or exclude specific keywords from your analysis
* URLs - include or exclude specific URLs or URLs containing specific text
* Positions groups - set the groups to be included (top 3, top 10, etc.)
* Search volume - set min or max search volumes to be included in results
* CPC - set min or max CPC to be included in results
* SERP features - choose from a list of SERP features to narrow down results

Once you've identified keywords of interest, use Keyword Lists to analyze further and monitor keyword performance.

Select the desired keyword and click Create New List or Add to List.

Tip: Want to analyze a keyword now? Clicking on the keyword leads to the Keyword Overview, where you can get more insight into a particular keyword's popularity, competitiveness, and more.
Use Ranking Distribution to compare several of your competitors' rankings side by side and discover more keyword opportunities:
At the top of the Ranking Distribution page, click +Compare. Add up to 4 additional website domains.

Use the filters to evaluate insights and discover valuable keywords and competitor strategies.

Tip: Use the Position to view a specific position for each competitor. Click the Any Position filter and select which rank to view per competitor.
Note: Ranking Distribution comes from a new database containing public data sourced from Google results pages. For this reason, it may differ from the keyword data shown elsewhere in the platform.