With Segment Analysis you get the data you need to analyze a particular segment of a website and uncover the insights that are most relevant to you.
Get website traffic data on each individual segment of a website and analyze the performance of a particular line of business, category, topic, or brand on any website.
With this tool, you can:
Deconstruct a website and benchmark performance of a line of business or a specific product with total flexibility and accuracy.

Isolate traffic and engagement metrics across sub-sections of a website to evaluate your performance relative to your competitors.

Create custom segments with the highest level of granularity possible -- as granular as ~0.1% of site traffic.

Set up segment comparisons to easily benchmark and compare insights of competitors.

Add segments to a custom industry to customize your market analysis.
Segment Analysis is a powerful tool for marketing and sales managers, data analysis, and BI specialists to optimize their strategies, especially within the following industries: Retail, CPG, Travel, Telecom, Financial Services, Agencies, Investors.
Before getting started with Segment Analysis, we must first identify the segments of interest within the target website's URL folder structure.
Understanding a site's URL structure
With Segment Analysis, you can isolate the specific pages or groups of pages within a website in order to analyze a brand, category, product line, topic, or conversion goal.
In order to build a segment, you need to query specific terms, phrases, or full URLs, depending on the information you want to analyze.
The way this information is presented in a URL varies by website. By familiarizing yourself with the URL structure of the domain you are segmenting, you can efficiently and accurately build a segment to achieve your business objectives.
Let's break down this example URL into the different structural elements: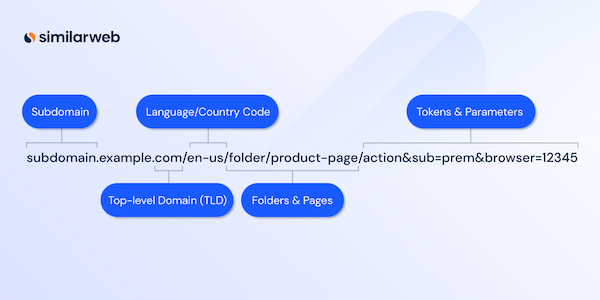 Subdomain: A subdomain appears before the website name.

Company may use the subdomain in order to separate a specific function of the website (e.g. checkouts, a specific product/brand, or even individual customers).
Top-level domain (TLD): The TLD is the last section of the root zone of the URL. (ie .com)

Companies may use multiple TLDs to service different geographies or to differentiate between offerings, such as free or premium offerings (e.g. - co.uk, .de, or more modern endings such as .io, .me).
Language and Country Codes: Some websites include an indication to the country of language instead of (or in addition to) a TLD.

If you identify a Country and/or Language code, structure your Segment to capture the page in each geography and language combination.
Folders and Pages: Folders and Pages are the key URL elements you should be looking to identify for Segment Analysis.

Folders generally contain several related pages, while a page will relate to a specific view.

When browsing the target website, we can build segments on important checkpoints (e.g. checkouts, cancellations, brand/product views) by identifying these types of keywords.
Tokens and Parameters: Many websites pass information between their servers and the user's browser via the URL.

A token is generally a randomized, unique identifier. If you see combinations of numbers of letters, keep in mind that we may be looking at just one of perhaps many thousands of versions of this page.

A parameter can be almost any kind of data. Oftentimes, these inclusions exist to improve SEO authority.
Building a Segment
With an understanding of the site's URL structure, you are ready to dive into Segment Analysis.
Click +New Segment to create a new segment.

Enter a website to analyze.

Use the filters to include or exclude URLs based on specific criteria:

Folders: Analyze all of the pages within a section of the website. (e.g. a retailer may have a folder "/mens/" that contains product pages like "/mens/t-shirt-x").

Tip

Folders are ideal for category-level analysis.

Any variation of text: Input a combination of keywords, phrases, and punctuation. Any variation of text will surface any pages containing the queried phrase, even if it's only a partial match.

Tip

Because any variation of text accepts punctuation and partial-matches, it's often used to create compound-phrases (e.g. 'thank-you', 'signup/confirm'), or match some root-phrase.

Exact text: Similar to "any variation of text", but it does not accept punctuation or partial-matches.

Tip

A key feature of exact text is that Segment Analysis will suggest some keywords ordered by the amount of traffic each keyword receives. As we refine the segment with AND/OR/EXCLUDE, the suggestions help you discover additional pages and checkpoints.

Exact URLs: Copy and paste the url from the target website into Segment Analysis.

Tip

Ideal for single-page Checkpoints with clean URLs.

A clean URL contains no Country and Language codes, Tokens, or Parameters (e.g. www.netflix.com/signup/confirm).

A sample of URLs that match your filters is displayed in the right-hand sidebar.

Review the preview panel to confirm the segment parameters are set correctly.

Note

This preview of URLs is just a sample of URLs that will be included in the segment. Other URLs that meet the parameters you have defined will be included in the segment, even if they are not displayed in the preview.

Click "Create segment" to publish the completed segment.
Once you've created a segment, you can add it to a custom industry via the Custom Industry Builder. With this functionality, you can easily group and analyze segments from across websites in order to uncover growth opportunities within your tailored market.
Use the Compare feature to add up to 25 additional segments to your analysis.

You can benchmark whole websites versus segments in comparison mode to understand the entire traffic of a website compared to the segments to see where specific business-lines, products or topics are gaining traction.
Save your comparisons so that you can quickly revisit these analyses on the Segments Analysis homepage. You can also create a segment comparison from the homepage by clicking +New Comparison.

View the marketing channel distribution to identify the traffic sources driving the most engaged traffic to a website segment.
Visit Segments Marketing Channels to learn more.
Benchmark traffic and engagement across regions to pinpoint the performance of a specific business line, product, or topic in different geographic locations.
Visit Segment Analysis Geography to learn more.
Segment Analysis addresses four primary use cases:
Category/Line-of-business – Understand the performance of a specific category (e.g., beverages in tesco.com) or a line-of-business (e.g., flights) within OTAs, metasearch engines, and travel suppliers – this will help you obtain a true apples-to-apples benchmarking capability.

Brand – Reveal how well a brand is doing on a retail site (e.g., Dior in sephora.com), a travel agency (e.g., MGM Resorts in booking.com), or a telecom operator (e.g., Samsung in Verizon.com).

Topic – Uncover and assess the hype around a specific news topic, such as Trump, Coronavirus, or Trade War in cnn.com.

Conversion Goal – Determine key performance metrics, such as converted visits (e.g., visitors who arrived at the Thank You page) or visitors that started and completed the checkout process to get a comprehensive view of the sales funnel.
The performance metrics on the page allow you to extract further insights on changes in your segment and understand what's working (and what's not).
For example, you can create a segment on Asos.com for "Missguided" (brand) + "dress" (category/line-of-business) + "satin" (product type).