With Segment Analysis you get the data you need to analyze a particular segment of a website and uncover the insights that are most relevant to you.
The Segment Analysis tool allows you to analyze a specific portion of a website by building a website segment. Let's say I'm looking to improve laptop-related sales for Samsung.com, then analyzing Samsung.com versus HP.com at a site level won't do me much good. I'll want to analyze just the "laptop" portion of each website so that I can assess my performance on an apples-to-apples basis.
Website Segments allow you to analyze a segment or section of a website, by slicing and dicing the website, using groups of URLs that meet specific rules. By building website segments, you will pull traffic data on individual segments of a website in order to analyze the performance of a particular line of business, category, topic, or brand.
What is the value of Segment Analysis?
With this powerful tool, you can:
Track the market share of a specific line-of-business, product, category or brand by analyzing your own site against competitors. Build a true apples-to-apples benchmark to accurately assess your market share.
Measure business performance by analyzing specific pages or funnels within a competitor or partner site and reveal how effectively it is monetizing traffic.
Uncover and assess traffic related to specific content or a specific topic to evaluate share of voice against your competitors.
Before getting started with Segment Analysis, we must first identify the segments of interest within the target website's URL folder structure.
Understanding a site's URL structure
With Segment Analysis, you can isolate the specific pages or groups of pages within a website in order to analyze a brand, category, product line, topic, or conversion goal.
In order to build a segment, you need to query specific terms, phrases, or full URLs, depending on the information you want to analyze.
The way this information is presented in a URL varies by website. By familiarizing yourself with the URL structure of the domain you are segmenting, you can efficiently and accurately build a segment to achieve your business objectives.
Let's break down this example URL into the different structural elements: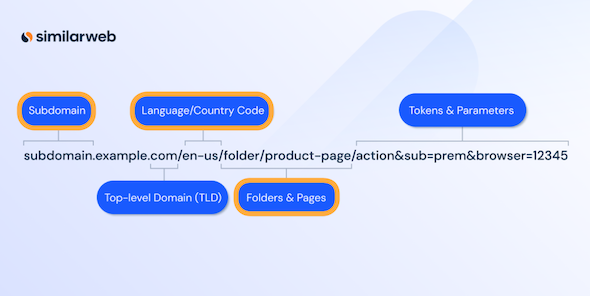 Subdomain: A subdomain appears before the website name.
Companies may use the subdomain in order to separate a specific function of the website (e.g. checkouts, a specific product/brand, or even individual customers).
Language and Country Codes: Some websites include an indication to the country of language instead of (or in addition to) a TLD.

If you identify a Country and/or Language code, structure your Segment to capture the page in each geography and language combination.
Folders and Pages: Folders and Pages are the key URL elements you should be looking to identify for Segment Analysis. Folders generally contain several related pages.
When browsing the target website, we can build segments on important checkpoints (e.g. checkouts, cancellations, brand/product views) by identifying these types of keywords.


Note: Not all URLs behave in the same way. Some websites use dynamic URLs to differentiate products and services, meaning that URLs for a product may change, and therefore what is being measured in a segment containing those URLs will change. If you are encountering difficulties building segments for a website that uses dynamic URLs, reach out to your account manager to look into alternative solutions to track this data.
Building a Segment
With an understanding of the site's URL structure, you are ready to dive into Segment Analysis.
Click +New Segment to create a new segment.

Enter a website to analyze.

Use the filters to include or exclude URLs based on specific criteria:

Folders: Analyze all of the pages within a section of the website. For example, a retailer may have a folder "/mens/" that contains product pages like "/mens/t-shirt-x".

Tip: Folder Analysis simplifies the segment creation process, enabling you to determine which sections of a website are increasing versus decreasing in traffic over time without the need to investigate specific strings of a site.

Any variation of text: Input a combination of keywords, phrases, and punctuation. Any variation of text will surface any pages containing the queried phrase, even if it's only a partial match.
For example, if you add Any variation of text for the keyword "shoe", the segment will include any URLs containing "shoe", "shoes", "tennis-shoes", "womens/shoes", etc.


Tip: Because "Any variation of text accepts punctuation and partial-matches, it's often used to create compound-phrases (e.g. 'thank-you', 'signup/confirm').

Exact text: Exact text is similar to Any variation of text, but it does not accept punctuation, and will only include pages where the exact word is included in the URL.
For example, if you add an Exact text filter for the keyword "shoe", the segment will show any URLs containing "shoe", but not "shoes".


Tip: A key advantage of "exact text" is that Segment Analysis will suggest keywords ordered by the amount of traffic each keyword receives. As you refine the segment with AND/OR/EXCLUDE, the suggestions help you discover additional pages and checkpoints.

Exact URLs: Copy and paste the URL from the target website into Segment Analysis. You can also upload a CSV file of URLs, if you already have a comprehensive list of pages you'd like to include in your segment.

Tip: Ideal for single-page Checkpoints with clean URLs. A clean URL contains no Country and Language codes, Tokens, or Parameters (e.g.netflix.com/signup/confirm)

A sample of URLs that match your filters is displayed in the right-hand sidebar.

Review the preview panel to confirm the segment parameters are set correctly.

Note: This preview of URLs is just a sample of URLs that will be included in the segment. Other URLs that meet the parameters you have defined will be included in the segment, even if they are not displayed in the preview.

Click "Create segment" to publish the completed segment.
Once you've created a segment, you can add it to a custom industry via the Custom Industry Builder. With this functionality, you can easily group and analyze segments from across websites in order to uncover growth opportunities within your tailored market.
Read more: Create a Custom Industry.
Use the Compare feature to add up to 25 additional segments to your analysis.

You can benchmark whole websites versus segments in comparison mode to understand the entire traffic of a website compared to the segments to see where specific business-lines, products or topics are gaining traction.
Save your comparisons so that you can quickly revisit these analyses on the Segments Analysis homepage. You can also create a segment comparison from the homepage by clicking +New Comparison.

Traffic and Engagement
Metrics available on the Segment Analysis Traffic & Engagement page:
Avg. Monthly Visits: Average number of visits that pass through at least one of the segment pages.
Avg. Unique Visitors: Average number of users who visited at least one page within the segment.
Avg. Pageviews: Average number of page views of the pages within the segment.
Avg. Pages per Visit: Average number of segment pages viewed during a visit.
Avg. Visit Duration: Average time the user spent on segment-related pages during a visit.
Bounce Rate: The percentage of visitors who enter the segment, take no action, and leave the site after visiting only one page.


Note: If a user visits a page in the segment and then visits another page on the domain (even if it is not included in the segment) it is not considered a bounced visit. The visit is only bounced if a user leaves the domain.

Segment Share: Percentage of visits to the segment out of the total visits to the website. This helps you measure the actual size of your segment's activity on your business.
Note: The change within these metrics is calculated based on the first and last month of the selected period. In the graph section, you can see the changes in visits to the segment over time (from 1 month up to 2 years).
View the marketing channel distribution to identify the traffic sources driving the most engaged traffic to a website segment.
Visit Segments Marketing Channels to learn more.
Benchmark traffic and engagement across regions to analyze the performance of a specific business line, product, or topic in different geographic locations.
Visit Segment Analysis Geography to learn more.
Q: How can I use these insights in my daily work?
A: You can use Segment Analysis insights to:
Gain an accurate and comprehensive view of traffic to your category, line of business, or brand, as well as the conversion performance of an entire website.
Benchmark the performance of your products, category, or line of business across retailers or relative to the competition to identify areas of opportunity and improvement. You can do this by creating multiple segments and regularly comparing your and your competitors' key metrics.
Quantify the impact and changes of specific marketing activities over time (e.g., promotions or shopping events), as well as trending topics to adjust content to your audiences' changing behaviors.
Q: How many visits does a site need to have in order to be available to segment?
A: A site must have 15K Worldwide desktop visits in the previous month to be available to segment with the Segment Analysis tool.
Note: If a site had 15K monthly visits historically, but not in the most recent month, then the site will not be available for Segment Analysis in the current month. For example, if you are trying to segment a site in March, and they had 15K desktop Worldwide visits in January, but not in February, then the site will not be available to segment because the previous month did not cross the threshold. Keep an eye out for the next month's data release - if the site crosses the threshold, then it will be available to segment!
Q: How much historical data is available in Segment Analysis?
A: You can analyze up to three years of historical data in Segment Analysis. The feature supports 37 months (36 months including month-to-date).
In compare mode of up to 10 segments, you can analyze up to 36 months of data with individual country filters, and up to 12 months when using the Worldwide country filter.
When comparing up to 25 segments, you can analyze up to 18 months of data with individual country filters, and up to 6 months when using the Worldwide country filter.
Q: When creating a new segment, I get this warning message, "Some display information for this query will be hidden" or "no matching folders were found." What does this mean?
A: Some sites have a mechanism in place to tell our robots which information they can and cannot use (called robots.txt), and some sites do not. For sites that do not have this mechanism in place, we do not crawl this site to avoid showing any PII or any sensitive information which cannot be shared in the URLs when we display folders.
Q: What is the use-case for Folder Analysis?
A: There are three reasons why you may want to use Folder Analysis:
To simplify the segment creation process and minimize the need to investigate the website structure.

To identify folder trends and analyze the macro traffic and segment share for specific sections within a website.

To benchmark folder performance and compare a folder against similar folders across competitor websites.
Q: If a user leaves the team, is there a way to keep their segments active?
A: Segments that are shared amongst team members will remain active if the owner of the segments remains an active user. If the owner of those segments is leaving the team and you want to make sure that their segments remain active for the rest of the team, you can change the email address of the person leaving. This will allow someone else to step in and take over the account, keeping their segments active.
Q: How can I use API integration for Segment Analysis?
A: With the standard API endpoint, you can integrate traffic and engagement metrics from Segment Analysis into your reporting and analysis workflow. For example, display the data within data visualization tools like Google Data Studio and Tableau to seamlessly centralize data sources. For more information, see the technical documentation.
Read More: See Segment Analysis FAQs for answers to more common questions around Segment Analysis - including Data Limitations, Data Methodology, and Account Settings.