Benchmark traffic and engagement for segments across regions with the Segment Analysis Geography page.
The Segment Analysis geography page will show you the traffic share for the segment per region plus other metrics such as visit duration, pages per visit, and bounce rate. These insights allow you to easily identify how specific business-lines, products, or topics are gaining traction in different geographic regions for competitive and market analysis.
Go to Segment Analysis and select a segment to analyze.

Navigate to the Geography page.

To refine your analysis, use the filters in the upper right to set the time period you would like to analyze.

Note

The Segment Analysis Geography page is desktop only.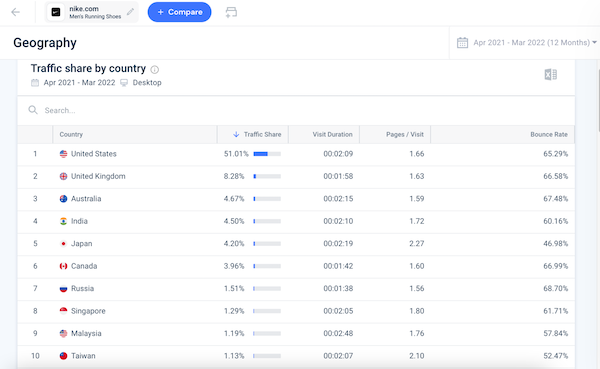 In the table, you can see:
Country: Geographic location that receives traffic for the analyzed segment.

Traffic share: Estimated percentage of traffic from each country to the segment, compared to the total website's traffic.

Visit duration: Average duration of the visit in hours, minutes, and seconds (this average includes bounced visits).

Pages/Visit: Average pages per visit for the selected time period. Remember that for most sites, the goal is to keep users engaged, nurture their interest, and encourage them to take the next step - therefore the greater the Pages/Visit is the more engaged their audience is with their brand.

Bounce rate: Percentage of visitors who enter a site and then leave after visiting only one page.

If a user visits a page in the segment and then visits another page on the domain (even if it is not included in the segment) it is not considered a bounced visit. The visit is only bounced if a user leaves the domain after visiting a page in the segment.
Note
Geography in compare mode is coming soon. For now, you can analyze a single segment at a time, and full websites are not supported.