With Similarweb's Segment Analysis tool, you can slice and dice the URL of a website to analyze a particular line of business, category, topic, or brand.
Segment Analysis helps to focus your analysis on a particular segmentation of a website so that you can surface the insights that are most relevant to you. With this tool, you can:
Deconstruct partner and competitor websites to benchmark industries, a line of business, or specific products with total flexibility and accuracy.

Isolate traffic and engagement metrics across sub-sections of a website to evaluate your performance relative to your competitors.

Create custom segments with the highest level of granularity possible -- as granular as ~0.1% of site traffic.

Set up segment comparisons to easily benchmark and compare insights of competitors.
Segment Analysis is a powerful tool for marketing and sales managers, data analysis, and BI specialists to optimize their strategies, especially within the following industries: Retail, CPG, Travel, Telecom, Financial Services, Agencies, Investors.
Tip
The 'Topic' segment insights are ideal for marketing and PR teams within Publishers and Media companies.
Before getting started with Segment Analysis, go to the website you want to analyze and review its URL folder structure.
For example, boohoo.com/womens/dresses refer to the dresses folder for women, meaning dresses are within the 'women's' folder. And, 'Evening Dresses' are a subfolder within this folder: boohoo.com/womens/dresses/evening-dresses.
With an understanding of the site's URL structure, you are ready to dive into Segment Analysis.
Click +New Segment to create a new segment.

Enter a website to analyze, select the segment type, and enter a name for this segment.

The following segment types are available. Choose the one most relevant for your use case:

Category/Line-of-business: shows visits across search, catalog, product, and checkout pages only for a given category. For example, Nike men's shoes.

Conversion goal: Visits that reach a specific step in the funnel. For example, search, product page, start checkout, finish checkout.

Brand: Visits for given brand-related pages. For example, Sony (in bestbuy.com)

Topic: Visits in pages around a specific topic to understand trends. For example, lightweight (in nike.com)

Other: Any other need for grouping specific pages on a website.

Note: See below for more information on use-cases for each segment type.

Next, choose Set Up My Segment to define the segment rules. You can Include/Exclude a string, custom string, folder, or input the exact URL if any website. If you have a long list of product names, you can import custom strings in bulk via a CSV file. You also have the option to download and fill out our CSV template.

Note: Once you've saved your segment, you will be redirected to the Segment Analysis page. In the top right corner, you can define the country and timeframe.

Select the Country.

Note: The filter default is set to United States, but we have data for many countries. Be sure to set the country filter according to the market you're interested in.

With the Segment Rules defined, click Verify and Publish. Review and click Publish My Segment.
Exact URL
A unique new way to analyze the exact target URL of any website to enable the measurement of homepages, landing pages, main-category pages and product pages.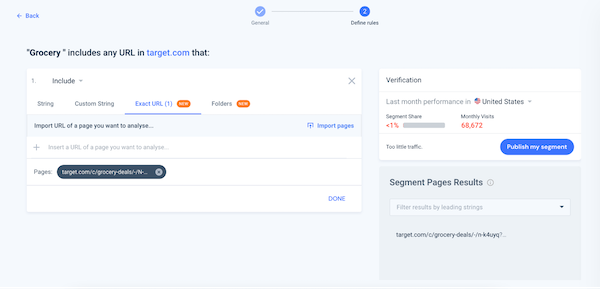 You can paste URLs of selected pages or folders and measure the page's exclusive traffic, excluding traffic from subpages to isolate and measure the traffic, to understand how much traffic a specific page of a site generates over time.
Tip
Remove ''https://www/'' before analyzing the exact URL of website. Or import URLs to save time.
Segment Comparisons
Click the blue 'Compare' button in the top-left of the graph to add up to an additional 25 segments to compare in the same view. Save your comparisons so that you can quickly revisit these analyses on the Segments Analysis homepage. You can also see daily, weekly and monthly in comparison mode.
Save your comparisons so that you can quickly revisit these analyses on the Segments Analysis homepage.
Tip
You can benchmark whole websites versus segments in comparison mode to understand the entire traffic of a website compared to the segments to see where specific business-lines, products or topics are gaining traction.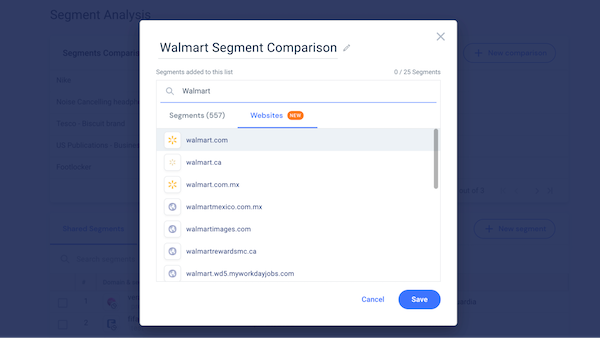 For each segment, you can see:
Visits: Refers to any visit that passes at least one of the segment pages.

Avg. Unique Visits: Average number of users who visited at least one page or multiple pages within the segment.

Avg. Page Views: Average page views of the pages within the segment.

Avg. Pages Per Visit: Average number of segment pages viewed during a visit.

Avg. Visit Duration: Average time the user spent on segment-related pages during a visit.

*Note: If a user visits a page in the segment and then visits another page on the domain (even if it is not included in the segment) it is not considered a bounced visit. The visit is only bounced if a user leaves the domain.

A lower bounce rate indicates that the segment/brand performs better than the category/line of business. See Bounce Rate: Understanding, Measuring, and Tracking for Growth for more information.

Segment Share: Percentage of visits to the segment from the total visits to the website. This helps you measure the actual size of your segment's activity on your business.
Notes:

Toggle Month-to-date to understand the most up-to-date trends for each segment.

The change within these metrics is calculated based on the first and last month of the selected period. In the graph section, you can see the changes in visits to the segment over time (from 1 month up to 2 years).
View Segment Traffic and Engagement metrics with daily, weekly, or monthly granularity.
Tip: See Unique Visitors in segment comparison mode using the Worldwide country filter. This allows you to measure and benchmark the size of unique global visitors for selected segments.
Segment Analysis addresses four primary use cases:
Category/Line-of-business – Understand the performance of a specific category (e.g., beverages in tesco.com) or a line-of-business (e.g., flights) within OTAs, metasearch engines, and travel suppliers – this will help you obtain a true apples-to-apples benchmarking capability.

Brand – Reveal how well a brand is doing on a retail site (e.g., Dior in sephora.com), a travel agency (e.g., MGM Resorts in booking.com), or a telecom operator (e.g., Samsung in Verizon.com).

Topic – Uncover and assess the hype around a specific news topic, such as Trump, Coronavirus, or Trade War in cnn.com.

Conversion Goal – Determine key performance metrics, such as converted visits (e.g., visitors who arrived at the Thank You page) or visitors that started and completed the checkout process to get a comprehensive view of the sales funnel.
The performance metrics on the page allow you to extract further insights on changes in your segment and understand what's working (and what's not).
For example, you can create a segment on Asos.com for "Missguided" (brand) + "dress" (category/line-of-business) + "satin" (product type).