To pay or not to pay? That is the question. Paid Search and PPC complement Organic Search and SEO. The goal is to drive as much high-potential traffic as possible to your site.
Optimizing your search strategy is key to driving traffic to your site.
To do so, you can start by analyzing your competitors' top paid keywords, search ads, and destination URLs to see what's working for them. Here, you'll discover new tactics that can help reduce your cost per acquisition, maximize your conversion rates, and win clicks from your competition.

In this guide, we'll show you how to use Similarweb to:

Similar Story: Using the data and insights:
True Botanicals is an organic skincare company that brings botany to beauty.
Let's see what the competition is up to in 2022 in the time of self-care.
| | |
| --- | --- |
| Meet True Botanicals | |
Gauge the paid performance across your competitive landscape
See how much competitors are investing in Paid Search, how much traffic they're driving, and how much of that traffic is really engaging with their sites.

In the Competitive Research tool, enter the primary website in the search bar. Add up to 4 competitors, and navigate to the Marketing Channels page.

On the Marketing Channels page, focus on the percentage of traffic from Paid Search for your competitive set.

How does it compare against other channels?
Who is investing the most relative to total incoming traffic?

Pro Tip: Use the # and % toggle to get two distinct views of the traffic distribution.

Next, navigate to the Paid Search Overview page.

See the Total Paid Search Traffic per website and a preview of Top Paid Keywords.

Scroll down to the Paid Search Traffic & Engagement module. View PPC Spend (Beta) across your competitive set during your analysis timeframe.

Which brand is spending the most on PPC?
How has their spend changed over time?

Think through what could be driving these changes and save your hypotheses for testing later.

Look closely at the engagement data.

Check out the Visit Duration, Pages Per Visit, and Bounce Rate tabs to assess a competitor's PPC campaign. Use these metrics as a proxy for conversion -- the more time a visitor spends on a site, the more likely they are to take action.
| | |
| --- | --- |
| Similar Story: True Botanicals | |

Metrics that Matter:

In Channels Overview, we see Paid Search comes in third for the share of total online traffic with top competitor Herbivore Botanicals investing the most in paid search relative to their total visit numbers.

Paid Search Overview shows 100% Pure is driving the most traffic overall, but with a 20% decrease in traffic from the last month.

100% Pure has increased Paid Search Traffic, Visit Duration, and Pages Per Visit, suggesting that the spike in traffic resulted in a more engaged audience.

True Botanicals may want to investigate 100% Pure's ad copy and identify opportunities to optimize their own Ad strategy.

See paid search insights for True Botanicals or start your own analysis here.
Words, words, words. Which terms are more than just that, and actually drive high-potential traffic to sites?
We'll show you how to identify trending, high-volume, and low CPC paid keyword opportunities for your business.
On the Keywords page, select the Paid Keywords filter.

View top-level metrics including Total Search Visits and Competitive Traffic Share to gauge your position.

Scroll down to view the Search Terms table in order of traffic volume.

Note the Competitive Traffic Share and CPC for each term to discover which brand owns that term and how much they're paying for it.

Select the Non-branded Keywords filter to view objective terms that indicate product or service interest. This will allow you to understand market trends.

Scout out any top terms with low CPC that you're not owning -- that's an opportunity.

Pro Tip: Hover over the table with Search Terms and a "G" will appear. Click on it to go directly to the Google SERP for that keyword. Who shows up and how?

Use the filters at the top of the page to experiment.

Try filtering by Topic or by CPC for targeted keyword research.

Select the Newly Discovered and Trending Terms boxes to find entirely new interests that your company could use to engage potential customers.

Identify long-tail keyword opportunities by checking the Question Queries box.

Pro Tip: Want to look deeper at a highly competitive keyword?

Click on the term and you'll arrive on the Keywords Overview page for targeted analysis. Analyze Average Search Volume, Top Competing Websites, Top Search Ads, and more.
| | |
| --- | --- |
| Similar Story: True Botanicals | |

Metrics that Matter:

Top-level metrics show us that nearly 255 paid keywords are driving 60K+ Total Search Visits. Of those, True Botanicals has 30%.

Search Terms with the highest traffic volume are mostly branded. Filtering to Non-branded keywords revelas the beauty-related terms, like "bakuchiol" and "bakuchiol serum" that True Botanicals could bid against.

Competitive Traffic Share shows Herbivore Botanicals owns 100% of multiple "bakuchiol" terms, and going to the Google SERP shows us ads for their product on many reputable beauty sites. These have relatively low CPC (below $2) and may be ripe for bidding.

See paid search insights for True Botanicals or start your own analysis here.
Nailing the content and copy of your Search ads directly impacts their success. Headlines hook the reader and descriptions show why they should care.
See which ads nab the top position and what you can learn from them.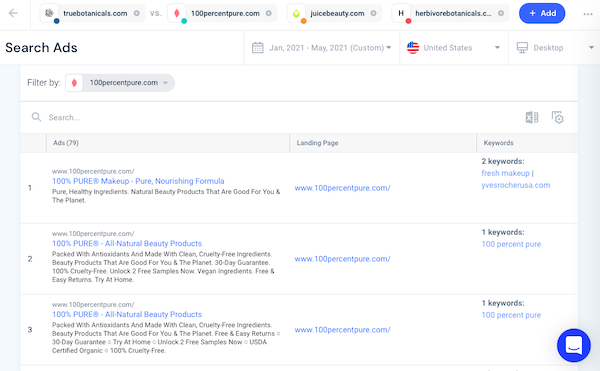 Navigate to the Search Ads page within the Paid Search section. Use the filter to select a competitor whose ads you will analyze in the table.

View the Ads and their associated data, including Landing Page, Keywords, and Position.

Sort by Position to view top ads in order of appearance on Google SERP.
What are your competitor's top ads?
How do they describe their products?
Is there a particular product that competes with yours?
Compare and contrast across competitors. Look for any similarities in language, product selection, and offers. Learn from your competitors' PPC strategies and think through opportunities to differentiate yourself from the competition.
| | |
| --- | --- |
| Similar Story: True Botanicals | |

Taking a look at high-engagement competitor 100% Pure, their Ad Copy shows a variety of clear headlines that speak to the core of their brand (like "All-Natural" Beauty Products).

Descriptions include more product qualifiers like "cruelty-free" and "organic," as well as guarantees and free samples. Most Search Ads are generic vs. for a specific product.

True Botanicals could use this insight to launch more targeted, product-specific ads that focus on their unique approach to organic, plant-based skincare.

See paid search insights for True Botanicals or start your own analysis here.
So far we've been talking about your core brand competitors. You know the deal. But what about the online PPC competitors you may not even know about?
Whether they're an eCommerce site, an influencer, or a publisher site, find out who's elbowing you out for the same keywords in the digital landscape. And elbow them right back.
Navigate to the Paid Competitors page within Paid Search. Starting with your website, view a graph of Total Traffic vs. Search Overlap for competitive domains. Note which sites are in the upper right quadrant (more visits and more overlap).

Scroll down and view the table of domains in order of Search Overlap Score.

What industry are they in?
How much Paid Traffic are they driving and what is their percentage of Shared Keywords?

Scan the percentage of Shared Keywords in particular to view websites that have over 10% overlap.

Tip

Hover over a Domain of interest and a Knowledge Panel Icon will appear. Click on it and a panel will pop up on the right-hand side of the Paid Competitors page. View top-level metrics like Monthly Visits and Traffic Sources. You can even visit the website from there or start a new Website Analysis for the site.

Try checking the Rising Competitors and New Competitors boxes above the graph to find up-and-coming domains that are fighting for the same keywords.

Next, try viewing Paid Competitor data for the sites in your competitive set. Are there any areas of overlap between your paid competitors and theirs?
Who's fighting True Botanicals for paid clicks? We see Naked and Thriving, Exposed skincare, and SK-II, to name a few.

True Botanicals can zero in on newly discovered Paid search competitors by clicking on the Knowledge Panel icon to view traffic and engagement stats. They can also analyze exactly which keywords they're fighting over by going back to Search Keywords.

See paid search insights for True Botanicals or start your own analysis here.
You've just done all of that work getting a PPC analysis in order. No need to do it all over again. Save time and automate these insights by creating a Dashboard with Similarweb.
Stay up-to-date on all things Paid Search, and watch out for any new moves from the competition. You know what they say: "keep your friends close, and your enemies closer."
Navigate to Dashboards and select + New Dashboard.

Select Paid Search Performance. Add your primary website and then add up to four competitors. Next, select your desired geography for analysis.

Create your dashboard!
The Paid Search Performance dashboard includes Paid Search Traffic across different timelines, engagement metrics like Bounce Rate, Competitors Battleground for Paid Keywords, and more.
Pro Tip: Customize your dashboard using the + Add Metric function.
Following this analysis, maybe you want to add Search Organic vs. Paid Split and Display Advertising Publishers List to your dashboard. The digital world's your oyster.
Use this for automated monitoring of any and all Paid Search Performance across your competitive set. Check your dashboard daily for new insights that can help you gain an edge.