PPC Spend helps you understand and analyze competitive ad spend budgets for paid search.
Reveal competitors' estimated ad spends, potential budgets, and how they deliver on paid search strategies.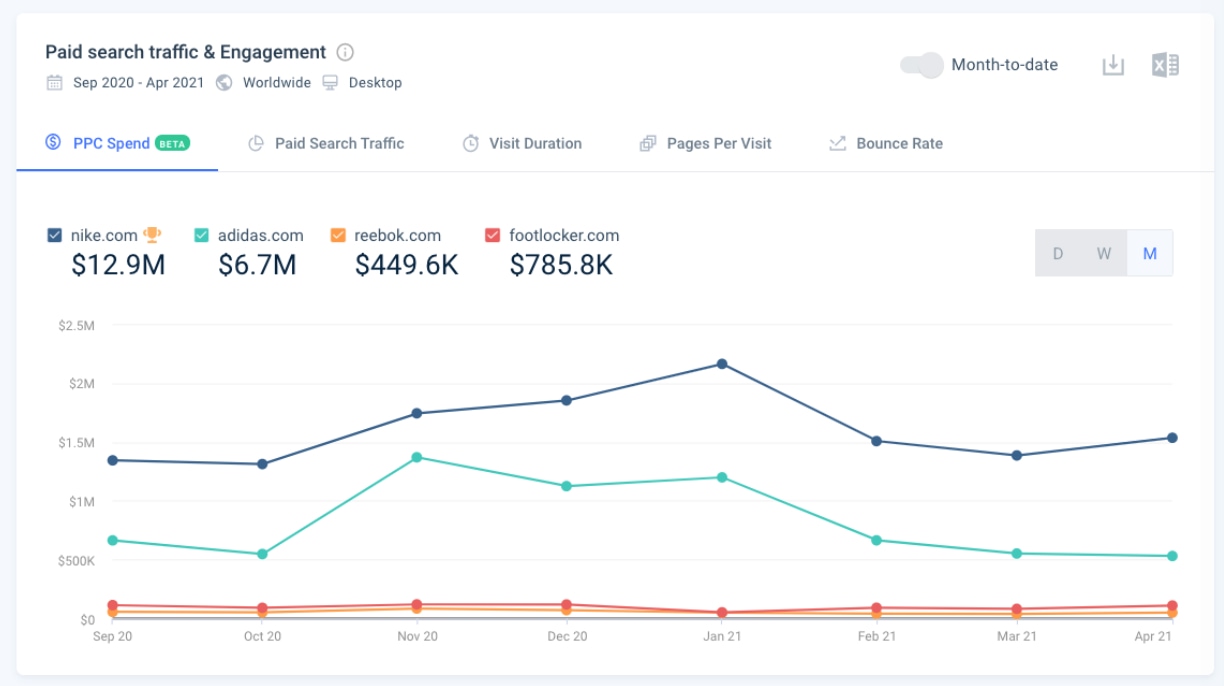 PPC Spend helps you to:
Plan and justify your own paid search budgets.

Understand the effectiveness of competitors' paid search advertising activities.

Grow clients' budgets based on their knowledge of competitor and industry PPC spend (mainly for agencies).

Identify significant strategic shifts in competitive PPC spend by analyzing spend over time.

Evaluate investment per channel based on competitors' PPC spend.
PPC Spend is an estimation of the websites' spending on PPC search terms over the analyzed period. This metric allows you to analyze keywords attached to Google Search and Shopping (PLAs) ads.
Important
This is an estimation of PPC Spend. We aim for as high accuracy as possible with the PPC Spend estimation, but there will be a differing margin of difference with our calculation for every website.
Our current calculation is based on three existing data points:
Paid visits per website per country

Paid keywords per website per country

CPC per country
** In cases where CPC is unknown, avg CPC is supplemented.
** We rely mainly on the Google search network, but other search engines are also included in the paid visits metric.
PPC Spend can be found in 2 modules:
Within the Acquisiton Channels module, in the Paid Search section, go to PPC Competitor Analysis > Overview.

Within the Competitive Research module, in the Website Analysis section, go to Paid Search > Overview.
PPC Spend is a metric available in the Paid Search Traffic & Engagement table on both of these pages.
Tip
Use the filters on the right of the graph to view Desktop, Mobile Web, or Total Traffic PPC Spend.
Check out your competitors' PPC spending trend over time. By reviewing over time, you will notice the rise and fall in spending activity, and this will point to potential seasonal spending on campaigns. When reviewing the overall investment in their PPC campaigns, you will get a view of a competitor's annual or quarterly budgeting habits for Paid Search campaigns.
PPC Spend Currencies
You also have the ability to instantly see PPC Spend estimations in other major currencies. Just use the drop-down in the top right of the insight graph to select the currency you wish to explore.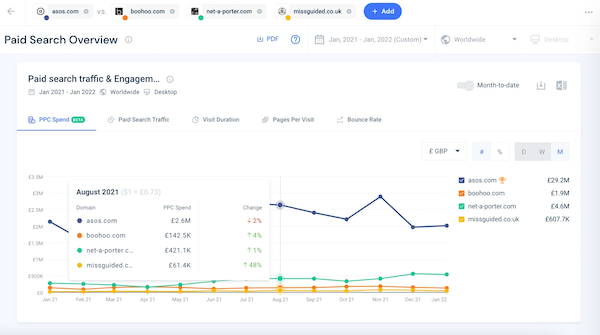 Analyze competitors' PPC spending in GBP, EU, AUD, and JPY.
Each month's currency value is calculated based on the exchange rate from that time, so you can be sure that it's historically accurate and relevant.
This function should minimize the need for external calculations for those users who need to report in currencies other than USD.
Is the PPC Spend BETA prototype for search ad spend or across other digital ad formats?
Currently, It is just for Paid Search Ad spend, but we hope to develop estimations for other paid digital channels shortly.