PPC Spend helps you understand and analyze competitive ad spend budgets for paid search.
Reveal competitors' estimated ad spends, potential budgets, and how they deliver on paid search strategies.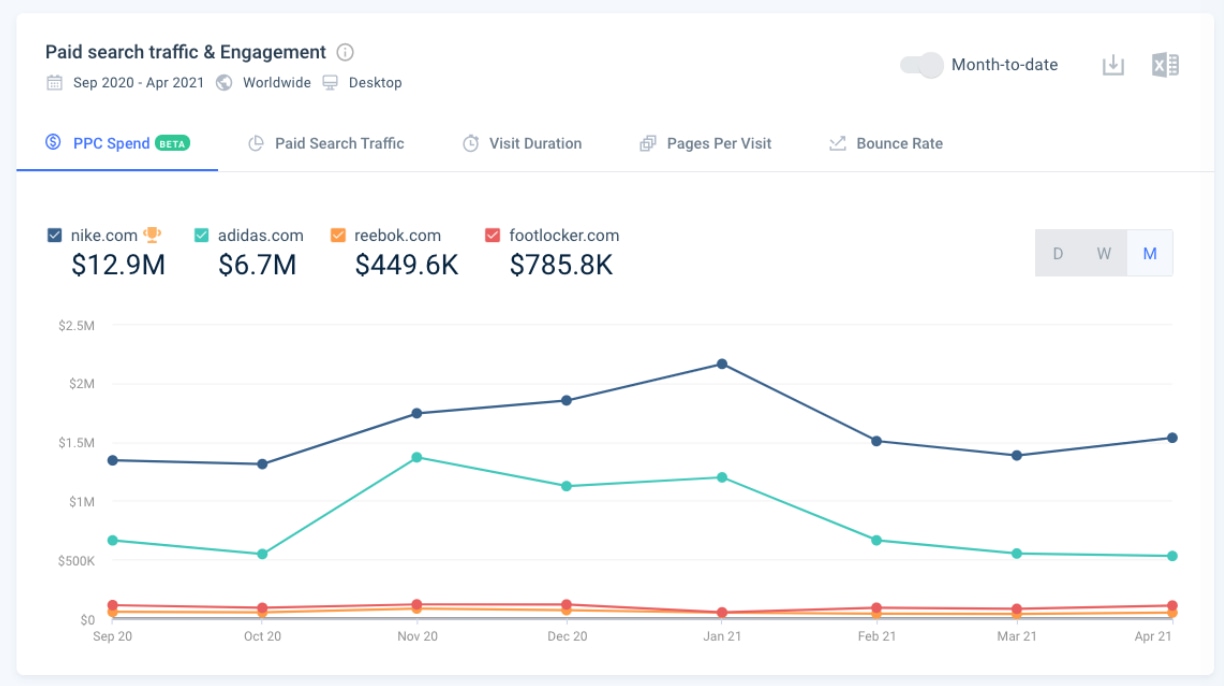 PPC Spend helps you to:
Plan and justify your own paid search budgets.

Understand the effectiveness of competitors' paid search advertising activities.

Grow clients' budgets based on their knowledge of competitor and industry PPC spend (mainly for agencies).

Identify significant strategic shifts in competitive PPC spend by analyzing spend over time.

Evaluate investment per channel based on competitors' PPC spend.
From Marketing Intelligence > Competitive Analysis, enter a website to analyze.

Click +Compare and add up to four competitor websites.

From the left menu, select Paid Search > Overview and scroll to the Traffic & Engagement graph.

PPC Spend graphs the spend over time for each member of the competitor set. Hover to view the total amount and the % change.
The graph provides:
*Tip: Check out your competitors' PPC spending trend over time. By reviewing over time, you will notice the rise and fall in spending activity, and this will point to potential seasonal spending on campaigns. When reviewing the overall investment in their PPC campaigns, you will get a view of a competitor's annual or quarterly budgeting habits for Paid Search campaigns.
Calculations
PPC Spend is an estimation of the websites' spending on PPC search terms over the analyzed period.
The PPC Spend metric is an analysis of keywords attached to Google Search and Shopping (PLAs) ads.
Our current calculation is based on three existing data points:
Paid visits per website per country

Paid keywords per website per country

CPC per country
To get an estimation for website PPC spend, we follow the formula below:
Sum(KW CPC multiply by KW paid visits) = Website PPC Spend
** In cases where CPC is unknown, avg CPC is supplemented.
** We rely mainly on the Google search network, but other search engines are also included in the paid visits metric.
Note: This is an estimation of PPC Spend only, and we do not claim that these numbers are exact. We aim for as higher accuracy as possible with the PPC Spend estimation, but there will be a differing margin of difference with our calculation for every website.
Also, please consider:
PPC Spend is only available for desktop data.

PPC Spend is available from Jan 2020 data onwards.

Data is unavailable for domains with <5k paid search visits for selected period.
Will the PPC Spend metric be available as an API endpoint?
Yes, once out of closed BETA and put into general release. Until then, we do intend to offer the metric as an endpoint. Currently, it is in the release plan. However, plans can change in the development stage.
Is the PPC Spend BETA prototype for search ad spend or across other digital ad formats?
Currently, It is just for Paid Search Ad spend, but we hope to develop estimations for other paid digital channels shortly.