The Tags report within our Rank Tracker tool provides an extensive view of the performance of your campaign's keyword tags.
What's the value?
Analyze your weighted average position, visibility, and clicks for a group of specific keywords that are tagged as a topic or cluster, rather than a single keyword.
You will get an overview of how those tagged groups of keywords perform across SERP features. The Tags report can also provide a comparison of keyword groups with your closest competitors, enabling you to understand SERP performance for those keywords relating to a specific topic.

How to use the Tags report:
1. Access Rank Tracker Tags reports
Click "Rank Tracker" at the top of your sidebar on the left-hand side.
Note: To see the tags report as well as the other report options, you must first set up a campaign
2. Select the location, device type, and date(s) you wish to analyze.
Location: If you are tracking keywords in more than one area, you can view your campaign's performance for all locations or narrow down the list using the "Location" filter.
Device type: When you set up your campaign, you can choose to track both desktop and mobile, or you can choose a single device type

If you choose both device types, you will be able to toggle between desktop and mobile on the keywords report page
Date: You can analyze keyword performance according to a specific day, week, month, or all time by using the Daily Date Picker

Filtering your Tags report:
There are additional filters that enable you to organize your report and gain deper insights about your tagged groups.
Position:
Filter keywords according to where you're positioned on the SERP and whether your position improved, declined, or stayed the same.
Include/Exclude:
You can include and exclude keywords within your tagged group. For example, for the tag "yoga", you may want to only look at keywords related to "pants, and therefore only include the keyword "pants."
SERP features:
You can easily discover and filter for keywords within a tag based on whether or not they have SERP features present, or whether or not you rank for your campaign's keywords
For example, you can see if a tag ranks for a specific SERP feature such as "People also ask", paid ads, or featured snippets. This enables you to dissect the SERP page and analyze your performance in greater depth.

Tags Graph
You can view and compare your tags' performance over time according to:
Weighted Average Position

The average of all your tracked keywords' organic positions weighted according to their search volume. Keywords in your tag that don't rank will get a score of 100.

Visibility

The percentage of how visible your site is on the SERP. Keywords that are considered visible are those ranked in the top 3 pages of the SERP.

If a keyword is ranked in position 31-100, it will be granted a visibility score of 0.
Search volume is also taken into account when calculating visibility. Meaning, a keyword with a low rank and a high search volume would decrease its visibility

Clicks

The absolute estimated clicks that your campaign receives based on search volume, CTR curve, and daily organic position

Tags Table:
The Tags Table widget allows you to view the performance of each one of your tags and choose which insight you want to investigate further

Generating insights with the Tags report
Discover which keywords have improved or declined. Click on the keyword number and you can drill down further into each keyword's performance.
View the exact landing pages that the group of keywords is ranked on. Select the number you're interested in within this column to navigate directly to these landing pages.
View the SERP features that you are ranking on or are present on the SERP for a specific tag.
Customize your table to your preference. Within the column settings, you can hide or show columns and rearrange the column order so that you can generate the insights that are most relevant to you.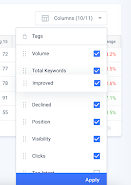 Check out the Pages Report next!

FAQ:
Q: How many tags can I create within Rank Tracker? Is there a limitation per keyword?
A: Assign as many tags as you want per keyword or per campaign