Similarweb's Brand Protection tool enables you to stay one step ahead of your competitor's moves in order to protect your brand.

What is the value?
From mapping out branded keyword strategy to measuring the impact on brand perception, we know that marketers spend a lot of time on branding. It's vital that you defend, monitor and protect your brand, so you need to be on the lookout for what's happening around your branded and generic keywords.
If you don't protect your brand, competitors will steal your traffic. With Brand Protection, you'll never miss a beat of paid keyword activity.
Using Brand Protection, marketers can:
Be alerted when competitors are stealing your traffic
Identify competitors' value propositions or messaging strategies
Analyze competitors' campaign ad copies and landing pages they are using when targeting your branded keywords
Monitor your partners and ensure they are using the right messaging

How to Create a Brand Protection Campaign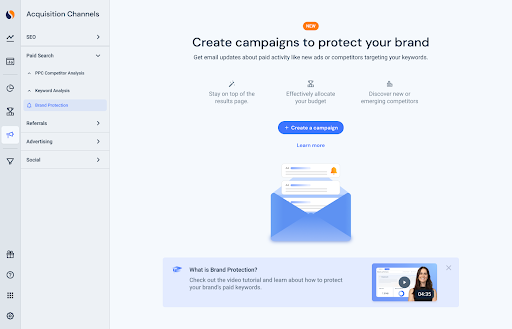 Create a new brand protection campaign:

Click Create a campaign.
Enter your website and name your campaign

Note: You'll receive daily alerts at the same email address that you use to log in to Similarweb

Define your target search engines:

Select the search engines you're targeting (up to 3 combinations). Specify the location, language, and device type to focus on your existing ad campaigns or monitor markets of interest.

Add keywords to track:

Enter the keyword(s) you'd like to monitor. You can manually input keywords, import a CSV file, or select a keyword list.

Click Finish, and you're done!
Similarweb will start monitoring the web specifically around your parameters and will be on the lookout for competitor search ads targeting your keywords.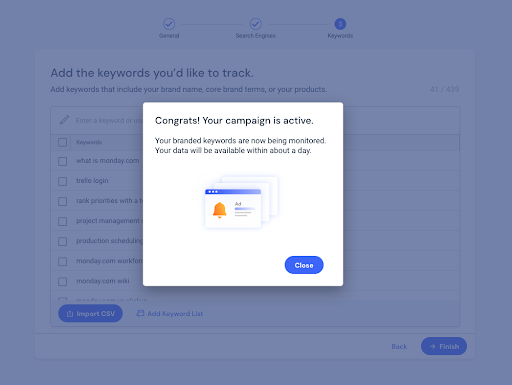 Note: Once you save your Brand Protection Campaign, it will take at least 24 hours to receive your first email alert. You won't receive an email alert until our algorithms detect competitor ads.

Brand Protection Email Alert
After 24 hours, if our algorithms have detected any new search ads based on your campaign criteria, you'll receive a Brand Protection Email alert straight to your inbox. This email will show you the latest ads from the previous 24 hours targeting those chosen keywords as well as what position the ad is in.
You'll receive an updated email alert whenever new search ads have been detected in the previous 24 hours, so you are always in the know about who is targeting your brand, campaigns, and products.
You can click any of the ads displayed in the email alert to go straight to the campaign report and analyze in more detail what's been found, or you can click the button at the bottom of your report.

Brand Protection Homepage
When accessing the Brand Protection feature from the platform, you'll be able to analyze and monitor all the campaigns that you have set up. You can also see at-a-glance insights on the number of competitors, landing pages, and search ads that have been detected through those campaigns over the past 7 days & the week-on-week change.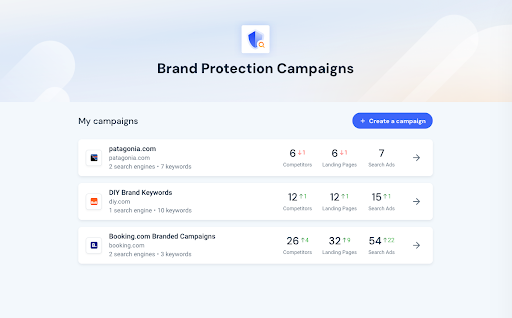 Brand Protection Campaign Report
After you've created your Brand protection campaign, you'll be able to view reports after the first email report is released


Editing a Campaign
A Brand Protection campaign can be easily edited in case you need to add new keywords, change the search parameters or delete the campaign altogether.
Just click on the Gear icon next to the campaign name or within the campaign itself.

You can update any campaign details from within the settings page. Make sure to click the 'Save changes' button once you've finished editing.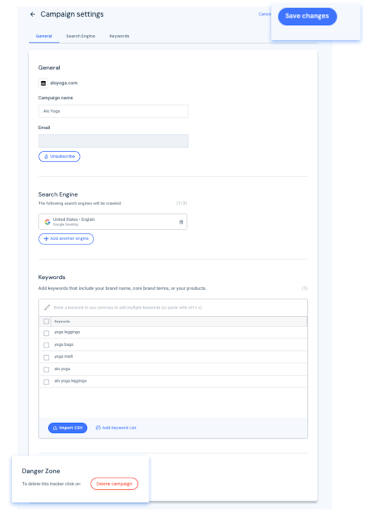 If you add any parameters to the campaign (such as additional keywords or a new search engine), your report will reflect these changes after 24 hours.
Deleting a campaign will take effect immediately and you will not be able to retrieve the data.
Subscribe/ unsubscribe: You can subscribe or unsubscribe from a campaign at any time, if you unsubscribe be aware that you will no longer receive notifications when a competitor bids on your term, however, you will still be able to view these reports within the platform.

Key metrics & insights:
| | |
| --- | --- |
| Search Ads | Details which ads and messaging your competitors are using pertaining to your branded keywords |
| Final URL | Uncover where traffic from the ad, is being driven to |
| Keywords | View all search terms for which the ad appears on Google SERP |
| Position | Displays the most up-to-date position according to the keyword & timeframe. |
| Rank | This refers to where the ad is positioned on the search engine, across all paid ads, pertaining to the timeframe (7 days, last 1 month, last 3 months, all time) |
| Active Days | Displays how long the ad has been running for |

Try it now!
Head into Brand Protection by selecting the icon on the top left-hand side of your toolbar.

FAQs
Q: Will I be able to search for any keywords via Brand Protection?

A: Yes. You will be able to receive alerts for any keywords with Brand Protection, not just branded keywords. Brand protection is one of the main ways you can use this feature, however, you can also monitor other keywords as well.
Q: Why am I not receiving any email alerts?
A: It will take at least 24 hours to receive your first email alert, and you will only receive alerts when our algorithm detects competitor ads. If our algorithms do not detect any competitor ads, you won't receive any email alerts.