SimilarWeb Pro Audience Interests shows you the group of websites that users have visited before or after visiting a site during the same browsing session (for example, this includes the opened tabs a user has at the top of the browser).
This will enable you to understand user intent based on actual behavior.
Using intent data, you can understand users' behavior patterns, purchasing funnel and discover websites to target your audience.
Why use Audience Interests?
Understand users' consideration stage: which other solutions/offerings are users evaluating or comparing your offering to during the same browsing session?



Discover where your audience is hanging out before and after they visit your site - in other words, attain a great list for targeting your most relevant audience.
Getting started
Get started by typing the domain address in the SimilarWeb Pro search bar. Navigate to Website Audience>Audience Interests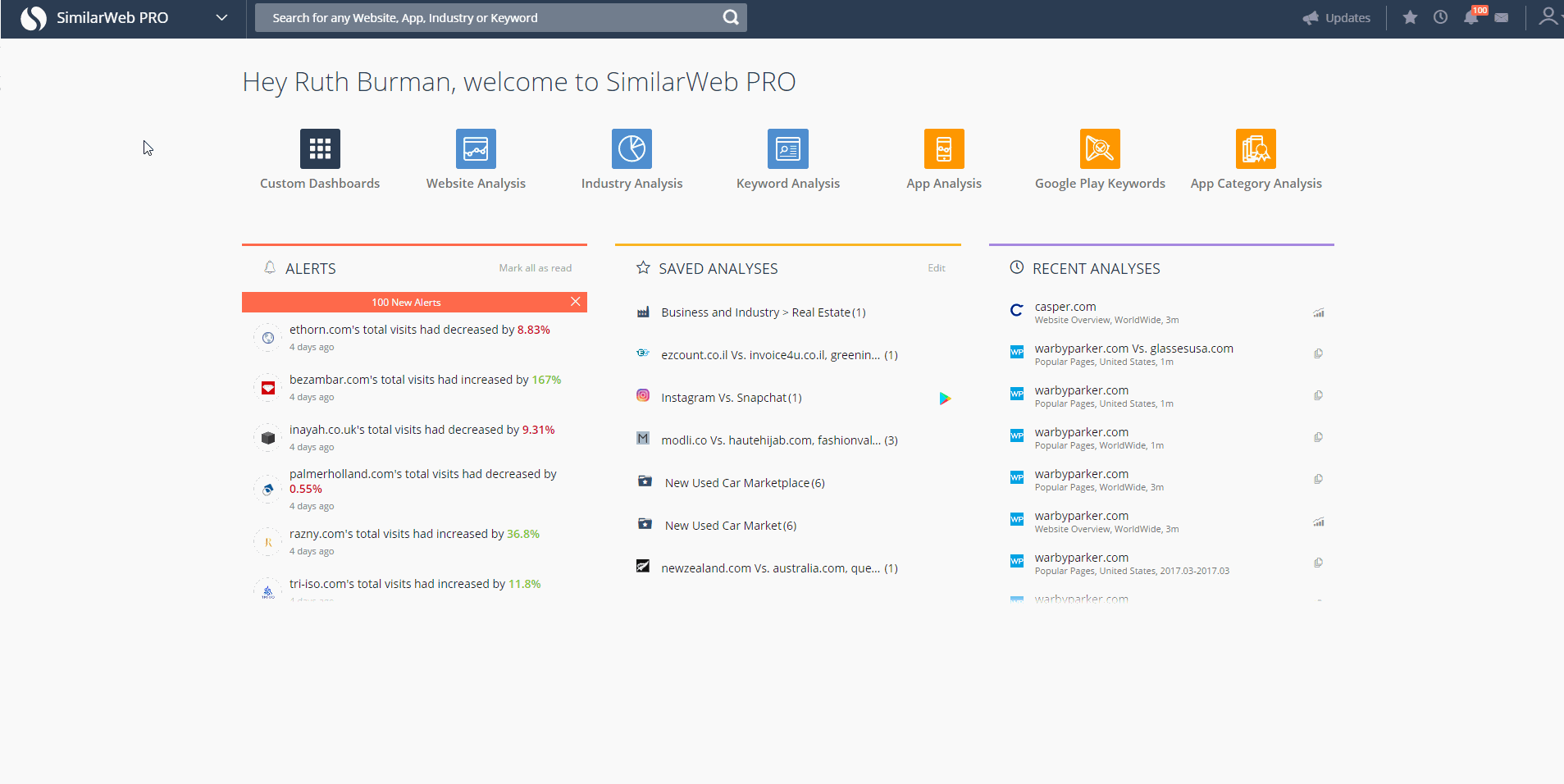 What do we see?
In the table you'll find the domain address, its category, the site's global rank, its affinity score and if the site uses AdSense.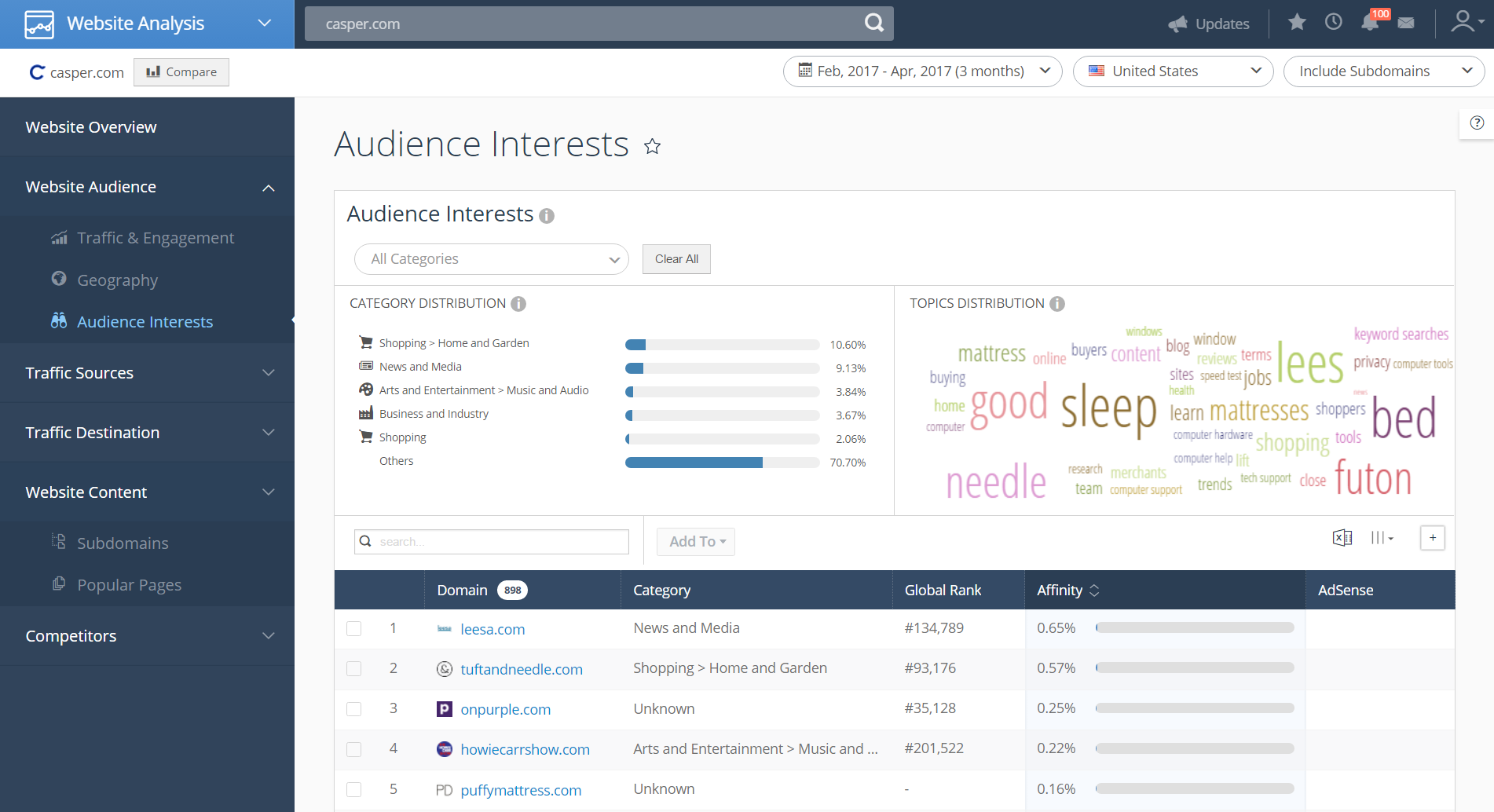 What other brands do users associate with yours?
When users visit your site, which other sites are they also visiting and comparing your offering to?
For example, by analyzing casper.com we can immediately spot its direct competitors:
Ranked #1 is .leesa.com. The homepage appears to be almost identical to casper.com's offering (except for the fact that it has Michael Phelps featured on it):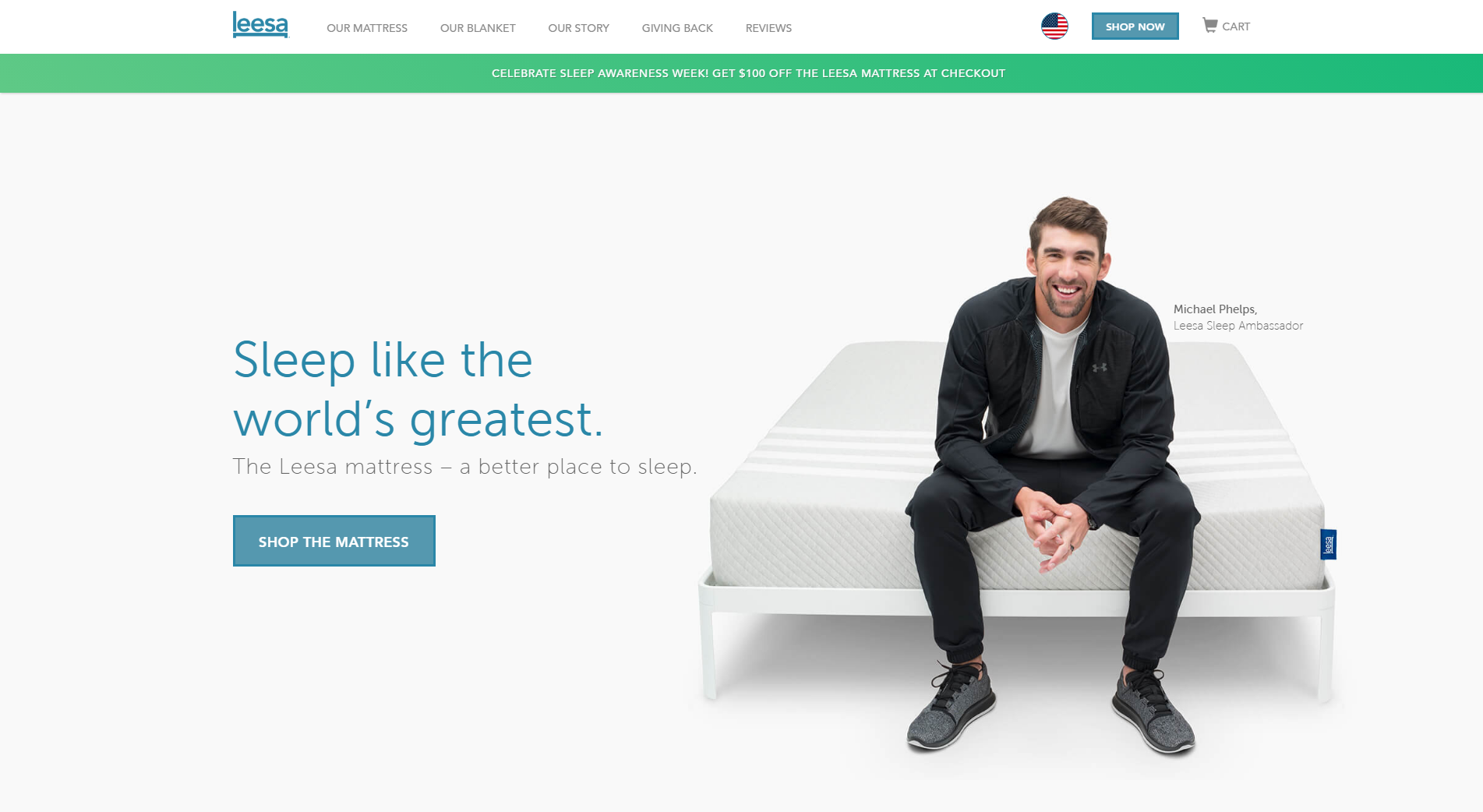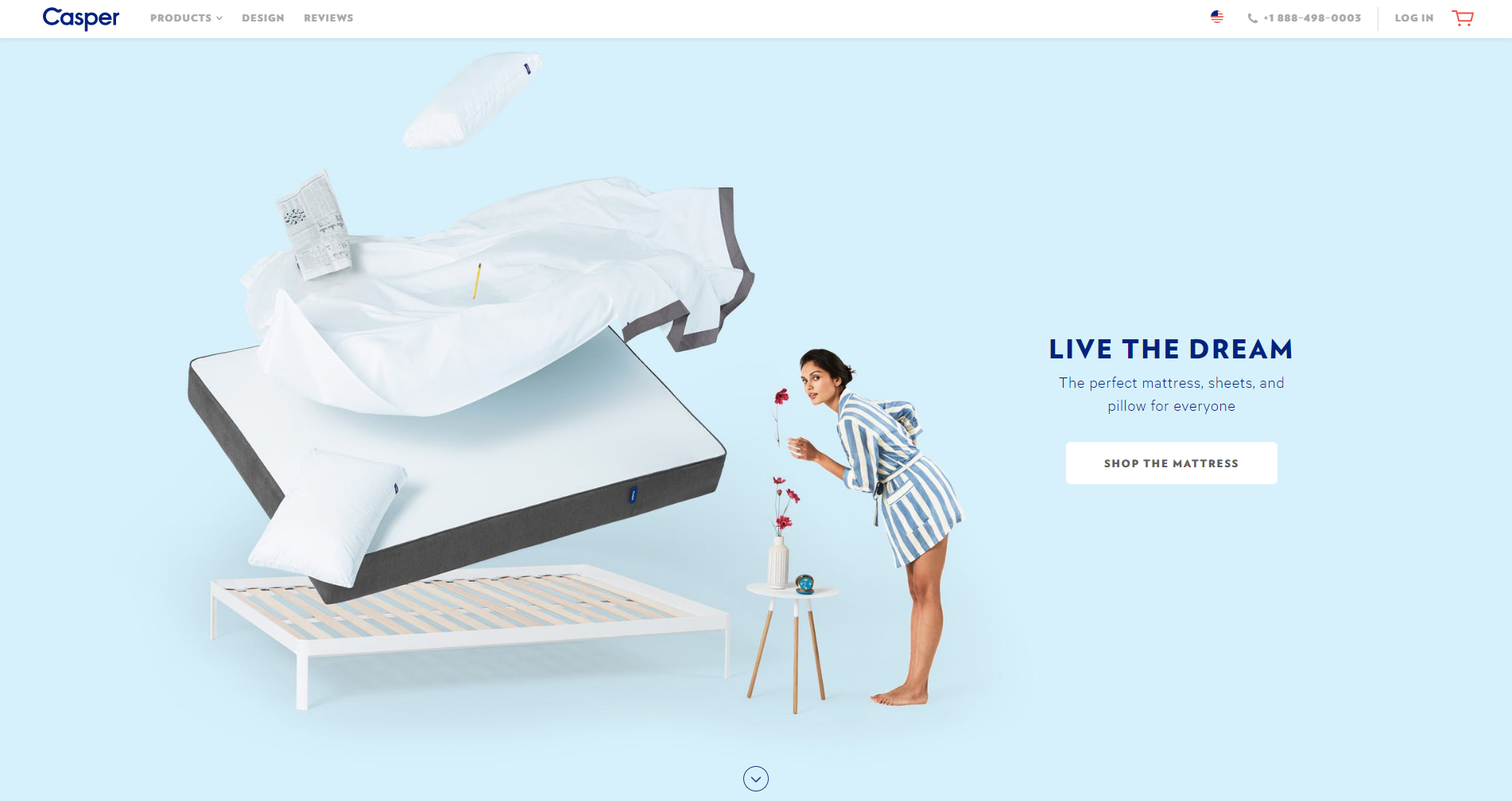 Next on the list, we find more direct competitors to casper.com:
Tuftandneedle.com

Onpurple.com

Puffy.com
This is a great way for Casper to discover who it is competing against based on the customers' perspective. 
Discover where your audience is going - right before they visit your site and your competitor's' site
How to reach your target audience is no longer a mystery. Scan the Audience Interests list to find websites that your users are more likely to go to.
Since SimilarWeb categorizes every website, you can use the categories drop-down menu to find "out of the box" ideas to target your audience. For example, looking at the Home and Garden category in Casper's Audience Interests list, we can view the websites that may complement Casper's products.
These type of sites can be leveraged for ads targeting and can also be used to prospects strategic partnerships (content placements, affiliate-based traffic etc.).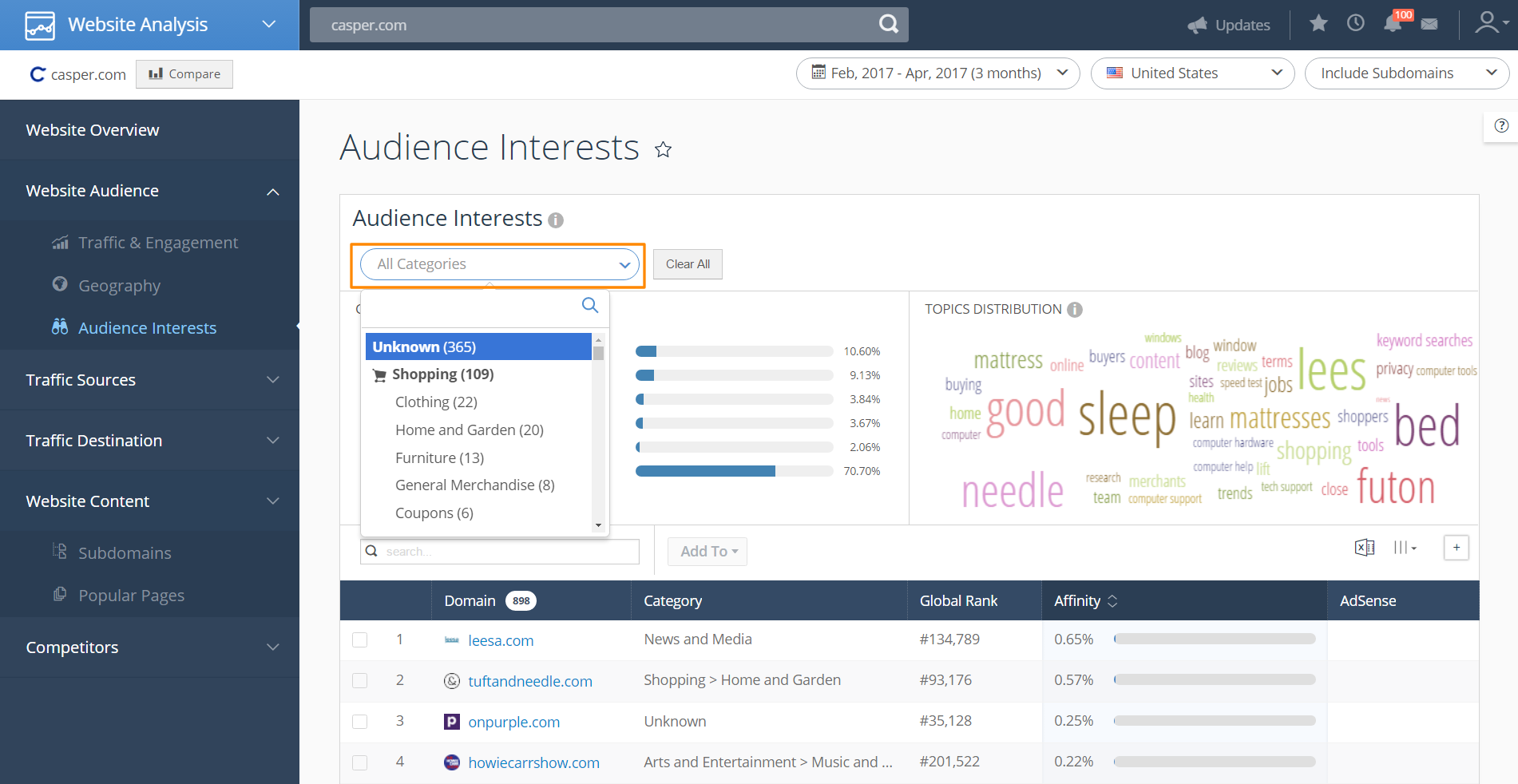 Pro Tip
Export this list to excel and filter by sites who are using AdSense. This is a great list of sites to give to your media buyer to target your audience.