Use the Similarweb HubSpot integration to quickly and seamlessly discover and manage valuable new prospect opportunities.
The HubSpot integration feature in the Similarweb Sales Intelligence solution allows you to easily export contacts, companies, and other valuable insights from our powerful Advanced Search tool into your HubSpot company.
Using these powerful lead generation tools and the HubSpot integration, you can:
Quickly and effectively discover new and highly qualified companies.

Exclude companies you already have in HubSpot so you can focus on net new opportunities.

Export Company lists & Contacts directly to HubSpot.

Populate HubSpot data fields with many relevant metrics and insights.

For each user, import and enrich accounts and leads they own in HubSpot.
Once connected, the system automatically syncs daily, so you never miss an opportunity! Syncing the data can also be manually initiated using the Export to HubSpot option.
Similarweb account administrators can connect their Similarweb and HubSpot accounts and set up the integration in a few easy steps.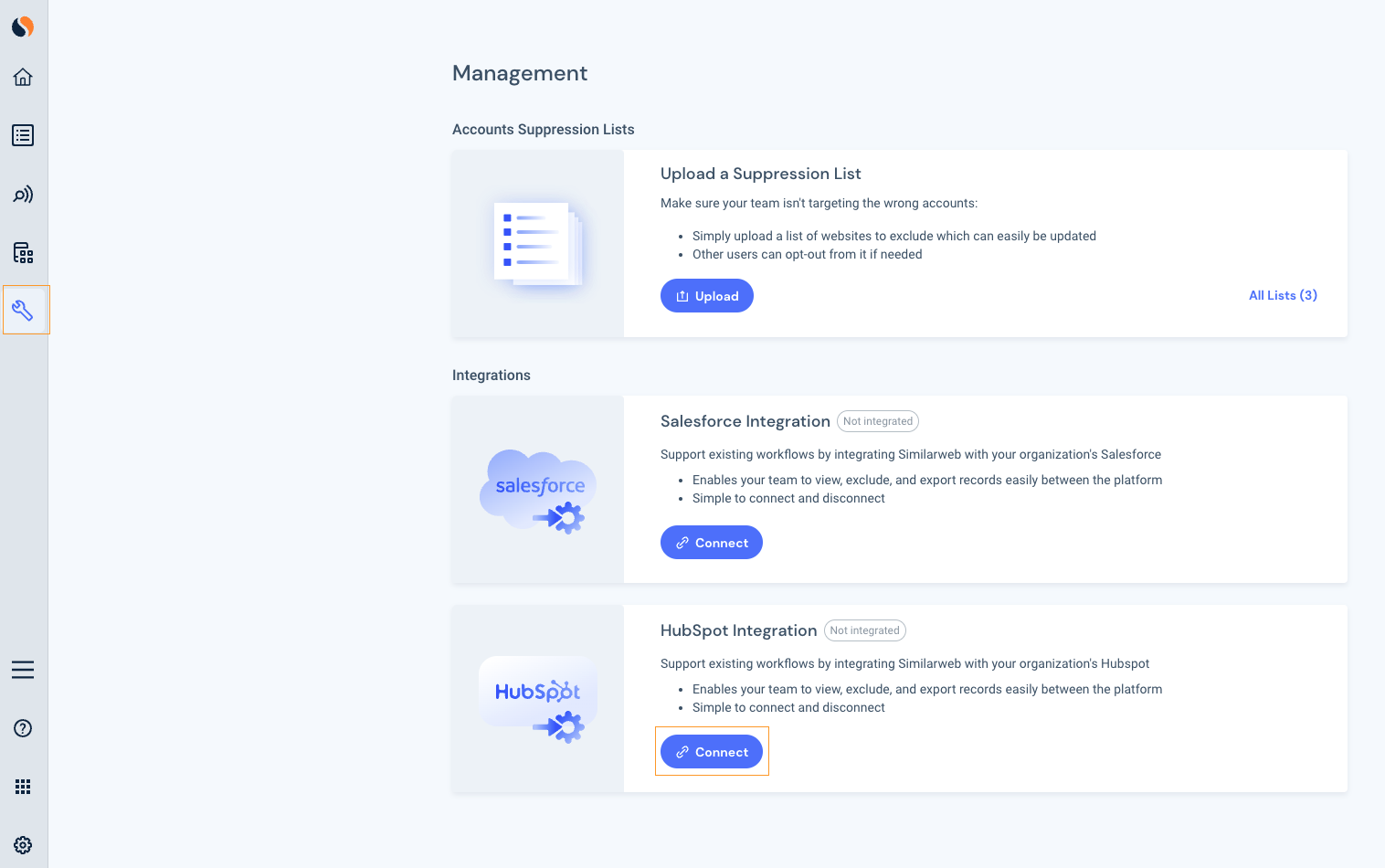 Setting up the connection:
Login to Similarweb Sales Intelligence with an Admin account.

Navigate to the Management page from the sidebar menu.

In the HubSpot Integration section, click Connect.

Note: The Terms and Conditions agreement is presented. Review and click I Accept to proceed.

The HubSpot platform prompts you to login. Then, click Connect App.

Note: Your organization's HubSpot Administrator must complete this portion of the setup.
With Similarweb and HubSpot successfully connected, the Management page will indicate that the integration is successful by displaying when it was last synced. The disconnect icon is now available for managing the connection.

Managing the integration
Once connected, Administrators should click on the management button to define the integration parameters. There are two integration elements to activate and define: Import from HubSpot to Similarweb and Export from Similarweb to HubSpot.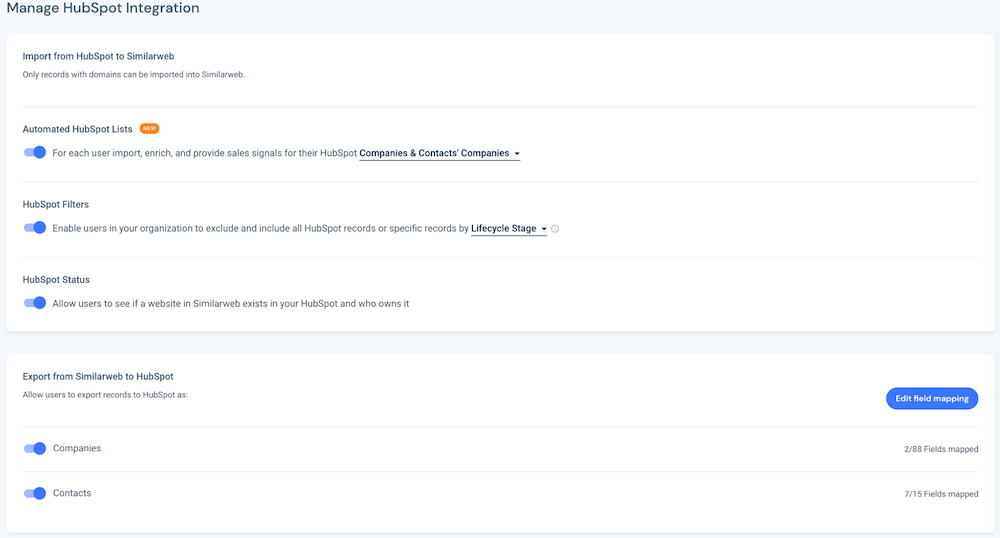 Automated HubSpot Lists: The Automated HubSpot Lists feature allows users on your account to view a list of the companies, contacts (or both) that they own in HubSpot.
HubSpot Filters: The HubSpot Filters feature allows you to exclude existing companies from the Advanced Search results. You can exclude all companies, only companies owned by specific people and/or companies with specific values in a selected field.
Login with an Admin account. Click the Setup icon.

Use the toggle to activate the Company exclusion feature.

Select a field to allow users to further refine their exclusion based on the values of that field.
HubSpot Status: Enable HubSpot status to allow users to view whether a company or contact currently exists in HubSpot.
Export from Similarweb to HubSpot: Activate the Export from Similarweb to HubSpot option to map and export Similarweb data fields to HubSpot. Export company information, traffic metrics, industry insights, etc.
Use the toggles to activate which record types users can export.

Click on the "edit field mapping" to map the Similarweb data fields to be exported to HubSpot.

For each record type, verify the default fields are mapped to the correct fields in HubSpot.

To add Similarweb data fields, click Add Fields. Then, choose the fields you'd like to export into HubSpot, and click Add.

Tip: Add valuable data fields - like company and industry information, traffic metrics, demographic insights, and more - to help you more easily sort, qualify and prioritize your list of prospects.

Once the selected fields have been added, you can map the newly added Similarweb fields to your HubSpot fields by selecting them in the dropdown menu under the HubSpot field column.