PPC Spend helps you understand and analyze competitive ad spend budgets for paid search.
Reveal competitors' estimated ad spends, potential budgets, and how they deliver on paid search strategies.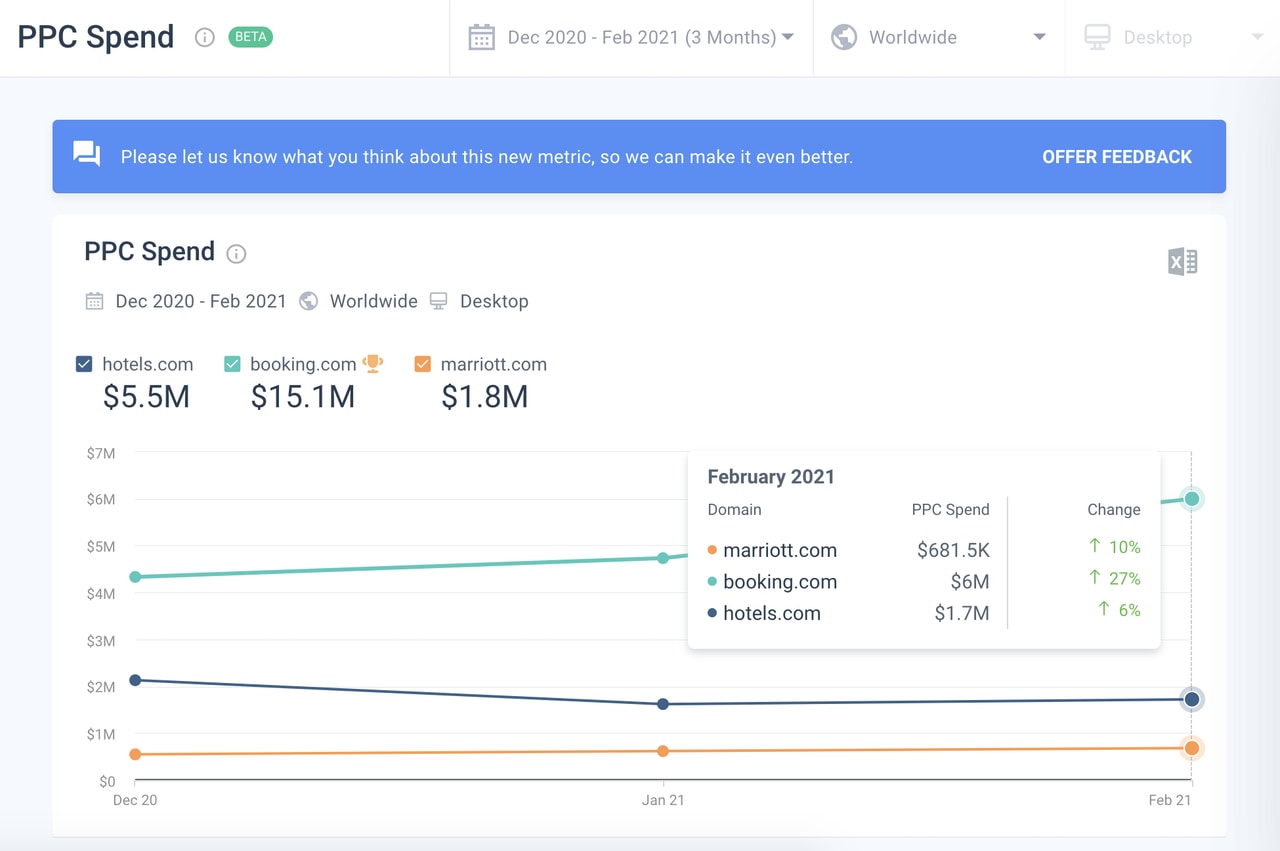 PPC Spend helps you to:
Plan and justify your own paid search budgets.

Understand the effectiveness of competitors' paid search advertising activities.

Grow clients' budgets based on their knowledge of competitor and industry PPC spend (mainly for agencies).

Identify significant strategic shifts in competitive PPC spend by analyzing spend over time.

Evaluate investment per channel based on competitors' PPC spend.
From Marketing Intelligence > Competitive Analysis, enter a website to analyze.

Click Compare and add up to four competitor websites.

From the left menu, select Search > PPC Spend.

The PPC spend estimation over time is displayed for you and your competitors' websites for the given time frame.
The graph provides:
Calculations
PPC Spend is an estimation of the websites' spending on PPC search terms over the analyzed period.
The PPC Spend metric is an analysis of keywords attached to Google Search and Shopping (PLAs) ads. The PPC Spend calculation is gathered using the CPC x paid visits over time.
Please consider:
PPC Spend is only available for desktop data

Available from Jan 2020 data onwards

Data unavailable for domains with <5k paid search visits for selected period
Will the PPC Spend metric be available as an API endpoint?
Yes, once out of closed BETA and put into general release. Until then, we do intend to offer the metric as an endpoint. Currently, it is in the release plan. However, plans can change in the development stage.
Is the PPC Spend BETA prototype for search ad spend or across other digital ad formats?
Currently, It is just for Paid Search Ad spend, but we hope to develop estimations for other paid digital channels shortly.