Website referral traffic contains information about referring domains that were identified as sources of referral traffic to the analyzed domain/s within the chosen time frame.
Referrals may include traffic through affiliates, links, and content partners and traffic from direct media buying or news coverage.
The Incoming Traffic page is an ideal way to view overall referral traffic as well as a breakdown of websites referring traffic to your site - this way, you can see if your marketing strategy works.
Afterward, you can see how you stack up against your competitors by viewing affiliates that are sending traffic to their sites. Remember, any site sending traffic to one or more of your competitors, but not to you, represents a potential new partnership opportunity.
From Digital Marketing > Competitive Analysis, enter the website you would like to analyze.

From the left menu, select Referral > Incoming Traffic.
On the Incoming Traffic page, you can see the following insights:
Total Referral Visits: Sum of all referral visits, coming from various affiliate websites to the analyzed domain.

Referral Visits: All referral visits to the analyzed domain.

Referring Websites: Websites referring traffic to the analyzed domain.
You can filter by:
All Categories: Select from a wide range of categories.

Tip: You can select multiple categories to help you see the most relevant sites in the referral table.

Competitive Traffic: Select the type of referral (i.e., opportunities, wins, competition, and losses).

Traffic Engagement Score: Using the new Traffic Engagement Score Filter users can hone in on those competitive referral opportunities that offer the most potential for improvement, or they can highlight their own referral wins to analyze which affiliate partners are working best for them. For more information, see Affiliate Engagement Score.
In the Referring websites table, you can see a breakdown of categories and the analyzed domains.
The following insights are also available:
Traffic Share: In single mode, this is the average percentage of traffic sent to the website in the analyzed period.

Total Traffic Share: In compare mode, this is the total traffic share the specific website is sending to the analyzed domain out of all websites in the list (in absolute numbers and percentage).
Note: You can filter by category or competitive traffic.
This metric enables you to analyze referring domains to your site and those of your competitors - both insights show changes over time.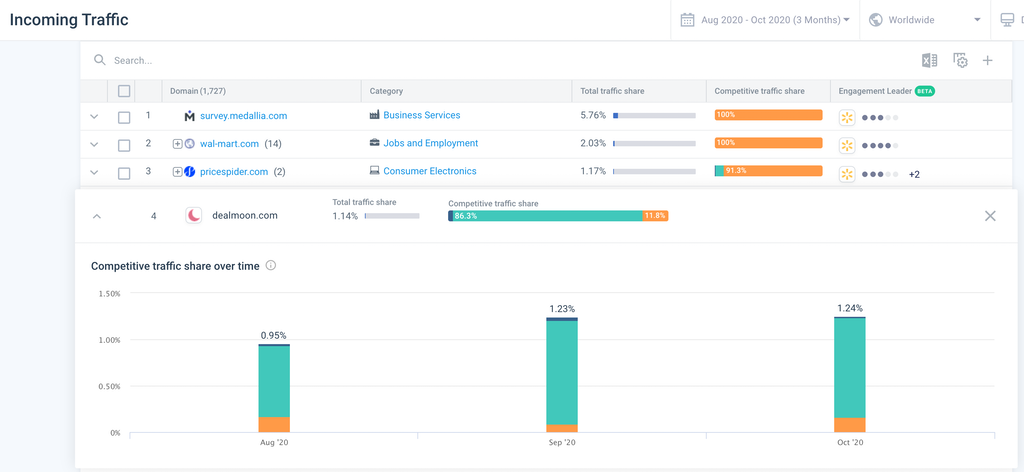 To view incoming referral traffic share over time, click the arrow next to each website in the Referring websites table to see a monthly breakdown.