Similarweb devotes substantial effort and resources to ensure that we provide the most reliable data. For over 10 years, we have developed a unique, multi-dimensional approach to understanding the digital world.

Through Similarweb's robust data methodology, we provide statistically representative datasets that preserve variety across countries, industries, user groups, and devices, and have been proactive in diversifying our data inputs to be resilient against changes in the market.
A Recent SparkToro study found that Similarweb's traffic estimations are the most accurate and closely aligned to users' Google Analytics data, against other digital intelligence providers like SEMRush and Ahrefs. The study notes that Similarweb's strength lies with sites that receive between 5K-100K GA users/month.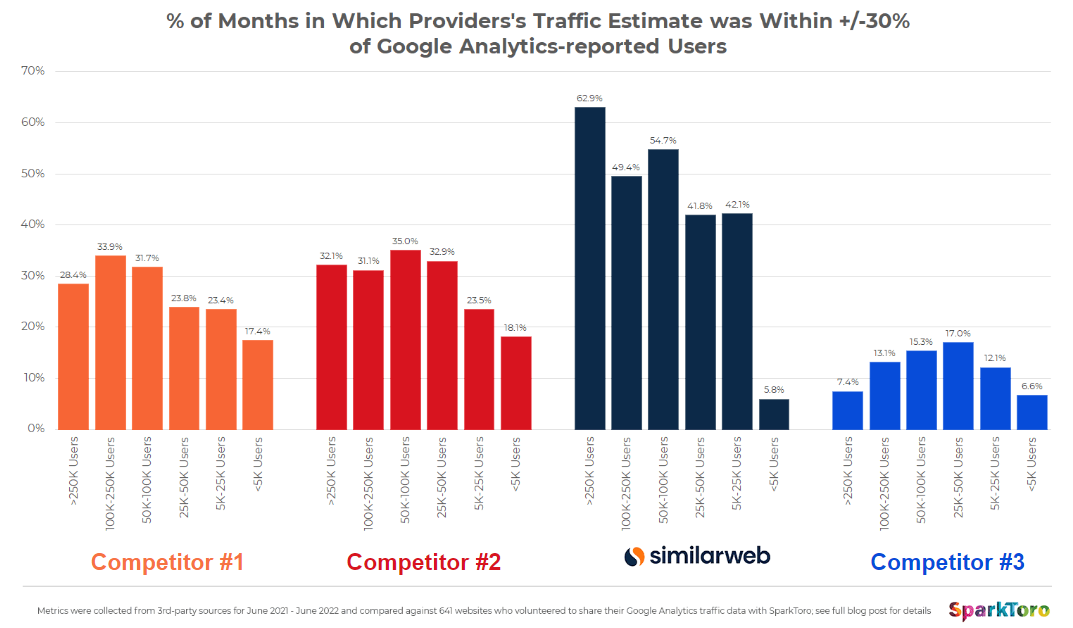 Because we are an estimations tool, and we rely on a data collection process that captures billions of digital signals to fuel our powerful algorithms, we don't expect our estimations to align exactly with your direct measurement data.
We provide a holistic view of the digital world, and expect trend alignment with your direct measurement data. For more information, visit Similarweb vs. Direct Measurement.
Small Sites
Later in 2023, we plan on releasing new functionality to our platform that will help us bring more reliable data to sites with relatively little traffic. While we're constantly working to expand our coverage, you may run into more limited results if you are analyzing small sites.
Below are several frequently asked questions regarding Similarweb data estimations, particularly for small sites.
Why is there no data for the sites I'm analyzing?
In a constant effort to continuously improve our data accuracy, our findings show that for websites with a small number of visits, our estimations may be subject to a greater degree of variance to meet our desired level of accuracy. Hence, Similarweb will not present data for websites that receive below 5,000 monthly visits.
I know that a website has received more than 5,000 monthly visits. Why does it still show N/A?
The 5,000 visits threshold refers to last month's data, per device, per country. Meaning, if a specific device (desktop/mobile web) has traffic above the 5,000 visits threshold last month, data will be available for metrics set to that device/ country. This applies to Total Traffic as well.
You underestimate my site, my site has over 5K monthly visits
Our data methodology is different than Direct measurement. Hence, there might be a discrepancy when estimating your site. We encourage you to connect your Google Analytics to Similarweb. You can do this publicly (all users will see this data) or privately (only you will see this data). Read here to learn how.
What happens if a site's visits vary during an analyzed time period?
(For example: April = 1000 visits, May = 6000 visits, June = 3000 visits)
We look at the last available snapshot. If the last snapshot (June for the sake of the example) is less than 5000 visits then we won't display any data.
When comparing sites, suddenly the data for a site is N/A. Why is that?
The issue might be when analyzing sites with small or no data. Please remove the sites which don't have a sufficient amount of visits, to see data for the other sites.
When analyzing certain features, suddenly the data is N/A. Why is that?
Some of our features support only Desktop data. Therefore, if a website has less than 5,000 monthly visits from Desktop - we won't have data to display.