Get a 360-degree view into every company's digital landscape
Predicting the digital world is more important than ever in today's highly dynamic markets
Our mission is to empower businesses to make better decisions by equipping them with the insights they need to succeed in the digital world. We provide a digital intelligence platform that gives you visibility into any website, app and industry in the world.
Data analysis is the foundation of our entire business. For over 10 years, SimilarWeb has developed a unique, multi-dimensional approach to understanding the digital world.
Join the ranks of over half of Fortune 500s that rely on SimilarWeb data.
SimilarWeb Analyzes Billions of Digital Signals Each Day

The Intelligence Engine
Data Collection: We created the industry's most diversified data universe of digital signals, constructed of statistically representative datasets that preserve variety across countries, industries, user groups and devices
Data Synthesis: After the data is collected, we run a sophisticated algorithmic process to clean, match, synthesize, process and blend inputs for data modeling
Data Modeling: Normalized data is then run through advanced machine learning calibration and predictive models to provide an accurate and consistent view of the digital world over time
Data Delivery: The intelligence engine generates powerful, ready-to-use insights delivered through our actionable platform or API to help you make better decisions and grow intelligently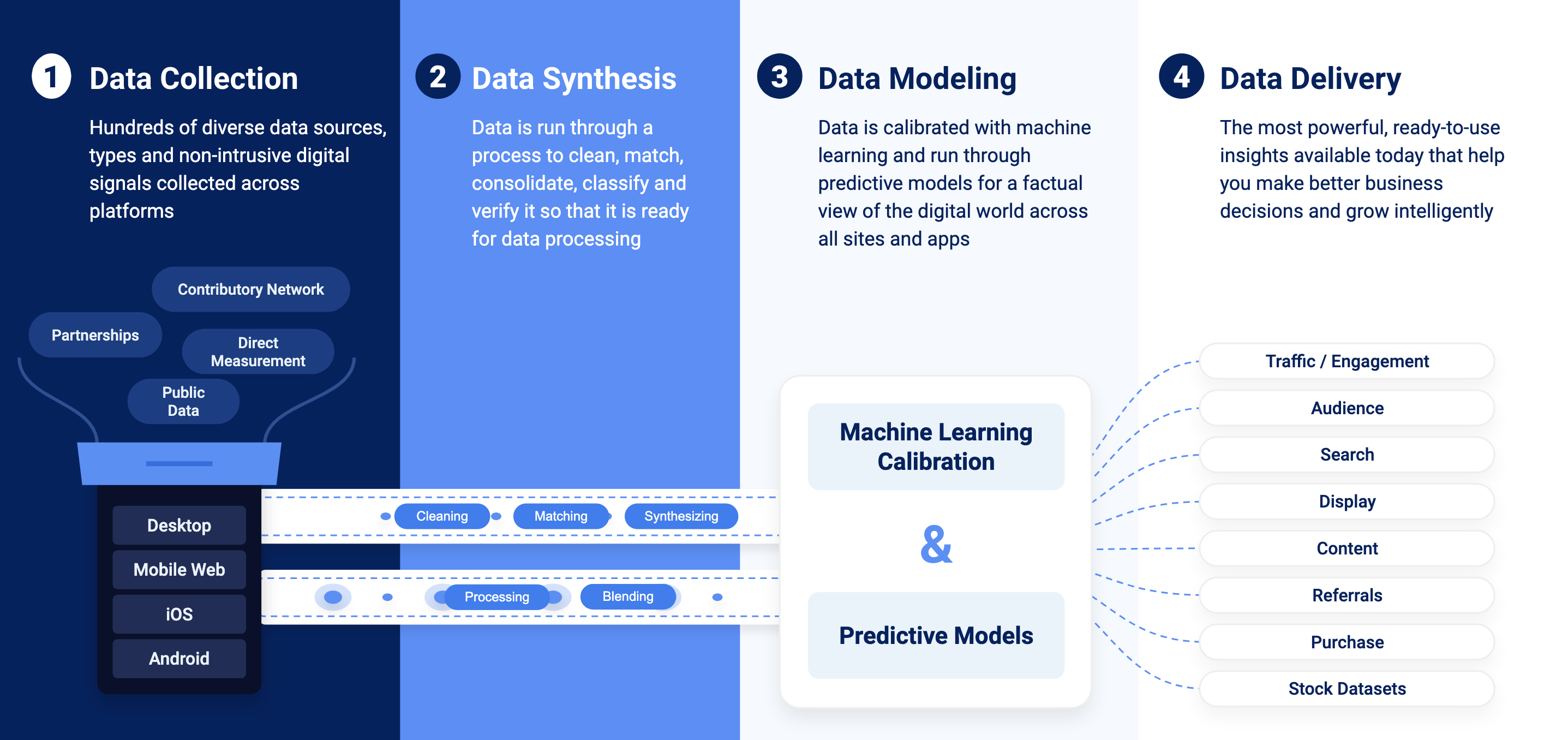 The Data Universe: Billions of Digital Signals
We invest substantial resources to ensure that we provide statistically representative datasets that preserve variety across countries, industries, user groups and devices.
Since we started developing our leading technology for analyzing the digital world in 2011, we've been proactive in diversifying our data inputs to be resilient against changes in the market. Our methodology is grounded in full redundancy of these data.
We have an unrivaled blend of digital signals, collected across platforms that we categorize into 4 distinct sources:
Direct Measurement – millions of websites and apps choose to share their first-party analytics with us. Learn why here
Contributory Network – a collection of consumer products that aggregate anonymous device behavioral data
Partnerships – a global network of organizations that collect "digital signals" across the Internet
Public Data Extraction – an advanced algorithmic engine that captures and indexes public data from billions of websites and apps
First-Party Direct Measurement:
Our machine learning algorithms are fed by millions of websites' and apps' first party analytics (e.g. Google Analytics), both proprietary and sourced through partners. By connecting direct measurement tools to the SimilarWeb dataverse, companies put their own data in context of their market; benefitting from unparalleled insights that empower them to see their business's performance relative to the market, leverage advanced analytics and optimize estimations. Learn more here.
Contributory Network:
SimilarWeb manages a suite of consumer products and aggregates this anonymous device traffic data at the site- and app-level. Data is sourced across diverse audience devices to maintain an accurate and consistent view of the digital world over time.
Partnerships:
SimilarWeb partners with a global network of organizations that capture "digital signals" across the Internet (data that help us understand how the digital world behaves). Generally, these partners produce already analyzed data for news, company information, technologies etc. Other partners aggregate behavioral data across websites and apps, and include internet operators (ISP's), measurement companies and demand-side platforms (DSPs).
Public Data Extraction:
SimilarWeb's public data sources are an aggregation of online information available to the public. Similar to how search engines like Google index the web, SimilarWeb employs an automated technique for capturing and indexing public data from billions of website pages and apps every month. Together with census data such as country population, our advanced predictive models further refine our best-in-class estimations.
The Market Forecast: Predicting the Digital World
We employ innovative AI technologies to deliver the most powerful digital traffic intelligence available. Over the past 10 years, we have built a sophisticated set of machine learning algorithms that bring unrivaled insights to your fingertips by:
Cleaning each individual input for data normalization
Matching data inputs for consistent grouping across digital properties
Synthesizing billions of data inputs for categorizing and advanced, predictive modeling
Processing structured data for noise and bias reduction
Blending models for weighting and scientific calibration
Reporting key insights on any market, company or audience for an authoritative and accurate view of the digital world
Our industry-leading technology is supervised using a cross-validation process to ensure scale and trend accuracy on a daily basis – so you can be confident that you're privy to the right market trends at the right time. Perfecting your digital strategy is hard, but with SimilarWeb, getting the needed insights doesn't need to be.