The Keyword Generator tool automatically generates lists of keywords based on a seed keyword across any language and market. From exact terms to long-tail keywords, users receive hundreds of keyword suggestions and can see exact search volume, trends and the website winning for each keyword.

In this article, we'll cover these basic questions:



Where can I find the Keyword Generator Tool?

The Keyword Generator Tool can be accessed via the Homepage and the Keyword Analysis section.

Homepage

On the homepage, click on "Add" on the Keyword Groups widget and select "Keyword Generator Tool".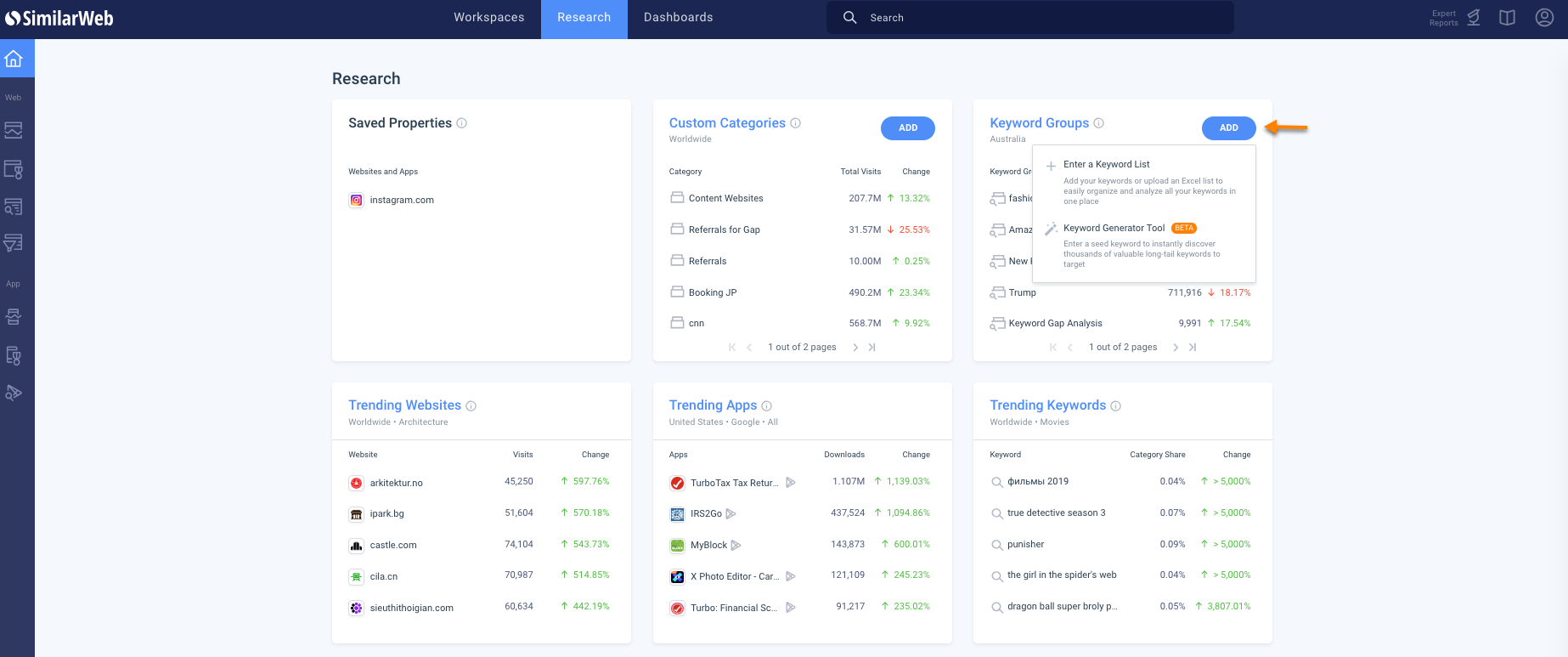 Keyword Analysis
In the Keyword Analysis section, click "+ New Keyword Group" and select the "Keyword Generator Tool".



What type of keywords can I generate from the Keyword Generator Tool?

Entering just one seed keyword in the Keyword Generator tool will give you two separate lists of relevant keywords: phrase-match and related keywords, in your language of choice!

Phrase-match keywords: this list includes all search terms that contain broad and exact match mention of your seed keyword. So if your seed keyword was "car insurance", we'll surface all the user searches in the selected geo (in this search, we'll use the USA) that include the words "car insurance", like:
car insurance near me
military car insurance
car insurance quotes
liability insurance for rental cars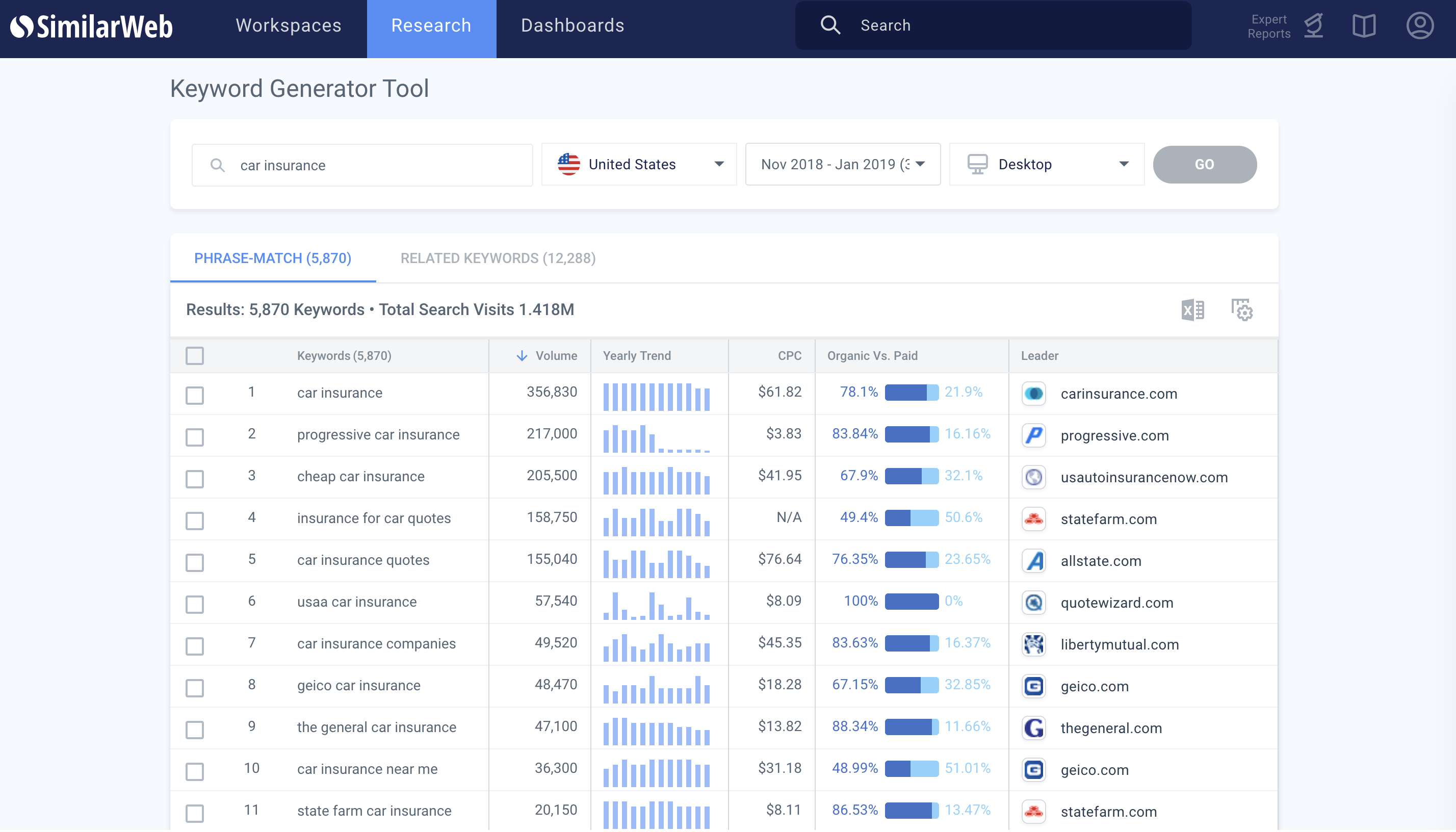 Related keywords: this list includes all search terms that are semantically similar to your seed keyword - that means you'll be able to broaden your keyword search to search terms that match the intent of the user, rather than just the exact words. We offer these results by looking at the other keywords that the websites pages' getting the most traffic from your seed keyword also rank for.

So if your seed keyword was car insurance, we'll surface all the user searches that are relevant to the words "car insurance", like:

quick online car quote
vehicle insurance quotes
online drivers insurance
full coverage insurance quote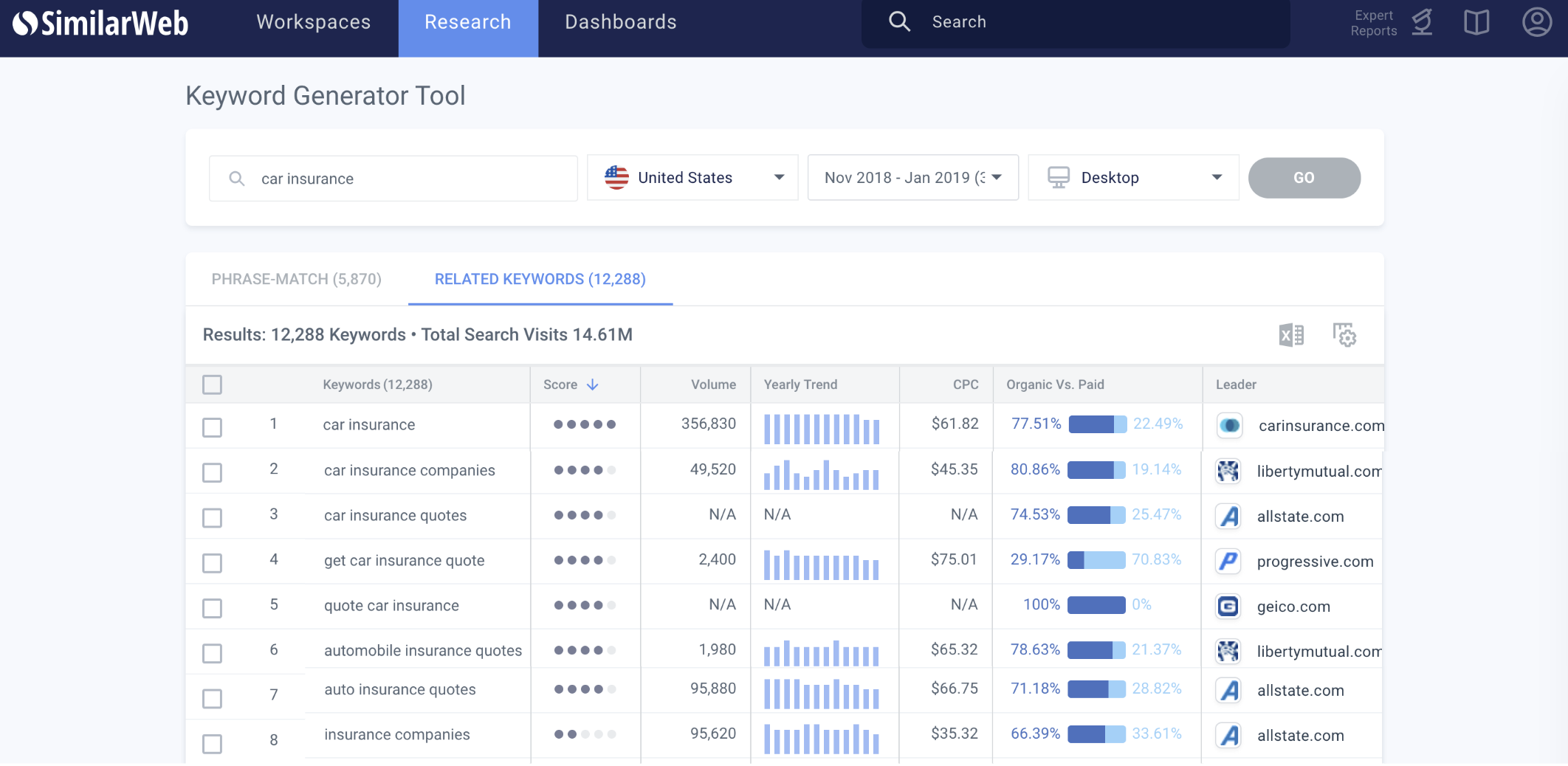 You'll also see the total search visits for each list, to better understand traffic trends, as well as key metrics per keyword, like the volume, yearly trend in search volume, and the website gaining the most traffic from this keyword.

Both the phrase-match and related keywords lists offer a view into more specific keyword phrases that individuals use when their intent is very clear. Shorter, competitive keywords might bring in more visits but when it comes to quality traffic, ROI can be very low.

By discovering the long-tail keywords that bring in proportionally high-quality organic traffic, you'll be able to build an effective SEO strategy and attract your target audience- with little to no competition!

How can I use the Keyword Generator Tool in my daily workflow?
Generating relevant keywords at scale is key for success in your content marketing and SEO efforts.

Gathering two extensive keyword lists of phrase-match and related keywords can ensure you outrank the competition, gain quality organic traffic and improve conversion rates. Ultimately, long-tail keywords are how people search the internet.
Use the keyword generator to:
Cluster your keywords by topic, intent and business value - instead of building web pages optimized around one keyword, you build your website around key topics that are central to your business and services
Build out your content marketing strategy with SEO-optimized content
Find gaps in your content marketing plan
Discover the best keywords for your paid search campaigns
Optimize your PPC campaigns
Give the right titles to your articles or blog posts
How is the Keyword Generator different to Google Keyword Planner?
The Google Ads Keyword Planner relies on search volumes and Google's related keyword data. SimilarWeb's Keyword Generator mines actual searches made by our panel and is based on a representative data set of keyword relationships, similar to broad-matched search terms.
In many ways Keyword Generator provides a complementary service to Google's Keyword Planner. While the Keyword Planner offers keyword suggestions for a Google Ads campaign, SimilarWeb's Keyword provides comprehensive coverage of the keywords including the leading domain for each and a breakdown of paid and organic search terms.
What's Next?
Once you've selected the keywords that are most relevant for your business, build a keyword list and monitor the performance over time.