With Similarweb's Data Exporter, you will be able to download customized reports by leveraging API-like capabilities directly from the platform.
What Is The Value of the Data Exporter
The new Data Exporter will allow you and your team to download custom reports from Similarweb without having to rely on your development team to query our APIs. The intuitive UI makes it easy to create reports and requires no prior technical knowledge.
Key Benefits:
Simplicity and Ease of Use: The Data Exporter is designed with a user-friendly interface that requires minimal technical expertise. You can easily choose the report type, domains, filters & metrics you wish to include in your report.
No Coding Required: Utilize the Data Exporter's intuitive interface to interact with APIs, making it accessible to those without coding skills.
Customization: By using different data filters such as geography, historical data, granularity, and more, you can easily tailor your data exports to your needs.
Report Sharing: You can share your reports with your team by sending them automatically generated API-code snippets of your report, or simply sending them a direct link to download the report.
Scheduled Reports (Coming soon!): The Data Exporter's scheduled exports will eliminate the need for manual data retrieval. You can set up automated routines to receive data on a regular basis, reducing the reliance on IT teams for data extraction.
Note
As you interact with the Data Exporter, you may gradually develop a better understanding of APIs and their potential. This product can serve as a gentle introduction to more technical aspects for those interested in learning.
How To Use the Data Exporter
First, access the Data Exporter within Similarweb Solutions at the bottom of the navigation sidebar: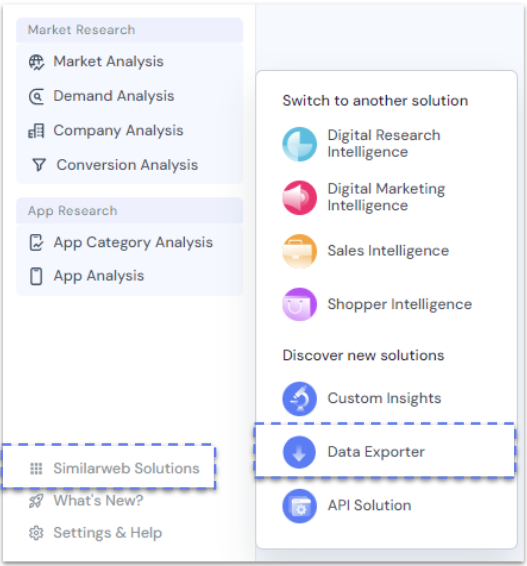 Second, click 'Get Started' to continue to the Data Exporter, or 'Gain Access' and we will contact you with all the information necessary.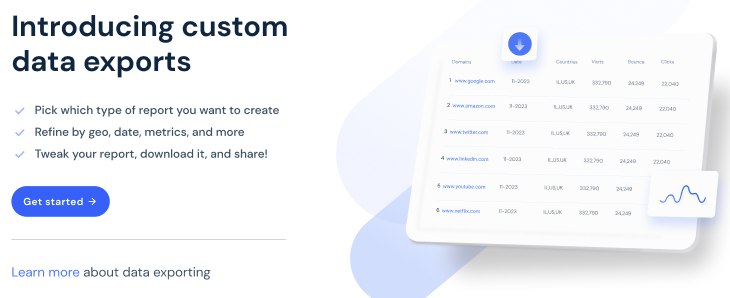 Creating a New Report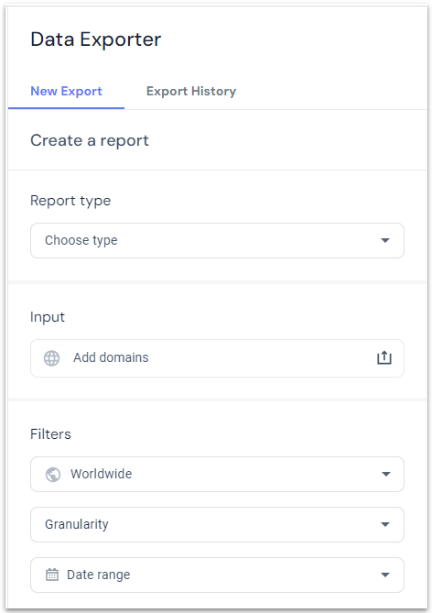 Create a new report by following 4 easy steps:
Choose a Report Type: Select the report type you wish for your new report among the different options -

Traffic and Engagement
Audience Interests
Demographics
Marketing Channels
Referrals
Site Keywords
Traffic Sources
The selected report type should match the metrics you're after, as the available metrics will vary depending on the selected report type. For example, if you're looking for website traffic data, select "Traffic and Engagement" report type. If you're interested in Keywords data, select the "Site Keywords".
Provide Input (Website Domains): Type and select the domains you're interested to include in your report. Or, if you want to analyze many domains at once, you can upload a CSV of up to 1M domains. This is also where you select whether you wish to include Subdomains in your report (You can also change your selection at the checkout stage).
Important:
Make sure the CSV contains only one column with domain-names to ensure data is pulled properly. You can always check your report in real-time using the preview window on the right.
Apply Filters: Select the relevant countries, granularity and timeframe you wish to apply for your report. Notice that not every data set has all granularity levels and historical data, so these will change according to the selected data set and metrics.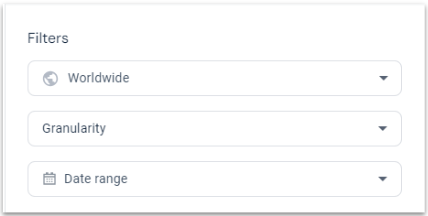 Add Metrics: After selecting the report type, you will be able to choose the metrics you wish to add in your report, and watch as they are added in real-time in the preview screen for both 'Table' and 'API' views.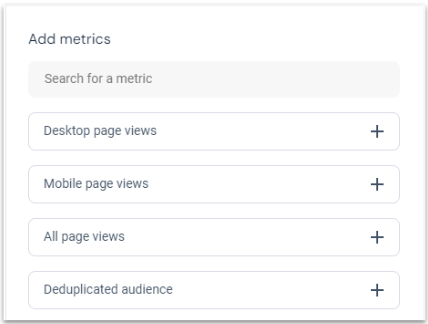 Export Confirmation
It's time to download our report! Clicking 'Export' will open a summary of our report configurations, along with an option to select the report format and whether to include subdomains as mentioned earlier -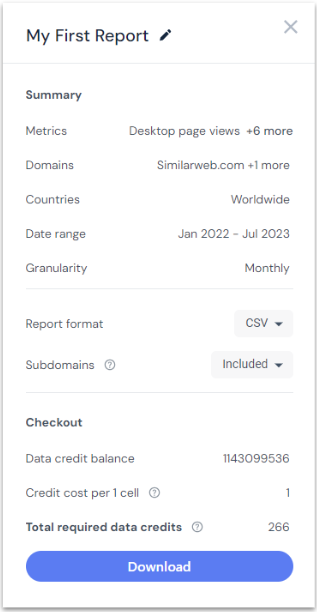 Before downloading the report it's important to verify the estimated number of data credits required to run this report - In our case we're looking at a total of 266 data credits since we're analyzing only 2 domains and have sufficient budget.
Download and Share your Report
Once you've clicked the 'Download' button, a pop-up will appear: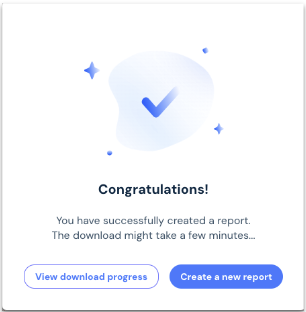 Clicking "Create a new report" will take you to the New Export tab, and "View download progress" will redirect you to the Export History tab: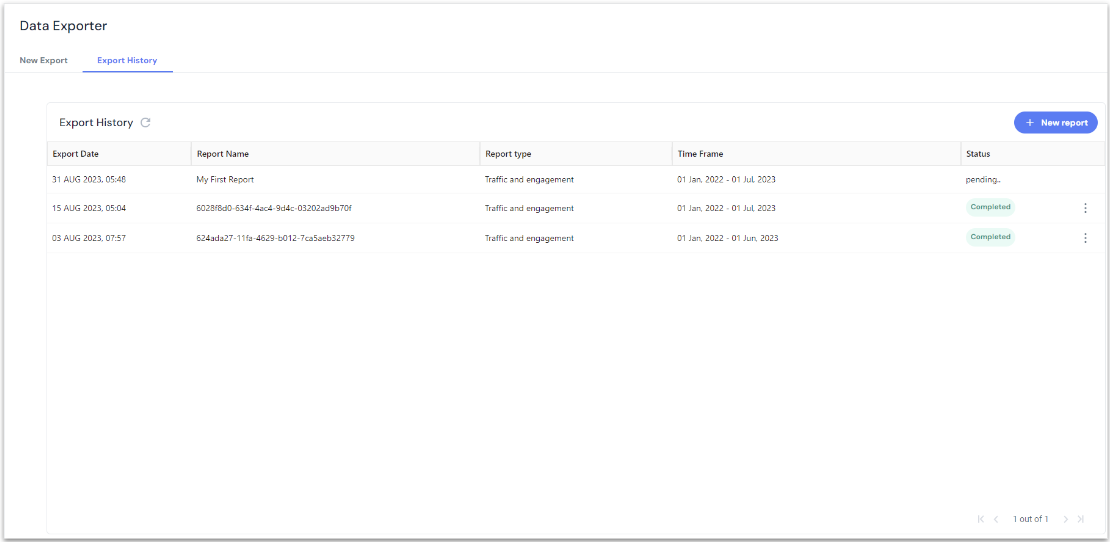 Export History is where you can choose to download your newly added report (or any report you've previously created), or you can choose to copy the report link and share with other members of your team: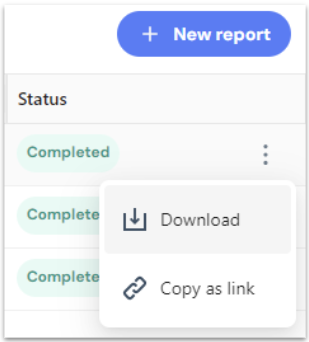 Related Articles
FAQ
Q: What is the difference between using the Data Exporter and downloading my reports using the API or Excel downloads?
A: The Data Exporter offers the same datasets as offered in the Batch API , with the main difference being the UI and ease-of-use, which allows you to see what your report will look like in real-time. Excel downloads are available in various dashboards on the platform but can't be customized.
Q: How can I find out my credit balance?
A: At the bottom of the navigation bar, select Settings & Help > Account, then select Credit Management to see your current credit balance.
Q: Some of the metrics I'm looking for are not showing in the drop-down menu, can I still include them in my report somehow?
A: Each set of metrics is directly connected to the type of report selected at the beginning of your New Export process. If you wish to include metrics from different sets of report types, you will need to generate 2 different reports and then merge the columns independently.
Q: How do I upload a domain list to the Exporter? Can I upload a CSV file?
A: You can upload up to 1 million domains - simply create 1 column of the domains you wish to upload using a CSV file.