Contacts provide direct access to a prospect's contact information, including their business email, phone number, and more.
Contact data is available as an add-on. If you are interested, please reach out to your account manager:
Note: Each contact revealed uses one credit. Once a contact is revealed, it can always be accessed by anyone on the team without using any additional credits.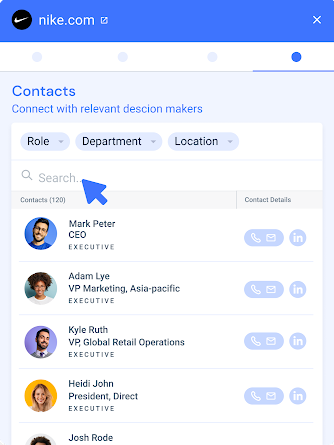 Contact data empowers you to find and connect with the right decision-makers within a company. Paired with our unique insights, you can easily craft a winning pitch and focus on the right opportunities, increasing your chances for success.
From the Sales Intelligence homepage, select.

- My Lists from the left-nav menu (or from My Workspaces > Sales, select a list from Leads): Opening an existing Account List.

or

- Find Companies > Company Search: Create a New List using the Lead Generator. For more information, see Generate New Leads.

In the table of websites, click the name of the company for which you want to see contacts. The right sidebar will open.

Click the Contacts icon to find relevant decision-makers.
Notes:

Filter by department and employee location

Search to include/exclude certain roles