Win more display and paid search traffic by discovering and placing ads with top-performing publishers.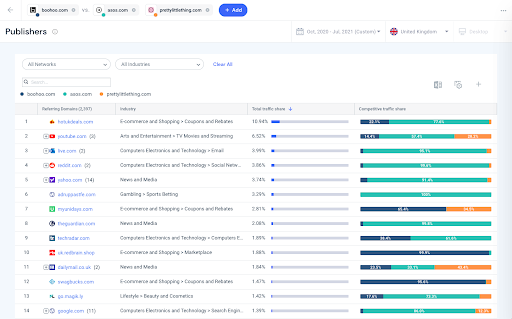 Find and target the best publisher domains driving display and paid traffic to your competitors and within your industry. The Publishers tools are located within the Competitive Analysis and Media Buying Research modules.
When conducting Competitive Analysis, discover the list of Publisher domains sending traffic to a select website or a competitor set of sites. See valuable insights including Network and Industry distributions, and the list of referring domains.
In Media Buying Research, the Find Publishers tools are used to find and analyze the top-performing publishers used by competitors and across the industry. See Traffic Sources, Traffic Share and Competitive Traffic Share, among other valuable insights.
Further, refine your research and hone in on specific domains by filtering results by the Ad Network or the Industry that the publishing domains belong to.
Working within the Digital Marketing Intelligence, Publisher insights are available in the Competitive Analysis module and the Media Buying Research module.
To Find Publishers, go to the Media Buying Research module -> Find Publishers.

Choose Find Publishers by Industry or by Competitor.

By Industry: Select the Industry from the list. Set the Geographic region filter.

By Competitor: Enter the website domain to be analyzed. Click +Add Competitor to add up to four additional sites.

Using the filters on the top-right, set the month and geographic region.

The Publishers page displays a list of the top publishers driving ad referral traffic to the analyzed domains or industry.

Key metrics and insights:

Publisher: the list of publisher domains in order by traffic share

Industry: the industry or sub-industry in which the domain belongs that best describes the

Total Traffic Share: the % of traffic share sent by this domain to the analyzed websites

Use the All Networks and All Industries filters to further refine the results list to view relevant publishing sites for your requirements.
Tip: Use the Analyze Publisher tool to reveal even more insight on a publisher. Find all the advertisers and ad networks working with that publisher, how much outgoing traffic they drive in general and to where as well as which industries; How many Ads have been placed on the publishing site over the analyzed period, and much more.
Give it a try!
Digital Marketing Intelligence > Media Buying Research > Find Publishers
Digital Marketing Intelligence > Competitive Analysis . Enter a website, and go to Publishers.