Get a glimpse into the search engine results page (SERP) for any organic keyword and supercharge your keyword research using the SERP Snapshot feature.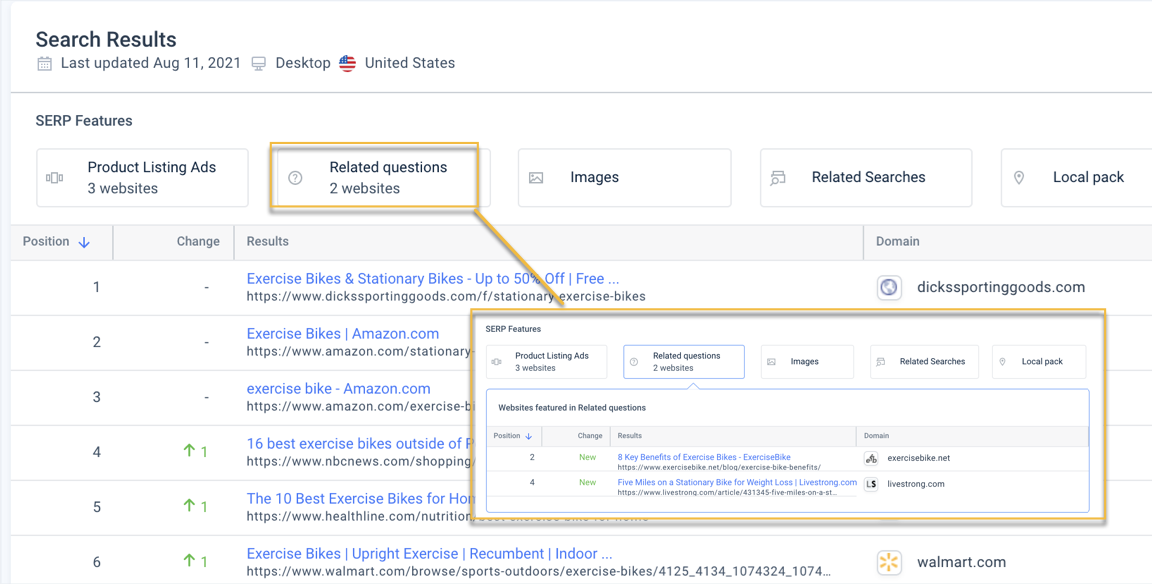 The SERP Snapshot tool provides visibility into the SERP for organic keywords and, specifically, the position and performance of keyword search results. See the change in position, and dive into each search SERP Feature, such as Videos, News, or Product Listing Ads, to see the websites positioned within each feature.
When analyzing keyword searches, it's important to look beyond traffic volume. The positioning of search results on the Search Engine Results Page (SERP) is a key to audience discovery of content. With the SERP Snapshot, see the list of organic results, in order of position, from the top 10 pages of Google search results.
Then, take a look at the different SERP features containing ranked websites, and drill down into the feature to see the domains and positions.
Using the SERP Snapshot insights, you can:
Discover and qualify new keywords, including long-tail keywords

Monitor your SEO performance, and the status of SERP ranked result

Evaluate the different SERP features that contain top-ranked search result

View all classic organic results on the top 10 pages within Google in the order of their position
Working within the Digital Marketing solution:
From the Keyword Research module, go to Analyze Keywords and enter a keyword.

Select SERP Snapshot from the left sidebar.
The SERP Snapshot page provides a clean overview of the search results page for the analyzed keyword and the selected time frame.
Use the filters in the upper right to set the desired date, geographic region , and traffic type.

Narrow the scope ofsearch results by specifying terms to included and/or excluded in the page results.

SERP Features: See the # of websites ranking for each feature. Drill down to see domains and position.
Metrics and Insights:
Last Updated: represents the date in the month that the data was collected

Position: represents the last updated position of the domain

Change: the change in position from the previous month
To learn more about Similarweb's keyword tools, metrics and insights:
Video Education

Related Articles
Digital Marketing Intelligence > Keyword Research > Analyze Keywords > SERP Snapshot