Analyze your competitors' strategies and performance using Similarweb's powerful competitive analysis tools, metrics, and insights.
Within Similarweb's Competitive Analysis Suite, you can:
Find your top competitors
Analyze their traffic across marketing channels, including paid and organic search traffic
Get a look at the traffic distribution by geographical regions
discover what's working to drive traffic and find growth opportunities
... and then optimize your strategy and win more traffic!

In this guide, we'll show you how to get started with Competitive Analysis in three easy steps:

Before you can win in the digital world you need to know who you are competing with. Your digital traffic competitors may look a little different than your well-known business competitors - because in the digital world, a competitor is any site that pulls clicks away from your site.
So, let's start by identifying competitors:
Go to Website Analysis and enter your website in the search bar. Click Enter.

The Website Performance page for your site is presented. Here you'll get a birds-eye-view of many traffic and engagement metrics and insights for your site.

Next, use the sidebar to navigate to the Organic Competitors page.

The Organic Competitors page reveals a list of sites competing for the same website traffic as the analyzed site. Take note of the sites that top the list.
Once you've taken note of the top sites competing for organic traffic, navigate to the Paid Competitors page to identify who tops that list.
With a list of competitors in hand, let's compare the sites to see who is earning the most high-quality traffic, and how the traffic breaks down across various marketing channels.
Similarweb's expansive and reliable data helps reveal how your website traffic stacks up against the competition. Compare the traffic volume and (more importantly) traffic quality, and see how that traffic is distributed across marketing channels.
Ask yourself: How does your site rank against the competition? Who is earning the lion's share of traffic? What is the quality of the traffic? Who is winning the Organic, Paid, and Referral traffic? Are there geographic regions that you should target? Let's see.
Go to Website Analysis and enter your website in the search bar.

Click +Compare and add up to 4 competitor websites.

Use the filters at the top of the page to set desired date range, geographical region, and traffic type (Desktop, Mobile, or both).
The Website Performance page provides an overview of traffic insights across the competitive set. Some key metrics and insights you'll find on the Website Performance page include: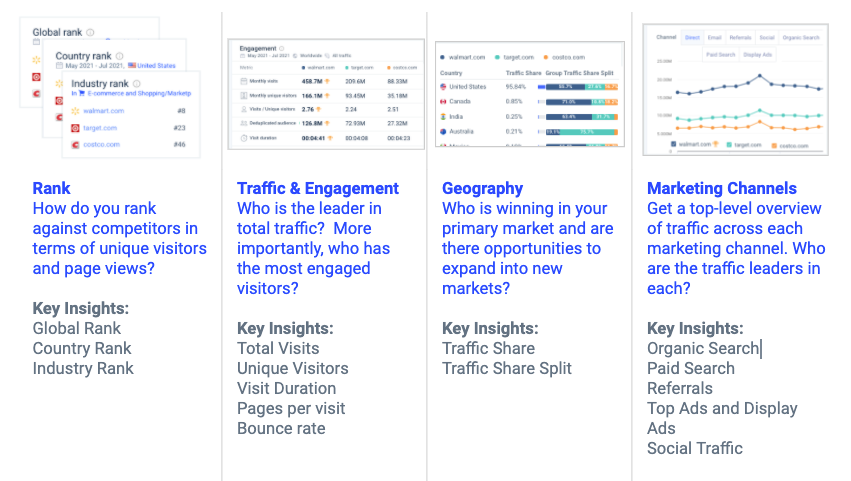 Tip: Notice the color scheme in the tables and graphs. Each competitor is assigned a color, and the primary website is always represented in dark blue. These color designations remain consistent across all Website Analysis pages, making it easy to spot trends at a glance.
Next, look at the marketing channels that your competitors are using to drive traffic, and see how your website is performing within each channel.
The Marketing Channels overview page provides several key metrics on traffic distribution and engagement across marketing channels. Take a close look at organic vs. paid search, referrals, display, and social traffic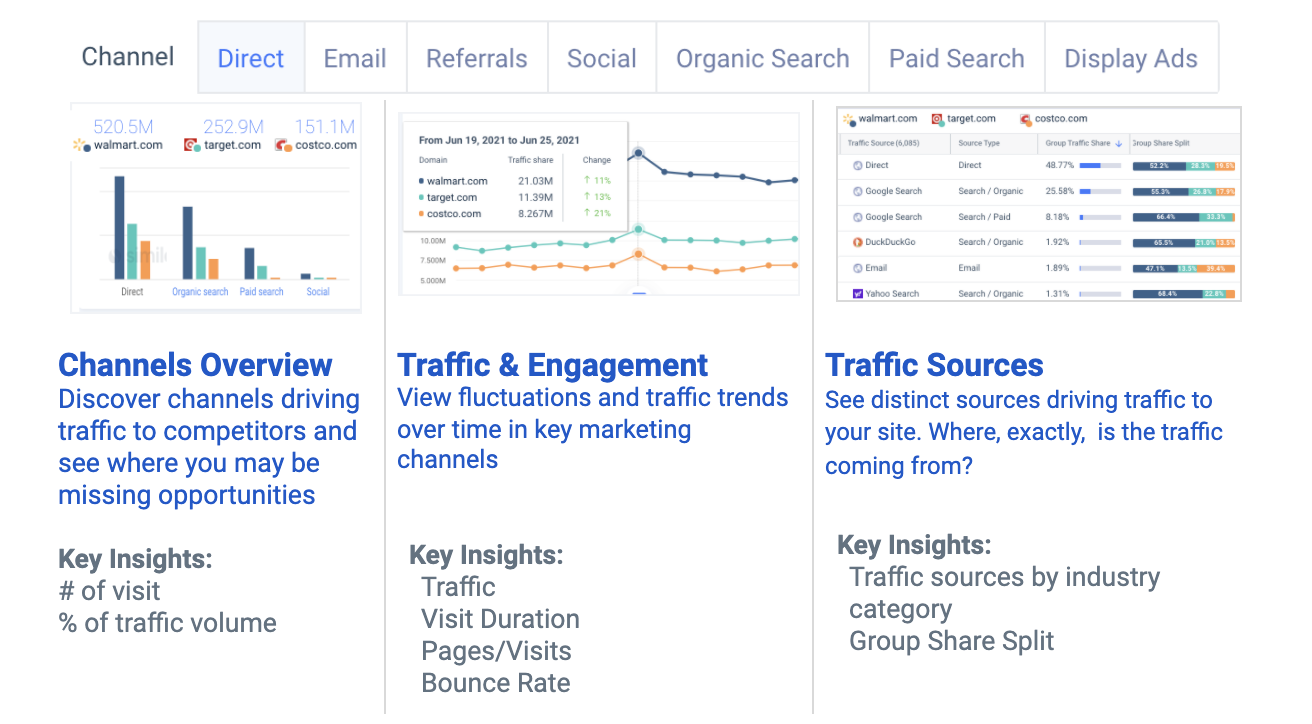 Key Insights
Channels Overview: Evaluate the traffic coming from each marketing channel. Find where the competition is ahead and where you may be missing opportunities.

Traffic & Engagement: View traffic trends by channel, and evaluate the quality of traffic with pages views, bounce rates, and more.

Traffic Sources: See the sources driving traffic through marketing channels and the distribution of traffic share from each source. In other words, where, exactly, is the traffic coming from?
Tip: Use the Marketing Channel Trends cards to see highlights of traffic trends for your competitors.

Now you know who is getting traffic and which channels that traffic is coming from. It's time to take a deep dive into each traffic channel to see what's driving traffic and how you can use these insights to build your winning digital marketing strategy.
Let's look at the traffic insights for each of the Marketing Channels driving traffic to the competitive set of websites.

Which keywords are driving the most organic search traffic to your competitors? What keyword questions are hot, new, or trending? How can I use these insights to increase my organic search traffic?
Winning in organic search is the foundation of a good SEO campaign. When done right, leveraging organic traffic insights will help rank your pages for more keywords within search engines and consequently get you more traffic.

Read more about Search Traffic and learn how to find and choose keywords and topics that will generate the most organic search traffic for your website.

Select to the Search -> Overview.
Key insights to help discover opportunities and optimize your search strategies:
Search Overview: Discover the search traffic metrics of your competitors.

Keyword Performance: Evaluate the distribution of the different types of search traffic among your competitors. Look at Paid v Unpaid, Branded v. Non-Branded, and different Search Types (regular, video, image, shopper, etc.).

Discover: New Keywords and Keyword Phrase opportunities.

Search Engines: See what search engines are driving traffic to your competitors.

The Paid Search Overview page provides key metrics and insights needed to analyze your competitor's paid search strategy.
See the distribution of traffic sent from paid search ads to each site in the competitor set. Competitors who receive large amounts of traffic from Paid Search spend on ad budgets to increase brand awareness and target relevant audiences.

Paid Search campaigns are targeted to high-intent users and can result in higher conversion rates.
Read more about Paid Search traffic.
Key insights and using the data to discover opportunities and optimize your PPC strategies:
Evaluate the list of top-paid keywords, search ads, and product ads.

Gain visibility into a competitor's product focus and competitive messaging to see what's working for your competitors.

Uncover opportunities to optimize your campaign spending and KPI's (ad impressions, clicks, conversions, etc.) to target high-intent users.

Get insights on traffic referred from one website to another through a direct link. This type of traffic includes affiliates, content partners, and traffic from direct media buying or news coverage.
Websites that receive a large amount of traffic from referrals are likely to have a strong affiliate strategy or enjoy significant media coverage. Drill into the list of referrals on the Incoming traffic page to understand the type of partnerships the website maintains.
Key insights and using the data to discover opportunities and optimize your referral traffic strategy:
Reveal competitors' top-performing affiliate partners.

Identify audience interests based on affiliate industry.

Increase ROI on advertising budgets.

A website that generates a lot of traffic from paid search is spending on advertising budgets to increase brand awareness and attract a relevant audience.
Analyze the performance of your competitors' creatives, galleries, and videos, and view top publishers and ad networks to understand a website's targeting methods, product focus, and competitive messaging.
Key insights and using the data to discover opportunities and optimize your display advertising traffic strategy:
Increase ROI on advertising budgets.

Develop the right messaging to increase high converting traffic to your site.

Discover new opportunities with publishers and ad networks.

Publishers: Gain insights on publishers and site categories are driving the highest % of traffic. Find opportunities to advertise on those publishers.

Ad Networks: See a breakdown of traffic share from ad networks and the traffic share your competitors are receiving from each one

Creatives: See the best performing creatives and videos and their destination URLs. Sort by active days and find long-running ads, an indication of the ad's success.
Watch a video and read more about Display Traffic and insights.

Discover insights on traffic sent from social media sites such as Facebook or Reddit (organic and paid), including direct media buying from Facebook.
Key insights and using the data to discover opportunities and optimize traffic from social media sites:
Visits from social are considered to be easily influenced (as a result of a viral article, meme, image, etc.). Thus, a website that generates high and consistent traffic from social is likely to have a loyal community of users. View the list of social domains to understand the websites' core communities.

Additionally, social networks tend to attract specific audience types. For example, Pinterest is known to attract an audience that skews more females with an interest in crafts. Social traffic referrals are yet another factor in understanding a particular competitor's audience profile.
Learn more about Similarweb Digital Marketing Intelligence

Take a deeper dive into Keywords:

Understanding the insights: Visit the Glossary of terms to discover more about the insights, calculations, and usage.