View key app usage, audience, and ranking metrics to evaluate app performance and benchmark your app's performance against competitors.
The App Performance page provides an overview of the key mobile app performance metrics, including App Store ranking, usage, and audience insights.
Use this "at-a-glance" view for a quick and comprehensive analysis of your app's performance, and add up to 4 competitors to gain valuable insights on the landscape of your competition.
To get an overview of app performance metrics for up to five apps, follow these steps:
Within the Competitive Research module, go to App Analysis.

Enter an app and go to the App Performance page.

To customize your analysis:

- Click +Add to add up to 4 more apps.
- Using the filters in the upper right, select the country, time period, and device type you'd like to analyze.

As you scroll through the insights available on the App Performance page, you can click the More Insights button on a widget to delve into that metric.
Rank
View an app's position in the selected country across categories with overall rank, or in the main category with category rank.


Usage
Analyze usage patterns of an app's users by viewing app downloads and daily active users (DAU) over time.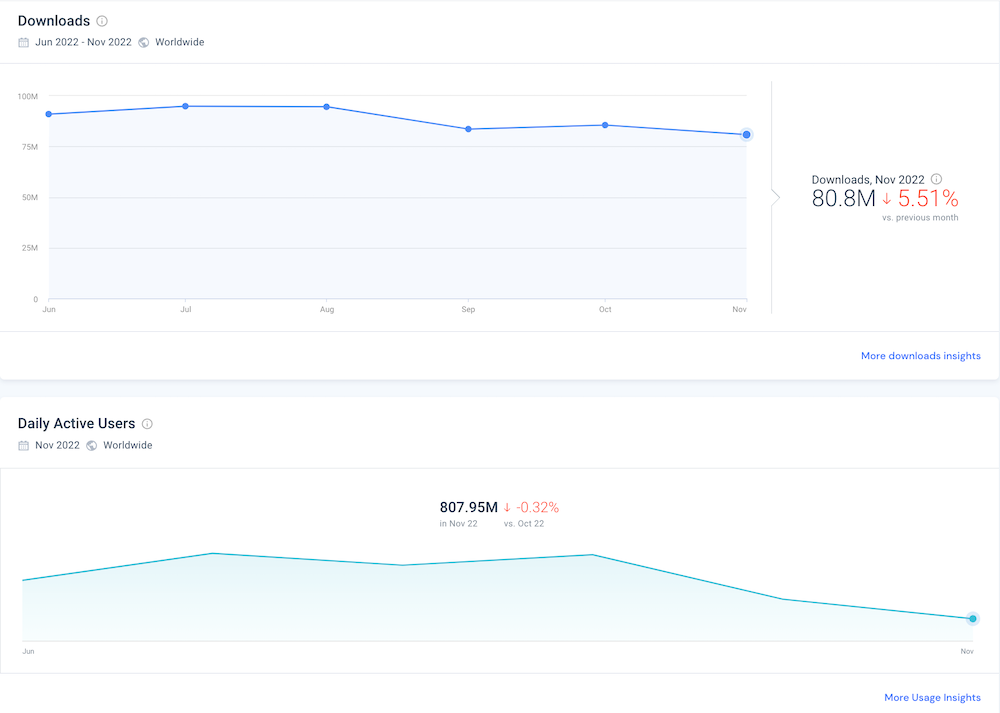 Audience
Uncover the top categories and apps used by the users of the analyzed app with app audience interests.

Note
If you are analyzing an iOS app, you will see Overall Rank, Category Rank, and Downloads.
Do you track a user's activity within an app?
Similarweb App data offers insight into the overall performance of an app, including App rank, installs and downloads, and engagement metrics. User behavior and activity fully contained within the app is not currently measured.
Why is iOS data more limited than Android?
Our data sources and collection methodology differs from device to device (much like it does for desktop vs. mobile for websites), which is why we have more robust data for desktop than mobile for websites. In this case, we have more data for Android, which is the reason our current Android offering is more robust, specifically in terms of the breadth of metrics displayed.
How are Monthly Active Users (MAU) calculated?
We look at the total sessions over the month and display the average number of unique users we saw open the app in that month. So, if a user opens an analyzed app just once in the month, they'll qualify as a MAU.
How does it differ from Daily Active Users (DAU?)
For DAU, the user just needs to open the app once in that day to be counted. We can then take this number and estimate an average for weekly or monthly time frames.
When a user updates their app, does it count as another download?
No. If a user has the app already and updates to a new version of the app (with the same package name), this will not count as another download of the app.
If an app has a WebView, would Similarweb track this traffic?
WebView would be considered in-app traffic, as it is occurring in the app itself and not in the mobile device browser. We do not currently track in-app traffic, so this would not be covered in our data.
Try it now! App Analysis > Enter an app and go to App Performance.