Search the total traffic for any keyword or keyword list and view key metrics.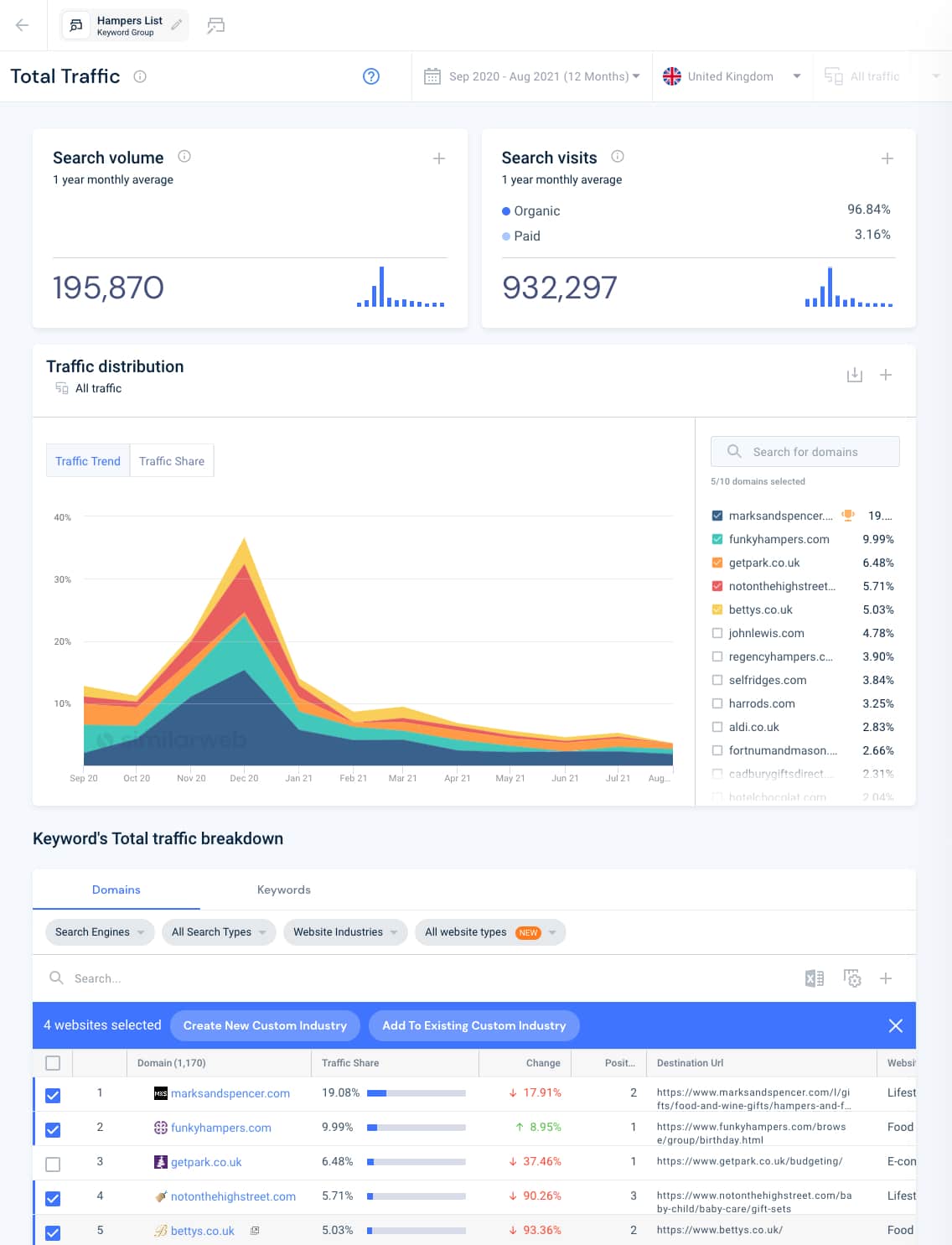 Total Traffic, within Search Interest Analysis, enables researchers, strategists, and marketing professionals to build a market view based on what people are searching for across the web.
You can assess market potential based on the total volume of search terms (both paid and organic traffic) and identify emerging rivals who are gaining traction for specific keywords.
Using Related Search Terms you can expand your analysis to gain a holistic view of your market, plus add specific players to a Custom Industry (or add to an existing list) to continuously analyze your competitive and market landscape.
Within Industry Research > Search Interest Analysis, you can compare traffic metrics for an industry.
Tip: Click Generate Related Search Terms to discover, enrich, and fine-tune relevant search terms to capture a trend, market, or line of business. Just add a name to your group, decide whether you want to remove certain terms from the generated list, and then click Explore Search Interest.
You can see:
Search Volume: Monthly search average for the keyword or keyword list in Google.

Search Visits: Clicks on the search results, calculated as a monthly average.

Traffic Distribution

Traffic Trend: Distribution of the monthly traffic share for up to to 10 chosen domains. The graph is indexed to 100%, where 100% is the maximum traffic for the analyzed period. Traffic trends give a real sense of the seasonality of keywords and what may have been trending more recently.

Traffic Share: Distribution of the monthly traffic share for up to 10 chosen domains. Each month the total traffic share is equal to 100%.
In the Keyword's organic traffic breakdown table, you can see:
Notes:
Mark the checkbox next to a website in the table to easily create a custom industry or add to an existing one, after identifying the top sites gaining traction for a specific topic, interest, or keyword. This can help you answer the following question, "Which emerging players should I add to my competitive landscape based on the top sites that are gaining traction for a specific search term online?"

You can filter by Search Engines, Search Types (Regular, Image, News, and Video search), Website Industries, and All website types (Transactional Websites, Content Publishing Websites, other Websites).