Analyze the overlapping audiences across multiple websites to pinpoint your untapped audience potential with Audience Overlap insights.
Audience Overlap allows you to identify which percentage of your visitors also visit your competitor's site. Understanding the size of overlapping audience sets in a given competitive landscape allows you to detect leaders, emerging threats, and opportunities. Audience Overlap insights also give you a picture of your total addressable market, highlighting your unreached potential visitors.
Audience Loyalty gives insight into the loyalty and preferences of users in a given competitive landscape, breaking down whether a site's user base visits that site exclusively, or visits multiple sites within a competitive set during a session.
It's important for businesses to understand their total addressable audience in order to size their markets, identify expansion opportunities, and source potential partnerships.
Using the Audience Overlap tool, get valuable insights on shared audiences and audience loyalty for a competitive set of up to five websites, and:
Find market expansion opportunities: Understand audience browsing behavior to determine market expansion opportunities, or to bring new propositions, products, or content strategies to market.

Size your audience potential: See the total number of visitors to the key websites in your markets, find the percentage of your audience currently shared with competitors and partners, and determine your untapped audience potential.

Uncover audience behavior and interests: Analyze an audience overlap across multiple websites and categories to find out about audience interests and online behaviors.

Analyze audience loyalty: Discover which website has the most loyal audience in terms of website traffic.

Benchmark performance: Compare audience loyalty across websites (within the same industry) to improve retention and engagement metrics.
To compare audience share, overlap, and loyalty for up to 5 sites, follow these steps:
Go to Company Research > Website Analysis and enter a website.

Click +Compare and add up to four competitor sites.

Tip: Use the filters in the upper right to specify the timeframe and geographic region for your analysis.

In the sidebar menu, navigate to Audience Overlap .

The Audience Overlap tool provides a graphical display of overlapping audiences for the compared sites. For each intersection, hover to see the number of unique visitors and what proportion of each site's audience it represents.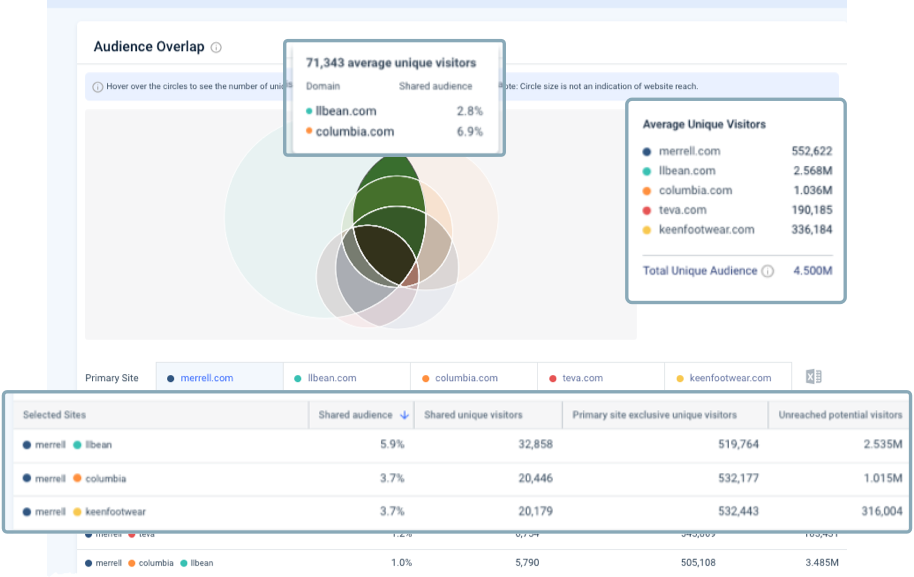 Key metrics & insights:
Total addressable audience: The chart on the right provides a breakdown of Unique Visitors for each of the analyzed sites and the Total Unique Audience for the entire group.

Shared audiences: In the table, find the percentage of the primary site's visitors who also visit the selected site(s).

Shared Unique Visitors: The average number of unique visitors that visit the sites listed in the 'selected sites' column on a monthly basis.

Unreached potential visitors: The number of unique visitors who do not visit the primary site but do visit the other sites listed in the selected sites column.
The Audience Loyalty graphs provide insights on the visitors who exclusively visit the analyzed site versus those who visit two or more sites in one session. Use the filter to toggle the view audience loyalty by Comparison to Industry.
Key metrics & insights:
Use the Comparison filter to find the % of visitors who exclusively visit the site versus two or more sites in one session.

Use the Industry filter to benchmark how each website compares to the industry average.

Website's Audience Loyalty: the proportion of monthly active users who also visited other sites within the same category.

Loyalty Traffic Share: Percentage of monthly active users who visit just that website versus other websites compared to the industry average
Why are large sites (like amazon.com, facebook.com, google.com, etc.) not on the Audience Overlap table when looking at a specific country filter?

For each website and country filter combination on this page, we present the top 1,000 most relevant sites. The most relevant sites will not necessarily be the most overlapping sites, and relevancy acts as a filter to show only interesting results. This is because big sites such as facebook.com, amazon.com, etc. will always have a higher overlap with other sites, and we want to address this bias. For this reason, sometimes big sites you would expect to see in this list are not included in the top 1,000.

Additionally, for each specific country, users tend to use regional sites for their needs (shopping, price comparisons, etc.). Therefore, when looking at overlapping sites with a specific country filter, you are less likely to see those very big sites, whereas, with the Worldwide country filter, more globally and widely used sites (e.g., amazon.com) are given more weight.

What's the difference between the Cross-Browsing Interests table from Audience Interests and the Audience Overlap feature

The Cross-Browsing Interests table shows the overlap of websites "head-to-head" but doesn't show the full audience reach and potential. Audience Overlap allows you to compare up to five websites and see the overlap across all websites

What time frame is Audience Loyalty based on?

Audience loyalty is calculated based on monthly unique visitors. So, if a user has visited another site within the same month, they will be counted.

Do you support the worldwide country filter?

Yes.

Is only desktop data available?

Yes.