Beyond standard organic and paid search results, SERPs often include other features, such as videos, tweets, links, popular products, etc.
These widgets are called SERP features, and they can help users quickly find the information they need without having to click through to a website.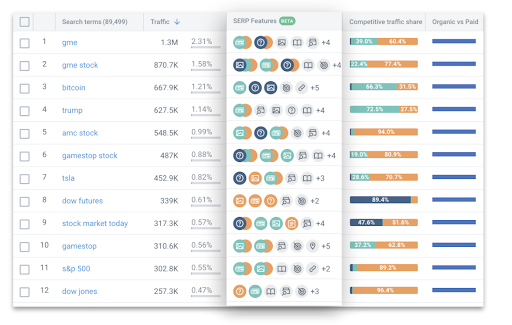 In this article, we'll review the different types of SERP features and explain how understanding them can benefit your strategy.
Understanding the features of a search engine results page (SERP) can help you improve the visibility of your website in search engine results and increase the amount of traffic that it receives. By knowing which features are available on a SERP and how they work, you can optimize your website to take advantage of these features and improve your chances of appearing in them.
For example, if a SERP includes a featured snippet, you can optimize your website to try to be selected for that snippet. Additionally, understanding SERP features can help you understand how your website is performing in search results and identify areas for improvement.
Key reasons to optimize your content to show up on SERP features:
Content Optimization: SERP feature analysis with Similarweb can help you optimize content for specific SERP features.

Traffic: SERP features are often actioned and drive traffic.

Credibility: Being featured in a SERP feature helps your site appear to be an expert on a given query.

Performance monitoring: Track the traffic from SERP features over time, identify trends, and adjust your SEO strategy accordingly

Understand SERP features relationships with User Intent: Analyze the SERP features that appear for specific search queries to better understand user intent. Then, tailor your content to meet the needs of your audiences.

Brand Awareness: SERP features are positioned high on the result page. Even if the feature isn't clicked, it still creates an impression.
There are several types of features that can appear on a search engine results page. Similarweb's Website Analysis and Keyword Analysis modules include data and insights for the following SERP features:
Try it now! Website Analysis > Enter a website and go to Keywords.
The SERP features insights are available on several pages within the Website Analysis and Acquisition Channels modules.
Within the Website Analysis section, enter a website to be analyzed.

In the sidebar menu, select Keywords.

Click Compare and add up to 4 of your competitors.

A full list of keywords that are driving traffic to you and your competitors' websites in the given time frame is displayed.

You can apply any of the filters to narrow down your list.

Within the keyword list table, look at the SERP Features column.