Similarweb enables you to benchmark your Reach using three main metrics:
The Deduplicated Audience metric reveals how many users are driving traffic to a website across multiple devices. As consumers browse the internet on multiple devices, this new metric displays a more granular representation of website visitation. Deduplicated Audiences can be considered a proxy for a website's actual total unique user base.
Deduplicated Audience offers insight on the number of users generating website visits across desktop and mobile web. This facilitates more accurate audience analysis and delivers a clearer understanding of audience reach and loyalty. The metric demonstrates how customers are browsing a website and can, therefore, indicate where companies should spend their media budget (mobile/desktop/both).
Notes:
In Traffic and engagement over time, click Deduplicated Audience.

When hovering over the bars, a tooltip will appear, showing the breakdown of devices from which the traffic is coming from. The split between desktop-only users, mobile web-only users, and those who visited both will add up to 100% of the audience.

Historical Data: Deduplicated Audience will be available from March 2018.

Country Filters: Deduplicated Audience will be available only for countries where we have mobile data already.
When comparing websites, users can see this metric in the Engagement table where MUV and other visitation & engagement metrics appear.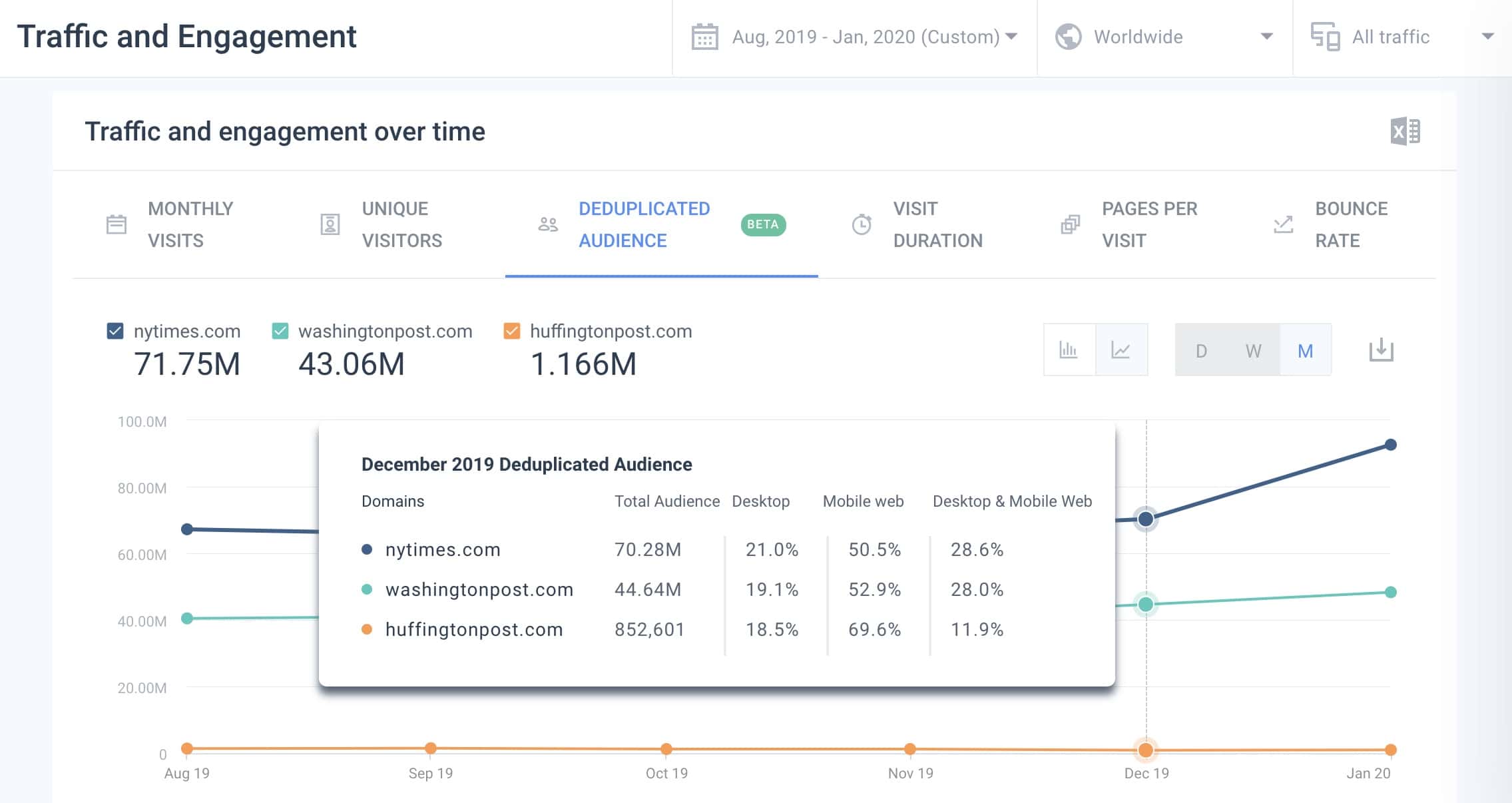 When in compare mode, you can only see the trend line with the sum of deduplicated audiences (it's not broken down by device).
In the upper right-hand corner, you have the ability to download the data to an Excel and PNG file.
Pro Tips:
A high percentage of the deduplicated audience is a positive sign because the deduplicated audience indicates multi-device users who indicate high engagement and platform stickiness.

The Deduplicated Audience metric is not available on a daily or weekly granularity, and as such, in the 'Last 28 days' time frame, Deduplicated Audience data won't be available. Furthermore, Deduplicated Audience data is only available when looking at 'All Traffic,' so you won't see data for desktop and mobile web separately.