Cross-Country Category Analysis allows you to discover the fastest growing countries for the selected industry based on the top 100 websites in a Similarweb industry.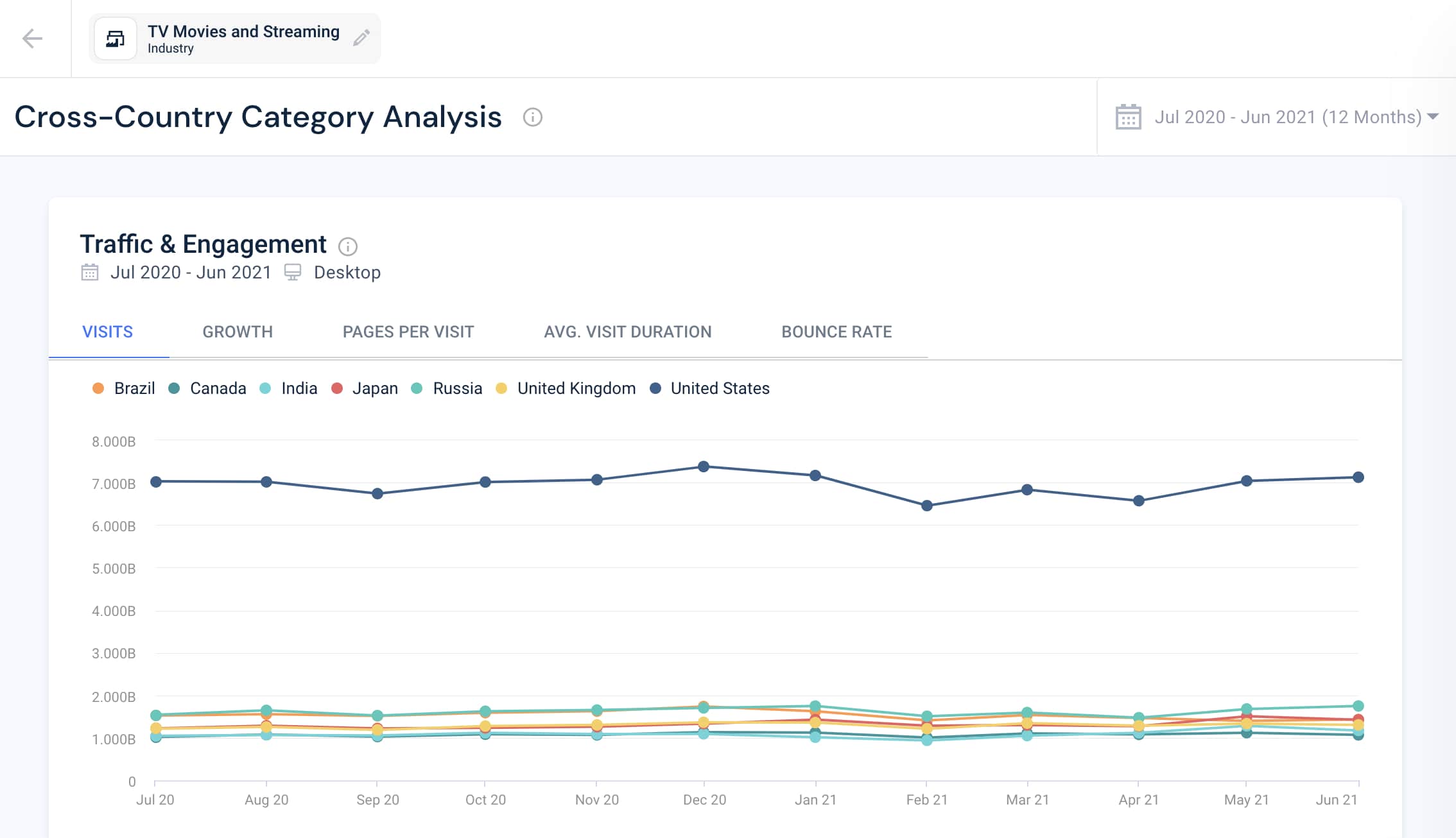 Cross-Country Category Analysis displays the country-by-country analysis in descending order of traffic share. You can see a visual overview of the top five countries. The table below provides additional insights into your country-specific audiences, including country rank, traffic share, visits, growth, month-over-month change in traffic, and average visit duration. You can sort the data by selecting any one of those columns.
Note: The Traffic & Engagement graph is not available in Segment Analysis > Audience > Geography.
Discover where your audiences are around the world, how those audiences are changing over time, and how engaged they are with your industry. Use these insights to tailor your marketing strategies from there -- whether you're looking to double-down on your primary market or expand your product offerings to high-potential markets.
Within Industry Research > Web Industry Analysis, you can compare geographic metrics for an industry.
Tip: You can save your analysis for future reference by adding it to a new or existing dashboard using the + icon or by downloading your report using the Download Excel icon.
In the Traffic Share by Country table, you can see:
Note: Bounce Rate is not available in Website Analysis > Audience > Geography.
Understand your target audience. Identify types of target audiences and their behavior worldwide using data like Visit Duration and Pages per Visit.

Analyze your geographical reach. Assess how engaging your content is to different geographical locations by considering Bounce Rate.

Tailor your marketing strategy to meet your business goals. Investigate your site's performance in your primary markets, and grow your business to high-potential markets.