Location: Research > Search Keyword Analysis > Keyword Competitors > Keyword Geography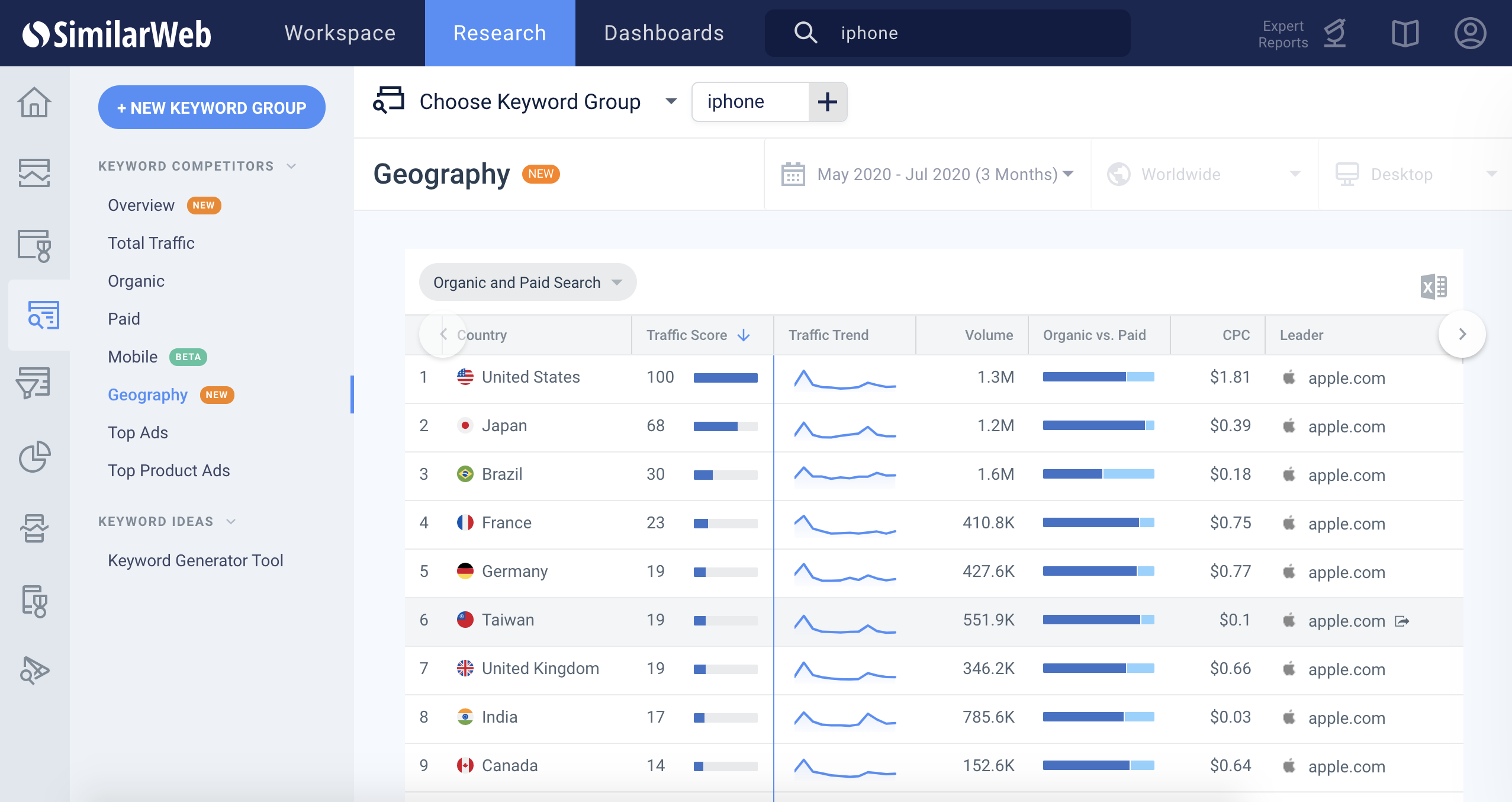 The Keyword Geography page enables you to see keyword traffic per country allowing you to reach local audiences with the right keywords. You can identify the country leaders for the analyzed keyword(s) and the leading websites per country, and then adapt your competitive strategy in each market.
Notes:
We recommend creating a keyword group to receive more data on countries competing for the analyzed keywords.

The data is available for desktop traffic only.
You can see:
Country: Geographical location that receives search traffic for the analyzed keyword(s)

Note: You can click the country to view more granular search traffic data for that specific country, depending on the list of countries you have access to.

Traffic Score: Ranking of search traffic (based on traffic share) from 0 to 100 per country and helps illustrate how much search traffic is generated from this keyword. This score is relative to the top country's search traffic for the analyzed keyword(s).

Traffic Trend: Search traffic trend for the past 12 months. You can use the traffic trend graph to see growing markets by viewing where traffic is peaking throughout the year.

Note: If it's a recently trending keyword, there may not be a 12-month trend for it.

Volume: Average number of monthly searches for the analyzed keyword(s) in Google (for the last 12 months)

Organic vs Paid: Distribution of organic versus paid traffic. Recognize how competitive the market is per country, and understand if you need to invest money in that country to acquire traffic share.

CPC: Average price that advertisers paid for a click on their ad in Google's paid search results (for the last 12 months). A range for a group of keywords is displayed.

Leader: Domain receiving the most search traffic from the analyzed keyword(s)
You can filter by:
Organic Search: Displays organic traffic for the analyzed keyword(s)

Paid Search: Displays paid traffic for the analyzed keyword(s)
Note: When filtering by eitherOrganic or Paid Search, the data in the Volume, Organic vs. Paid, and CPC columns remain unaffected.
You can see which keywords are performing best per country allowing you to focus your PPC and SEO strategies accordingly. One example is for brand protection. Let's say you want to see how well your brand performs in other countries. You can create a keyword group with your various branded terms included. Filtering by paid search results will show which countries are bidding on your brands. This will allow you to protect your brand by investing in PPC for your branded terms in other countries.