Uncover the digital market share and search performance for any keyword on the web.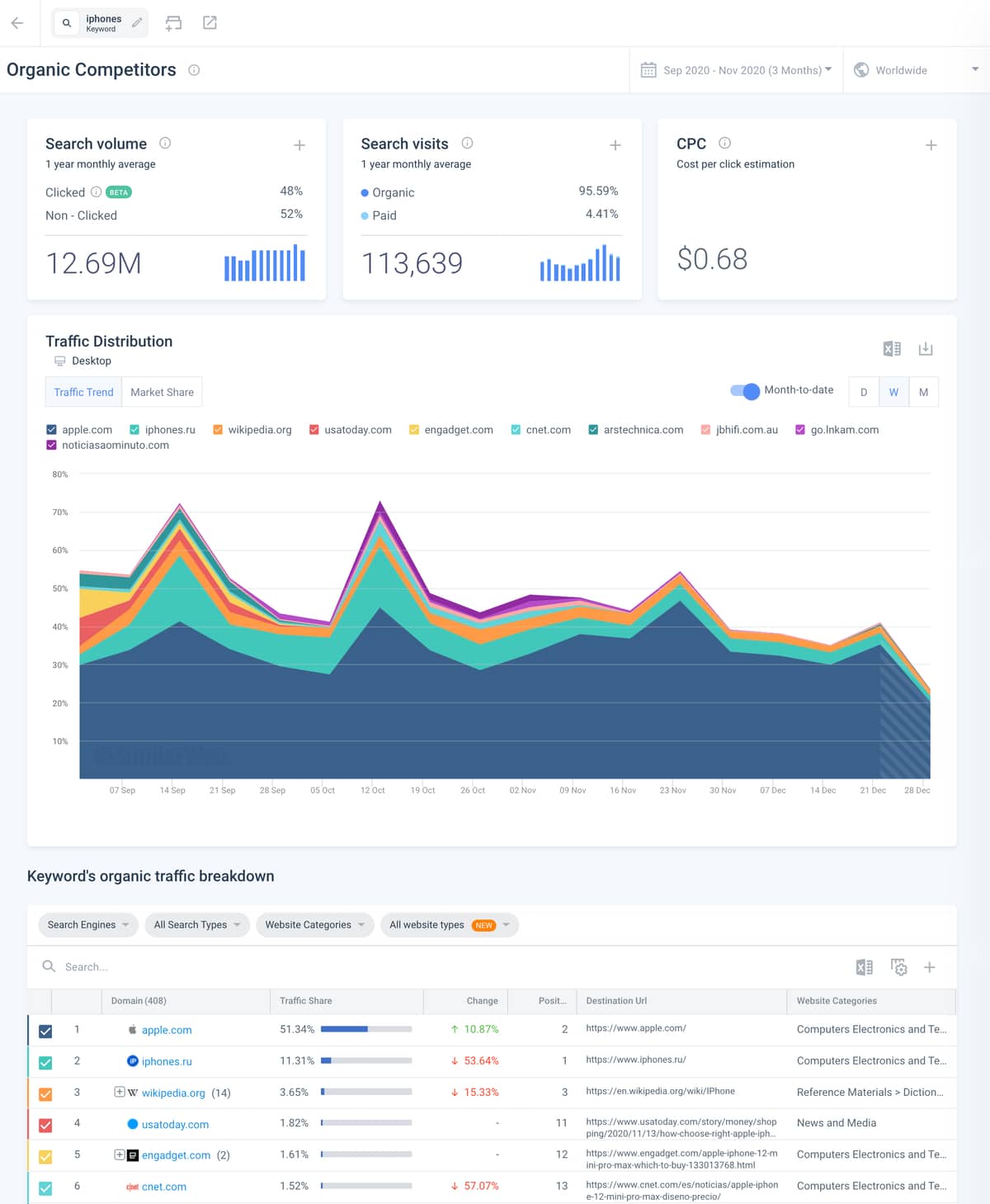 Similarweb Keyword Analysis help you to uncover the digital market share for any keyword on the web based on the actual traffic (i.e., anonymous behavioral data) generated by a particular keyword to any site on all search engines.
Discover which websites are getting the most traffic share from each keyword

Understand who you are competing with within the Search realm, as well as identify strategic partners for backlinks and content placements.

Monitor the traffic share of any keyword over time in monthly or weekly granularity

See who is suddenly or consistently gaining or losing market share from a certain keyword or group of keywords.

Perform post-campaign analysis following specific events & dates (e.g., Elections, Black Friday, etc.) and see the traffic share split between you and your competitors.

Optimize your SEO, PPC, and Content campaigns

Drive high-intent traffic to your business and increase your digital market share
To see organic keywords:
From Marketing Intelligence > Keyword Research > Analyze Keywords, enter a keyword.

Within Analyze Keywords, click Organic Competitors.

A list of exact matches for the organic keyword or keyword group is displayed.
You can see:
Note: Compare Search Volume to Search Visits to determine the real value of popular keywords for destination sites.

CPC: Estimated price that advertisers pay to buy the search word in Google Adwords in the selected country from the past 30 days. Take note of the CPC price estimation, so you can further assess the demand for a particular keyword.

Traffic Trend: Scale the graph to the maximum traffic point during the period being analyzed to highlight any gains and losses in traffic over time. This view helps to identify seasonality and time-specific trends for keywords.
In the Keyword's organic traffic breakdown table (Domains tab), you can see:
Domain: List of all the domains that receive traffic from a given keyword or group.

Traffic Share: Website's share of mobile traffic generated by the keyword.
In the Keywords tab, you can see the same metrics, plus:
Keyword: Search term selection within this keyword group.
Note: You can filter by Search Engines, All Search Types, Website Categories, or by All website types (e.g., Transactional, Content Publishing, and other websites).