Build your best video ad strategy by first understanding what's out there and working for your competitors. Using Videos Ad insights, you can easily discover, view, and analyze video ad campaigns used to drive traffic to competitor sites.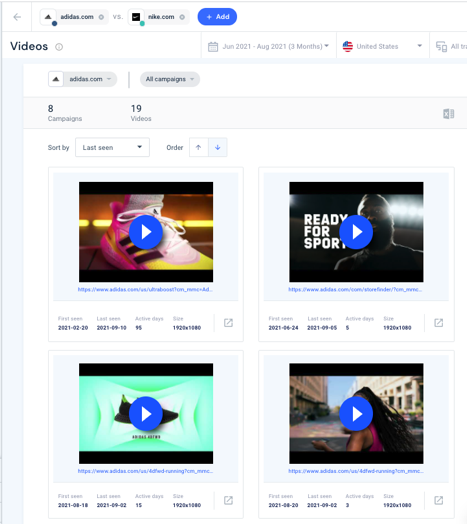 Discover, view, and analyze the video ad campaigns run by your competitors. See the actual video ads, target URLs, and campaign duration to help identify and analyze the top performers. Choose a combination of the available data points in each of the filters to can pinpoint the videos and understand which networks, campaigns, and ad networks they are associated with.
Video Ad insights are available within two of the Marketing Intelligence solution modules: Competitive Analysis and Ad Creative Research.
Within Competitive Analysis, select Videos from the sidebar. Or,

Within Ad Creative Research, select Find Video Ads from the sidebar.

Click +Compare to add up to four more sites.

Use the filters in the upper right to set the time period, country , and traffic sources (desktop, mobile, or all traffic) that you would like to analyze.
The Videos can be filtered by:
Website: When analyzing more than one site, use the website filter to toggle between sites.

Campaign: The campaign name is the landing page title.

Note: If the campaign is no longer running, you may see an expired or blocked page name.

Sort by: View creatives by 'Last seen' or 'First seen' filters so you'll know which campaigns, messages and creatives have been successful over time.

Order: You can filter by ascending or descending order.
Tip: Select a combination of filters to hone in on the exact display strategy being used by a competitor.
To visit the landing page where the video drives traffic, click the link below the video or the icon in the bottom right of the thumbnail. Note: if the campaign is no longer active, the link will expire.
Note: Similarweb tracks pre/mid/post-roll video ads on YouTube.com.