After identifying which opportunities to pursue, use Market Intelligence to improve conversions and win more deals with a consultative approach.
Leverage Similarweb data to engage with your prospects by providing them with additional value. If you are an AdTech company looking to win more deals or expand your partnership with publishers, these are different analyses you should leverage before every sales conversation with your prospect.
Our Sales Solution experts recommend using one of the following analyses:
Notes:
Use in outbound emails to break through the noise.

Include in sales decks to position yourself as an expert.
Get started by choosing a publisher you want to engage with, either in an email, a call, or in-person meeting.
From the Sales Intelligence home page, type your prospect/customer's domain in the Search bar, and follow the instructions below.
Start by benchmarking your prospect against the industry and competitors. Benchmarking a website is an important step in understanding the quality of the traffic and evaluating performance with the proper context. This analysis will allow your prospect to understand better their growth potential, areas for improvement, and competitor strengths.
From the left menu, select Traffic and Engagement to understand and benchmark their reach, health, and performance.

Use the Compare button to add additional domains to the analysis and benchmark your prospect against them.
Understanding and using the data:
(1) Traffic share: Understand which publisher has the biggest traffic share and help them identify potential threats. Use this to position yourself as an industry expert and open the door for a strategic conversation.
For example, the Who What Wear is closely competing with InStyle over the same audience.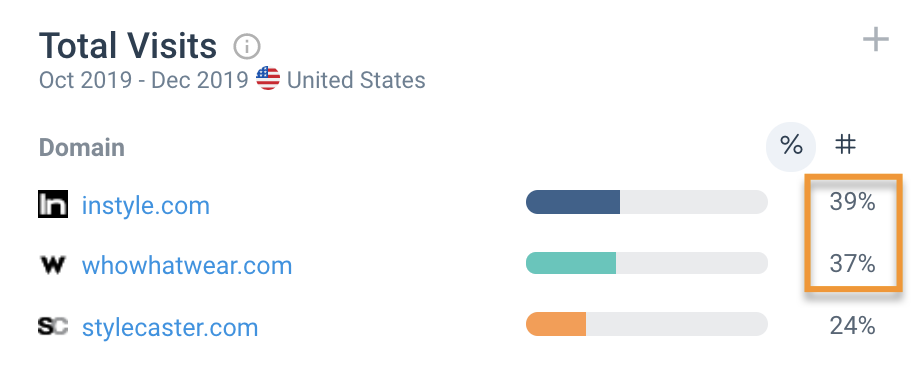 (2) Engagement: Benchmark the quality of their content and audience by reviewing how long visitors are staying on-site and whether they are leaving the site after viewing 1 page. A low engagement on a publisher's website can result from poor user experience or the use of low quality traffic channels.
For example, Who What Wear has the best engagement metrics compared to competitors, with the lowest bounce rate, more pages per visit, and time spent on site. This means their website content and experience is inviting for users to browse and consume more content. InStyle needs to compare what's working for other publishers in the space.
(3) Traffic trends - growth/decline: share with them insights about traffic trends for other publishers in their space to better understand their audience.
In Style is experiencing traffic growth, while Who What Wear is experiencing a decline. This might be a time for them to revisit their marketing strategy to attract more visitors.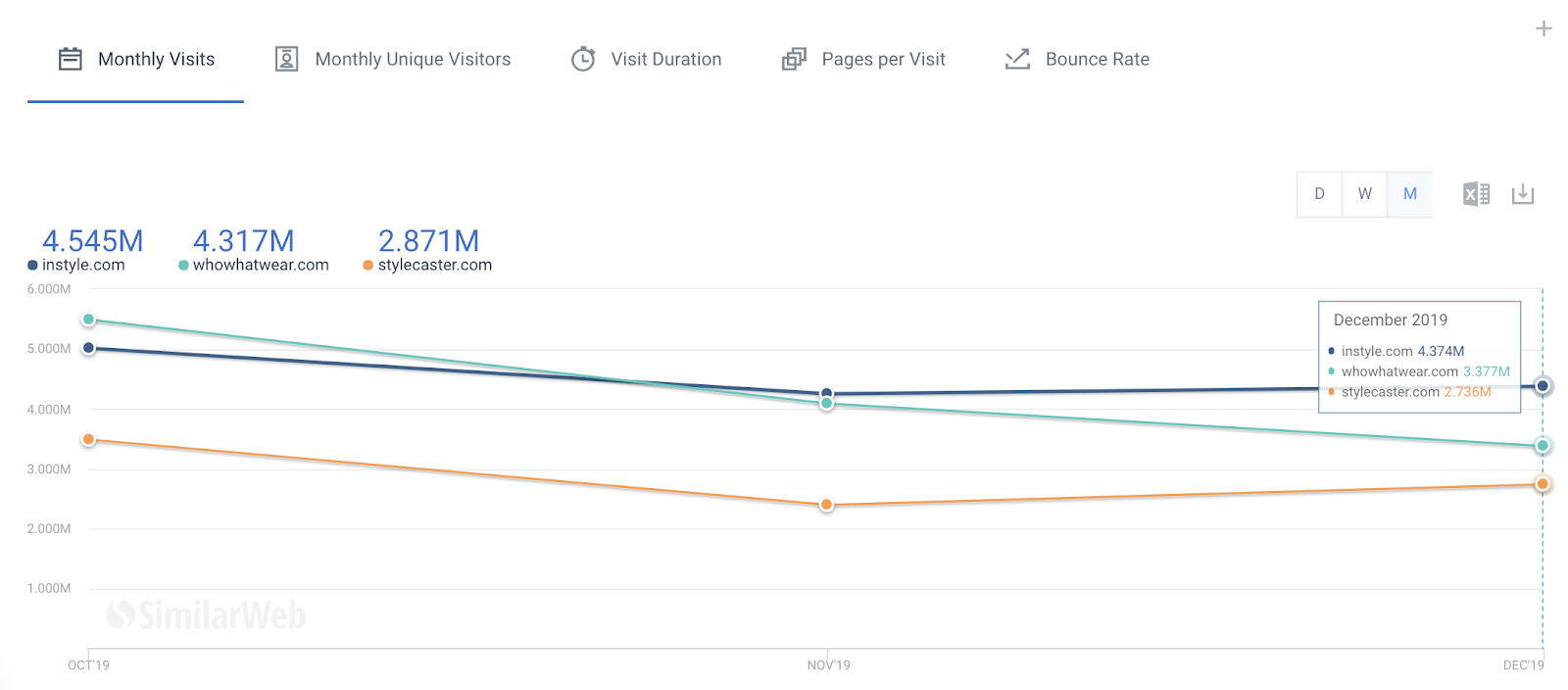 You can also leverage Website Technologies to strategize how to approach your prospects. Find out if your prospect uses a competing Ad Network or ad technology, and if so, which one. Knowing this will also give you the ability to tailor your pitch according to your strengths.
For example, if you see that a publisher is currently using an SSP and you are selling Header Bidding technologies, you can approach them by explaining how they can increase traffic monetization by connecting their inventory to multiple demand sources using Header Bidding.
To locate those technologies, from the left menu, select Website Technologies. Filter for Advertising technologies and scroll through the technologies embedded on-site.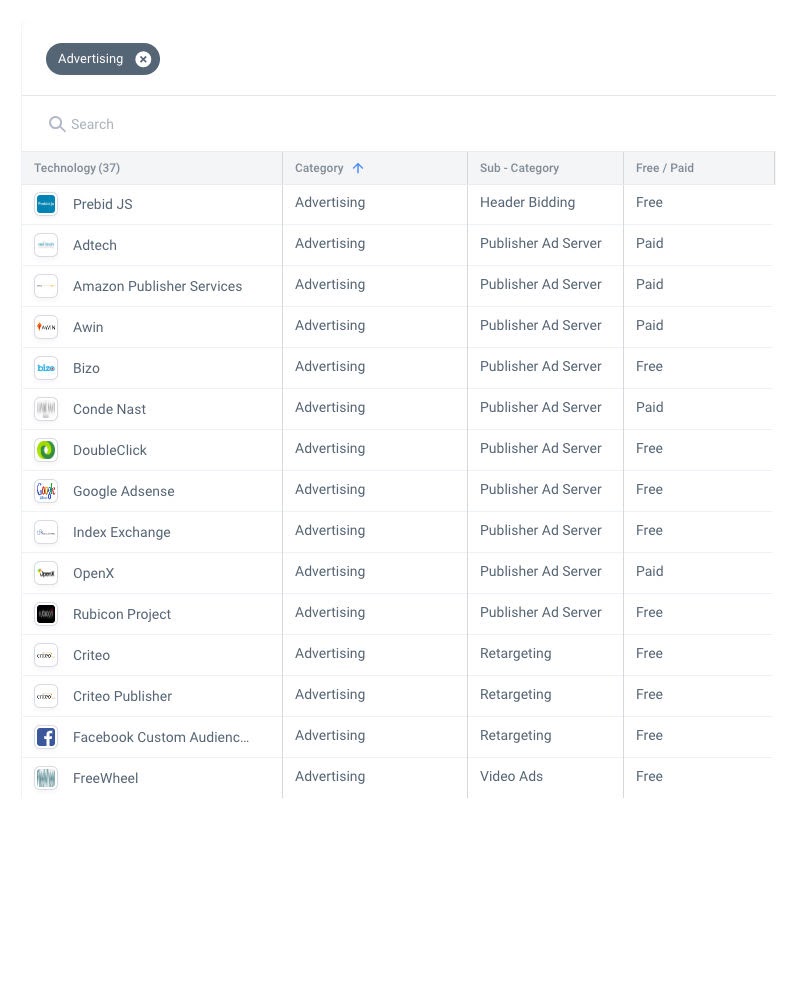 After you used performance to establish yourself as an industry expert, take the extra step and improve their performance with strategic insights.
Understand your prospect's strengths and weaknesses by analyzing Marketing Channels.
From the left menu, select Marketing Channels to benchmark your prospect's marketing strategy against its competitors.
In this case, InStyle is grabbing a bigger market share by creating a community, utilizing Social and Email.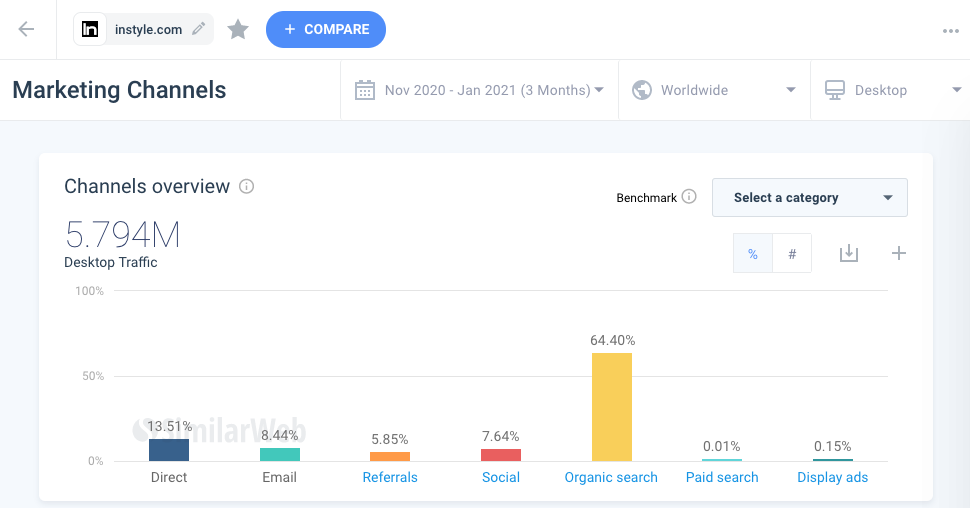 When visiting the website, it's easy to understand their performance and user experience. InStyle is increasing their consumer database with periodical newsletters. It seems like this strategy is working, based on the high number of email traffic!
Leverage this knowledge in a conversation with Who What Wear.

A great way to win your prospect's attention and gain their trust is by helping them find white space opportunities with keywords. SEO is usually an important channel for publishers, and you have access to unique data.
Find out which keywords your prospect's competitors are leveraging to drive traffic to their website that are not driving traffic to your prospect's. Use the keywords you find to reach out to your prospect and explain how they should be optimizing more on those to grow and catch up with the competition.
Approaching your prospect with these insights will show them where their opportunities lie and position you as a trusted advisor.
From the left menu, select Search > Organic/Paid Competitors.

Use the filters on the top of the page to surface: Organic, Non-branded keywords, and Keywords Opportunities.
The table will then reflect the content that your prospect's competitors create that is of high interest to your target audience. Go to the URL column to click on the exact page receiving traffic from the given keyword.
For example, the keyword "capsule wardrobe" drives traffic to Who What Wear, but not to InStyle. InStyle can optimize those keywords in their SEO strategy to drive more traffic to their site.
Choose one of the predefined filters, such as Keywords Opportunities, or set up your own filter to find your sales conversations' insights.
Identify areas of opportunity for creating new partnerships or expanding existing partnerships, by getting insights into which countries their audience is coming from.
How to leverage the data: understand where your prospect/partner traffic is coming from, and show how you can help them make the most revenue from each country.
Example: In Style is driving traffic from Canada, UK, Australia, and Germany, which they should be monetizing traffic from. If you're not already working with them in these markets, demonstrate the potential of each opportunity.