Before you decide to reach out to a prospect, you need to understand whether they are a good fit for your solution by qualifying them. In this part, we will show you which data to leverage and how, in order to qualify your lead.
Get started by choosing an advertiser you want to qualify.
In SimilarWeb PRO, type your prospect/customer's domain in the Search Bar, and start checking off the following criteria.
Criteria 1: what is your prospect's marketing strategy? Are they focusing on paid efforts at all?
On the left-hand navigation bar, go to Marketing Channels to understand their marketing strategy.
Toggle between # and % to understand not only the total amount of visits from each channel, but also the strategy behind their marketing efforts by evaluating the percentage of traffic generated to a publisher site by each channel.
If paid media is a small part of their strategy, you might decide it's not worth your efforts to go after this advertiser.
In the example below, 6pm.com is mostly focusing on other channels, with a very low percentage of traffic coming from Paid Search and Display.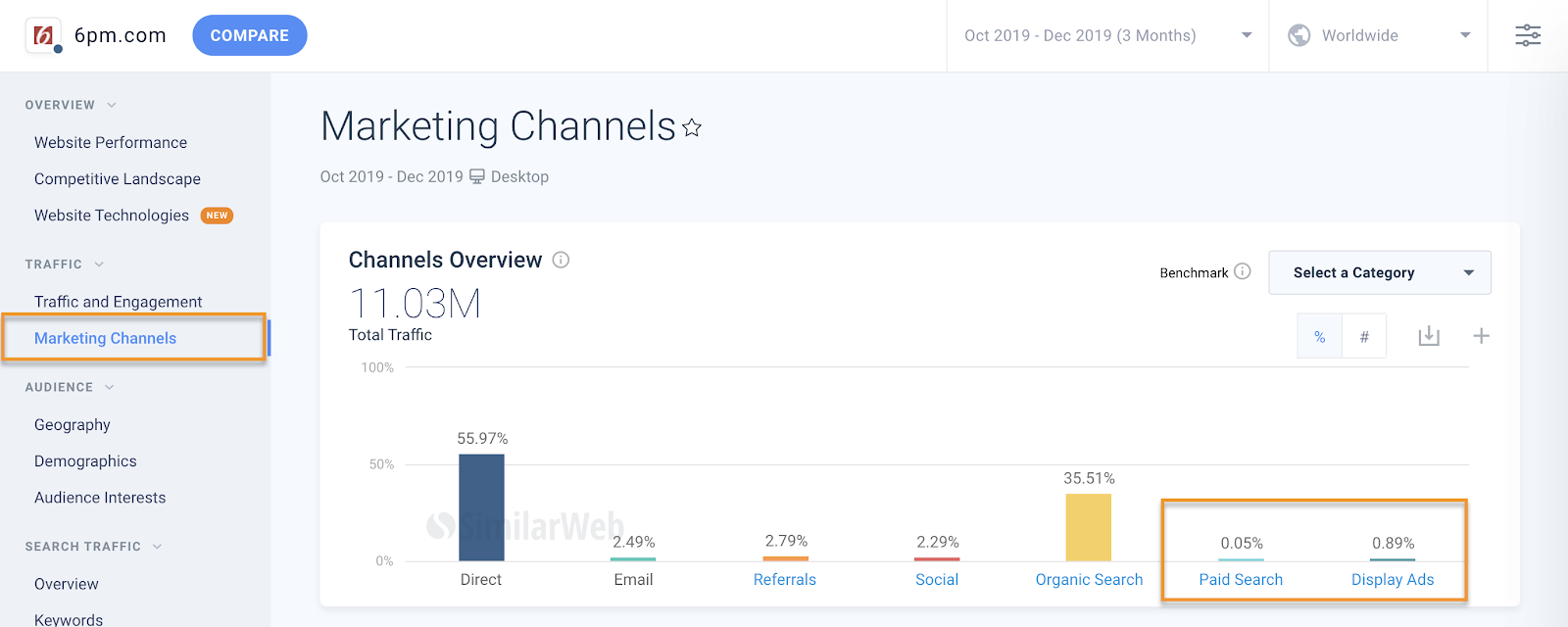 Criteria 2: which countries are they focusing on, and do you have the right audience for them?
You don't want to waste your time by going after advertisers if you have nothing to offer, make sure they are focusing on user acquisition in areas that you have the audience for.
On the left-hand navigation bar, go to Geography (under Audience), to see which countries their audience is coming from.
In the example below, the majority of 6pm traffic is coming from the US. If the US audience is not your strength, you might prefer investing your time on other leads where your offering is stronger.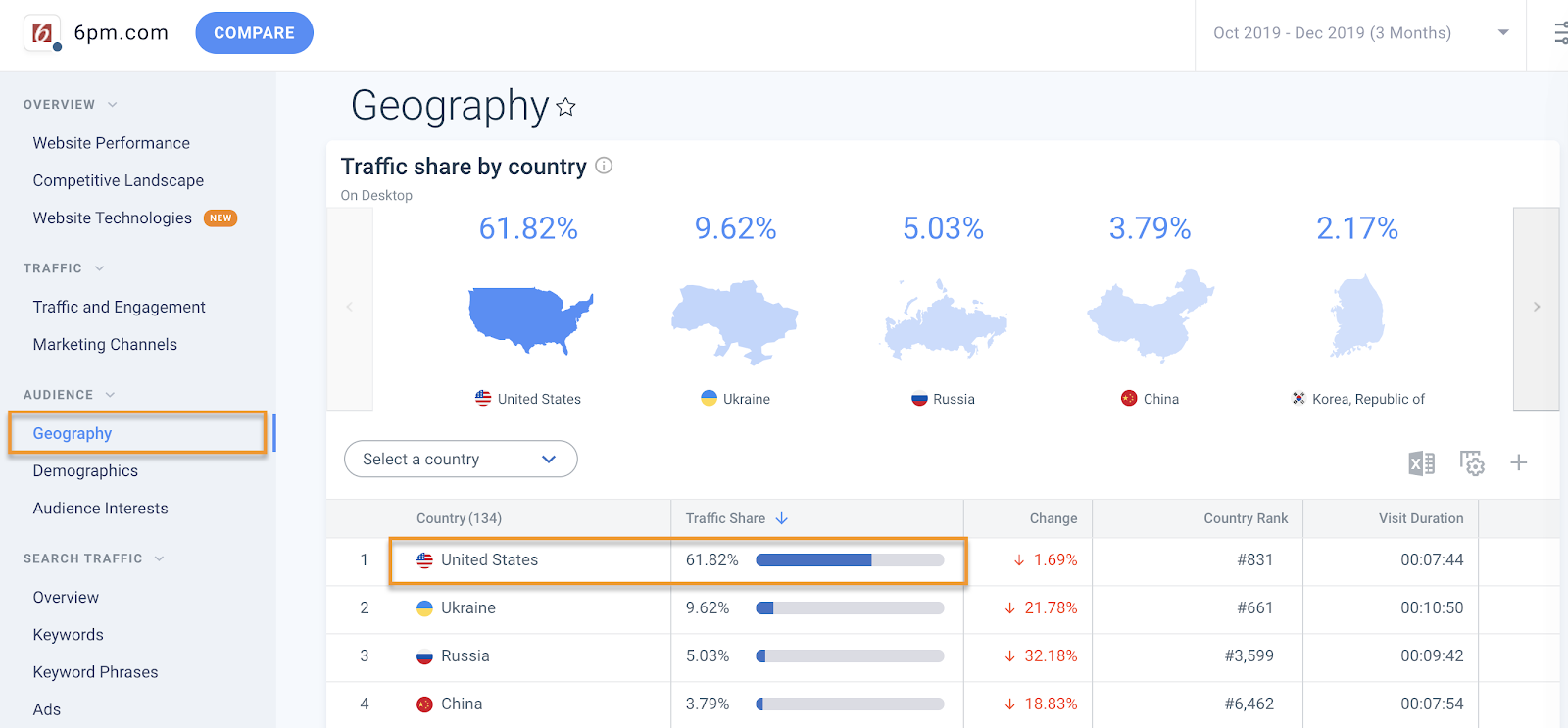 Criteria 3: Asses the potential with Total Visits
This will not necessarily affect your decision, but will help you understand the size of the opportunity.
On the left-hand navigation bar, go to Traffic & Engagement (under Traffic), to understand the size of the prospects based on how many monthly visitors they have.
In the example below, a website with 29K monthly unique visits, will most likely have smaller budgets for marketing. Asses whether this is the type of prospects that you are after.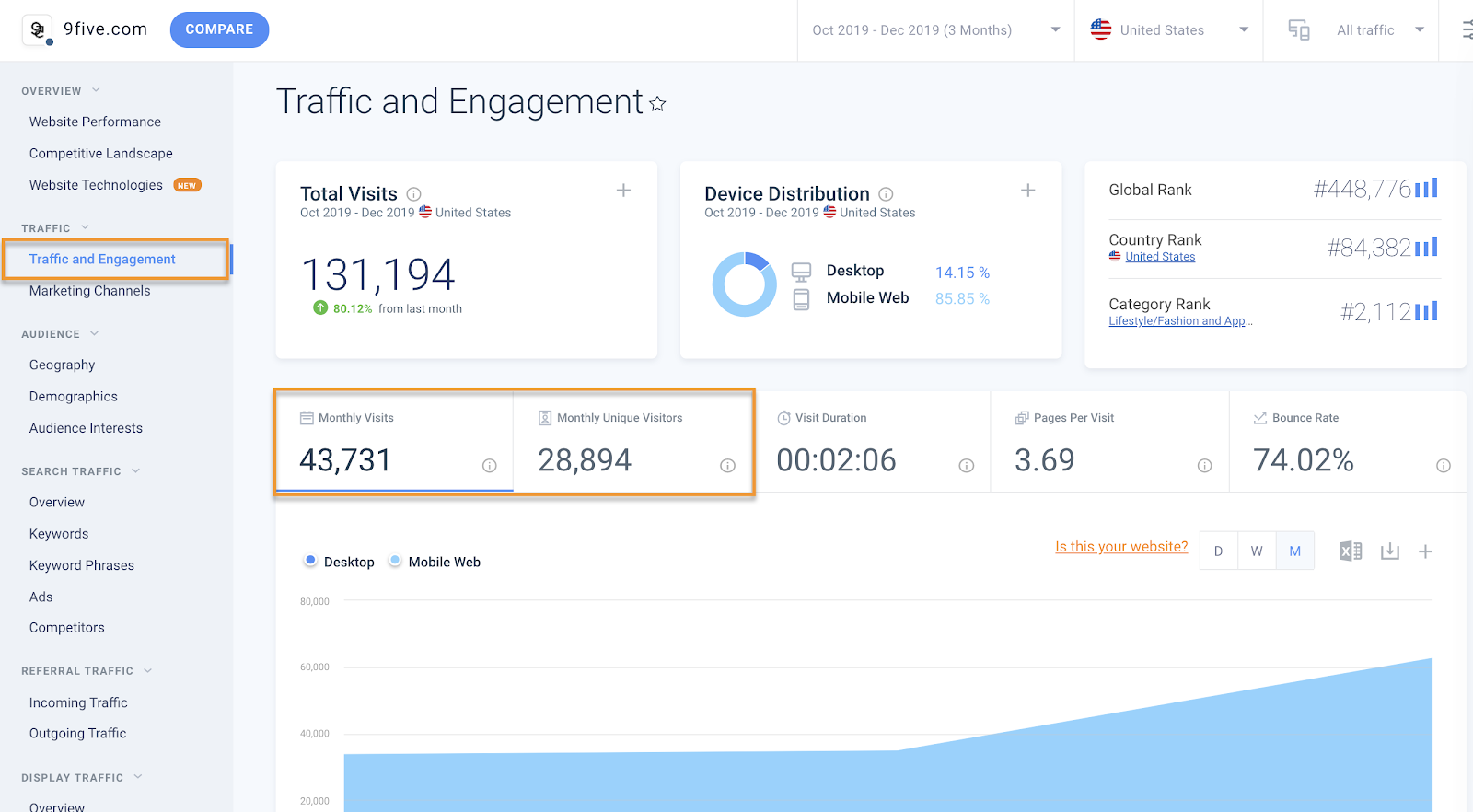 Criteria 4: Using technologies to analyze their likelihood to buy
Learn which technologies advertisers are utilizing to identify if there is a need, and position your solution accordingly. Knowing which technologies a prospect is using will help you find out whether there is a potential of partnership with them. Look for complementary advertising solutions to yours, or competing ones.
For example, learn if they are already working with retargeting solutions. Or find out if they are spending $$$ on marketing tools such as Google Analytics or Omniture to evaluate advertising budget and willingness to spend.
Next step: insights driven sales conversation
Once you've completed the qualification process and you are determined to go after the relevant prospect, click here to learn how to leverage digital insights in your outreach and sales pitch.