Similarweb's segment analysis insights give you visibility into the performance of a particular line of business, category, topic, or brand for any website.
With Segment Analysis, you can:
Deconstruct partner and competitor websites to benchmark industries, a line of business, or specific products with full flexibility and accuracy.

Isolate traffic and engagement metrics across sub-sections of a website to evaluate your performance relative to your competitors.

Create custom segments with the highest level of granularity possible -- as granular as ~0.1% of site traffic.

Set up segment comparisons to easily benchmark and compare insights of competitors.
Segment analysis is the process of dividing and analyzing market segmentations by groups and subgroups in order to conduct true 'apples to apple' benchmarking.
Similarweb's Segment Analysis feature is a powerful tool for marketing and sales managers, data analysis, and BI specialists working to optimize their strategies, especially within the following industries: Retail, CPG, Travel, Telecom, Financial Services, Agencies, Investors.
The 'Topic' segment insights are specifically ideal for marketing and PR teams within Publishers and Media companies.
Before getting started with Segment Analysis, go to the website you want to analyze and review its URL folder structure.
For example, boohoo.com/womens/dresses refer to the dresses folder for women, meaning dresses are within the 'womens' folder. And, 'Evening Dresses' are a subfolder within this folder: boohoo.com/womens/dresses/evening-dresses.
With an understanding of the site's URL structure, you are ready to dive into Segment Analysis.
Click +New Segment to create a new segment.

Enter a website to analyze, select the segment type, and enter a name for this segment.

The following segment types are available. Choose the one most relevant for your use case:

Category/Line-of-business: shows visits across search, catalog, product, and checkout pages only for a given category. For example, Nike men's shoes.

Conversion goal: Visits that reach a specific step in the funnel. For example, search, product page, start checkout, finish checkout.

Brand: Visits for given brand-related pages. For example, Sony (in bestbuy.com)

Topic: Visits in pages around a specific topic to understand trends. For example, lightweight (in nike.com)

Other: Any other need for grouping specific pages on website.

Note: See below for more information on the use-cases for each segment type.

Next, choose Set Up My Segment to define the segment rules. You can Include/Exclude a string, custom string, or folder. If you have a long list of product names, you can import custom strings in bulk via a CSV file. You also have the option to download and fill out our CSV template.

Note: Once you've saved your segment, you will be redirected to the Segment Analysis page. In the top right corner, you can define the country and timeframe.

Select the Country.

Note: The filter default is set to United States, but we have data for many countries. Be sure to set the country filter according to the market you're interested in.

With the Segment Rules defined, click Verify and Publish. Review and click Publish My Segment.
For each segment, you can see:
Visits: Refers to any visit that passes at least one of the segment pages.

Avg. Unique Visits: Average number of users who visited at least one page or multiple pages within the segment.

Avg. Page Views: Average page views of the pages within the segment.

Avg. Pages Per Visit: Average number of segment pages viewed during a visit.

Avg. Visit Duration: Average time that the user spent on segment-related pages during a visit.

Bounce Rate: Percentage of visits that included only one segment page. A lower bounce rate indicates that the segment/brand is performing better than the category/line of business. For more information, see Bounce Rate: Understanding, Measuring, and Tracking for Growth.

Segment Share: Percentage of visits to the segment from the total visits to the website. This helps you measure the actual size of your segment's activity on your business.
Notes
Toggle Month-to-date to gain valuable insights. Understand trends for each segment.

These metrics can be viewed on a daily, weekly, and monthly basis.

See Unique Visitors in segment comparison mode while using the Worldwide country filter. This allows you to measure and benchmark the size of global unique visitors for selected segments.
The change within all these metrics is calculated based on the first and last month of the selected period. In the graph section, you can see the changes in visits to the segment over time (from 1 month up to 2 years).
Pro Tip:
Toggle the blue 'Compare' button in the top-left of the graph to add up to an additional 25 segments to compare in the same view.
The Channels overview area shows the marketing mix channel breakdown for each segment to analyze which channel drives the most engagement.
Analyzing Marketing Channels per Segment
Analyze marketing channel mix to see which channel drives the most traffic to the segment. This feature includes a new metric, Internal Referrals, which measures any traffic that did not land initially on the segment but did reach the segment later during the visitor's session.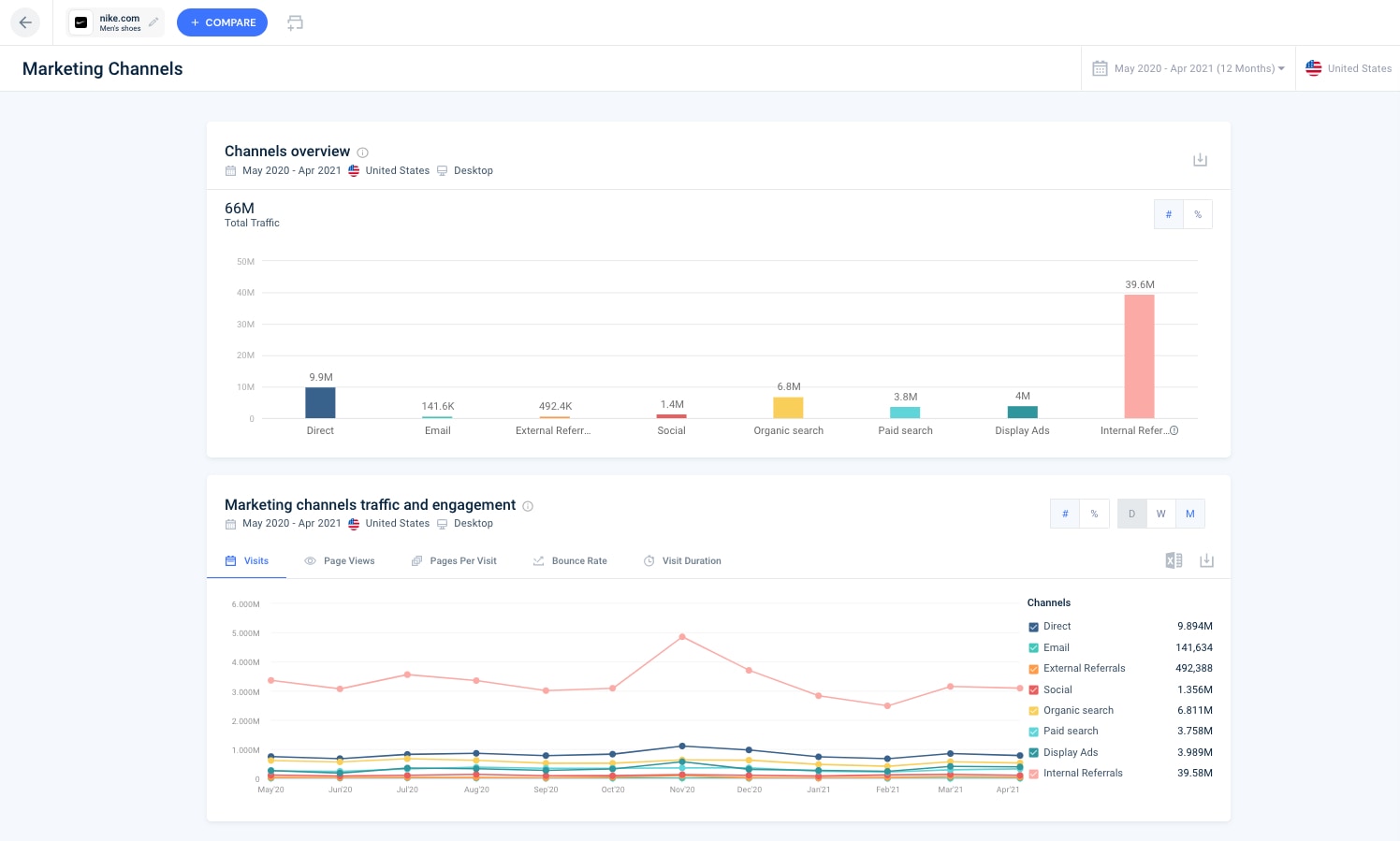 In addition, you can compare each channel against visits, page views, visit duration in Segment comparison mode.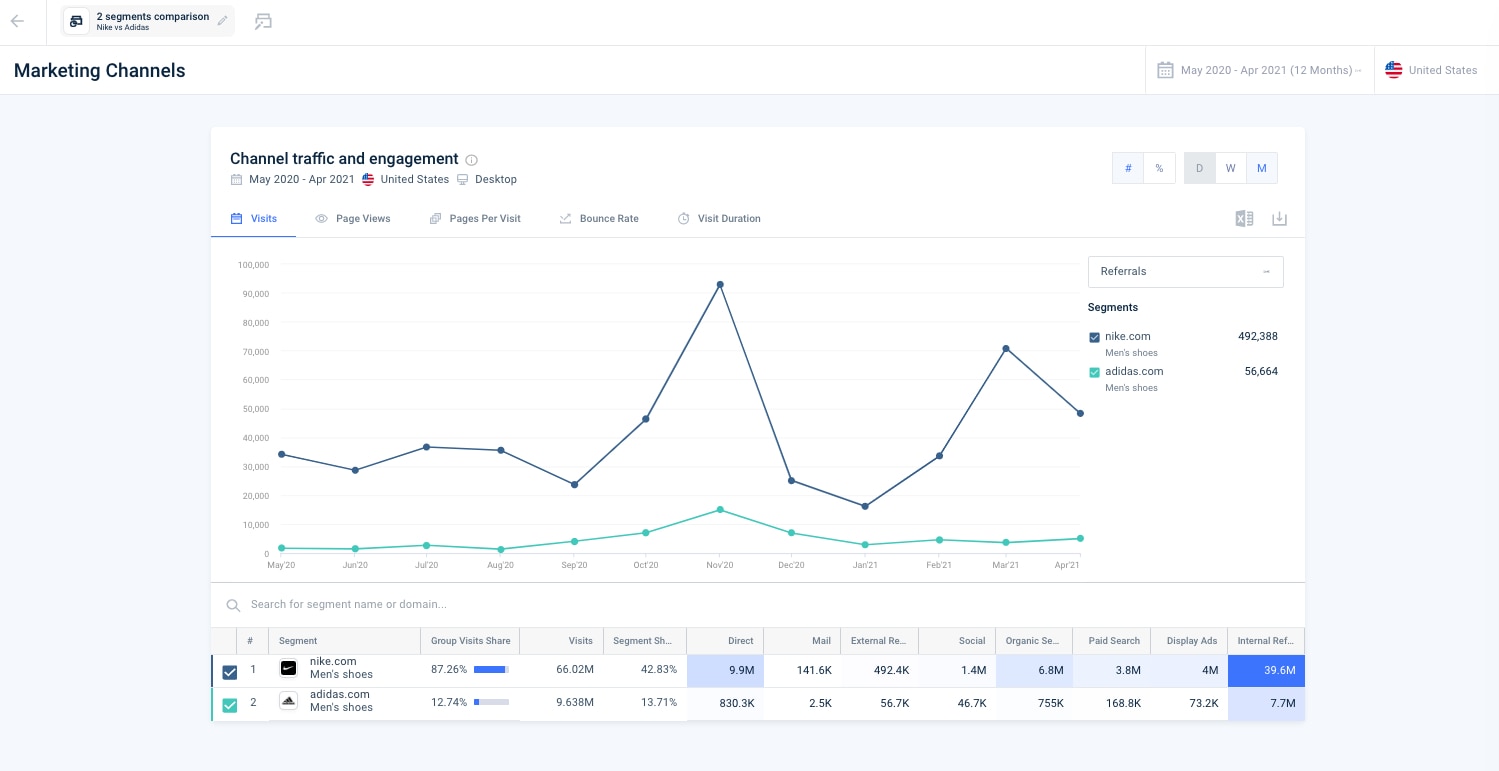 In the table, you can see:
Visits: Refers to any visit that passes at least one of the segment pages.

Bounce Rate: Percentage of visits that included only one segment page. A lower bounce rate indicates that the segment/brand is performing better than the category/line of business. For more information, see Bounce Rate: Understanding, Measuring, and Tracking for Growth.
Segment Analysis addresses four primary use cases:
Category/Line-of-business – Understand the performance of a specific category (e.g., beverages in tesco.com) or a line-of-business (e.g., flights) within OTAs, metasearch engines, and travel suppliers – this will help you obtain a true apples-to-apples benchmarking capability.

Brand – Reveal how well a brand is doing on a retail site (e.g., Dior in sephora.com), a travel agency (e.g., MGM Resorts in booking.com), or a telecom operator (e.g., Samsung in Verizon.com).

Topic – Uncover and assess the hype around a specific news topic, such as Trump, Coronavirus, or Trade War in cnn.com.

Conversion Goal – Determine key performance metrics, such as converted visits (e.g., visitors who arrived at the Thank You page) or visitors that started and completed the checkout process to get a comprehensive view of the sales funnel.
The performance metrics on the page allow you to extract further insights on changes in your segment and understand what's working (and what's not).
For example, you can create a segment on Asos.com for "Missguided" (brand) + "dress" (category/line-of-business) + "satin" (product type).
How can I use these insights in my daily work?
You can use Segment Analysis insights to:
Gain an accurate and comprehensive view of traffic to your category, line of business, or brand, as well as the conversion performance of an entire website.

Benchmark the performance of your products, category, or line of business across retailers or relative to the competition to identify areas of opportunity and improvement. You can do this by creating multiple segments and comparing your and your competitors' key metrics regularly.

Quantify the impact and changes of certain marketing activities over time (e.g., promotions or shopping events), as well as trending topics to adjust content to your audiences' changing behaviors.
How can I use API integration for Segment Analysis?
With the standard API endpoint, you can integrate traffic and engagement metrics from Segment Analysis into your reporting and analysis workflow. For example, display the data within data visualization tools like Google Data Studio and Tableau to seamlessly centralize data sources. For more information, see the technical documentation.
How do I share segments within my account?
Every time you create a new segment, it will automatically be saved within Shared Segments. This means anyone within your account can copy and edit saved segments, increasing collaboration across teams and saving you valuable time when building new segments.
When you Compare Segments, you can either choose My Segments or select from the list of Organization's Segments (i.e., the saved segments within Shared Segments).
Can I analyze subdomains, such as play.google.com?
Yes! This is a huge opportunity for you to receive more granular data with segments along with more specific results!
Are visits to the main segment and pages within a segment (e.g., sub-folder) counted twice?
If the visitor visits at least one page in the segment, they are counted as one visitor to the segment. If the same user visits multiple pages within the segment, they will still count as one overall visit to the segment.
Is there a limit to the number of strings I can add?
There is no limit to the number of strings you can add, but keep in mind it should match the URL of the segment of the actual site you are trying to analyze, so you can get accurate data.
Do you support the worldwide country filter?
Yes!
When creating a new segment, I get this warning message, "Some display information for this query will be hidden" or "no matching folders were found." What does this mean?
Some sites have a mechanism in place to tell our robots which information they can and cannot use (called robots.txt), and some sites do not. For sites that do not have this mechanism in place, we do not crawl this site to avoid showing any PII or any sensitive information which cannot be shared in the URLs when we display folders.
If a user leaves the team, is there a way to keep their segments active?
Segments that are shared amongst team members should remain active if the owner of the segments remains an active user. However, if the owner of those segments is leaving the team, and you want to make sure that their segments remain active for the rest of the team, you could change the email address of the person leaving. Essentially, that keeps their account active and allows for someone else to step in and take that account over.