Benchmarking, definition:
Evaluating or measuring performance against those of others in the same industry
In the previous section we learned about the importance of benchmarking when evaluating performance. In order to benchmark a website against the standard, you first need to understand who is the standard, meaning what is the competitive set you should use.
Therefore, in order to benchmark against a website's competitors, you will first need to understand who your prospect's competitors are.
Below are 3 SimilarWeb PRO functionalities you can leverage to find your prospect's competitors. If you are already familiar with your prospect's competitive set, skip to the next guide.
Similar sites using SimilarWeb affinity algorithm
Find similar sites using SimilarWeb algorithm. The algorithm consists of several similarity attributes that are based on:
Sites that share the same audience
Sites that compete on the same keywords
Common links to and from the compared sites
Sites that share similar content
There are 2 ways to find similar sites:
Option 1: quick, but less in depth
Clicking 'Compare' at the upper-left part of the screen will allow you to benchmark up to 5 websites. When clicking on the 'Add a Website to compare' button, you will be suggested with relevant websites based on SimilarWeb algorithm.

Option 2: view a longer list to evaluate and determine
On the left-hand navigation bar, go to 'Competitive Landscape'' to view a list of domains based upon their similarity to your clients website, and will be ordered from highest affinity to lowest affinity. Click on the arrow to the right of each website to open a new tab and browse through the website.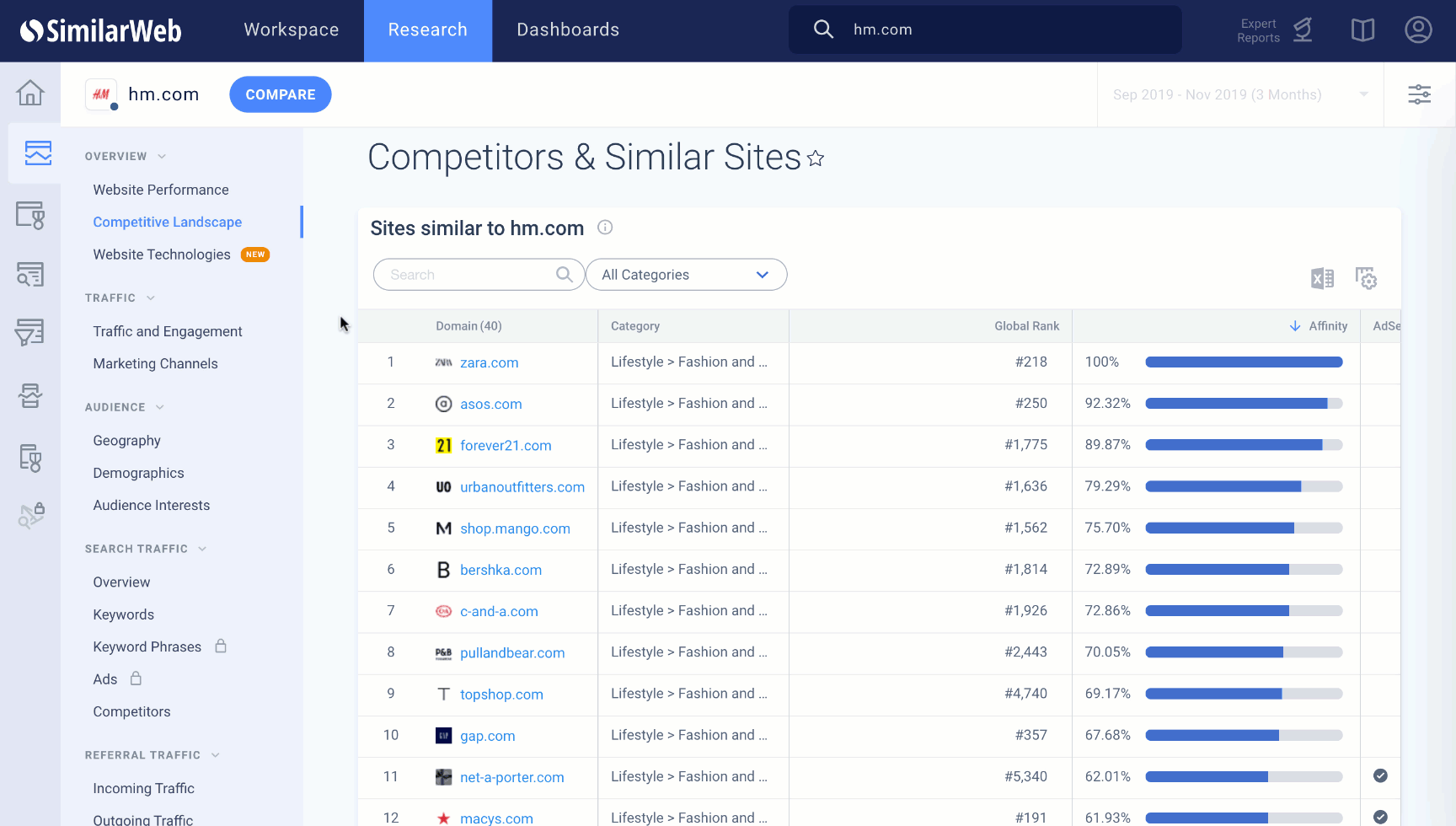 PRO TIP
This could also be a potential client for you - to track this prospect by adding it a list, simply hover over the website name and hit Track.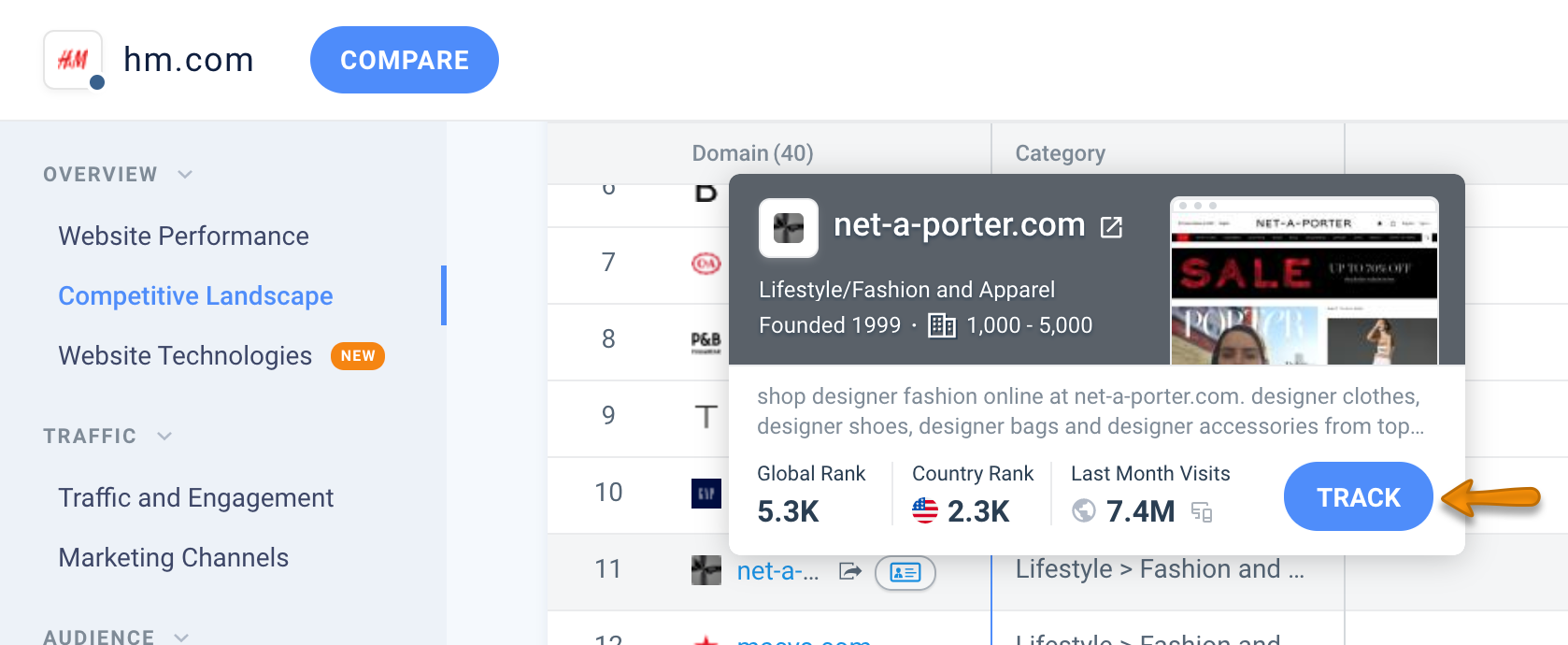 Keyword Competitors
On the left-hand navigation bar, click on 'Competitors', under 'Search Traffic', to view a list of domains based on overlap of keywords generating traffic to the site.
(!) View Organic and Paid competitors – it might be different for each search type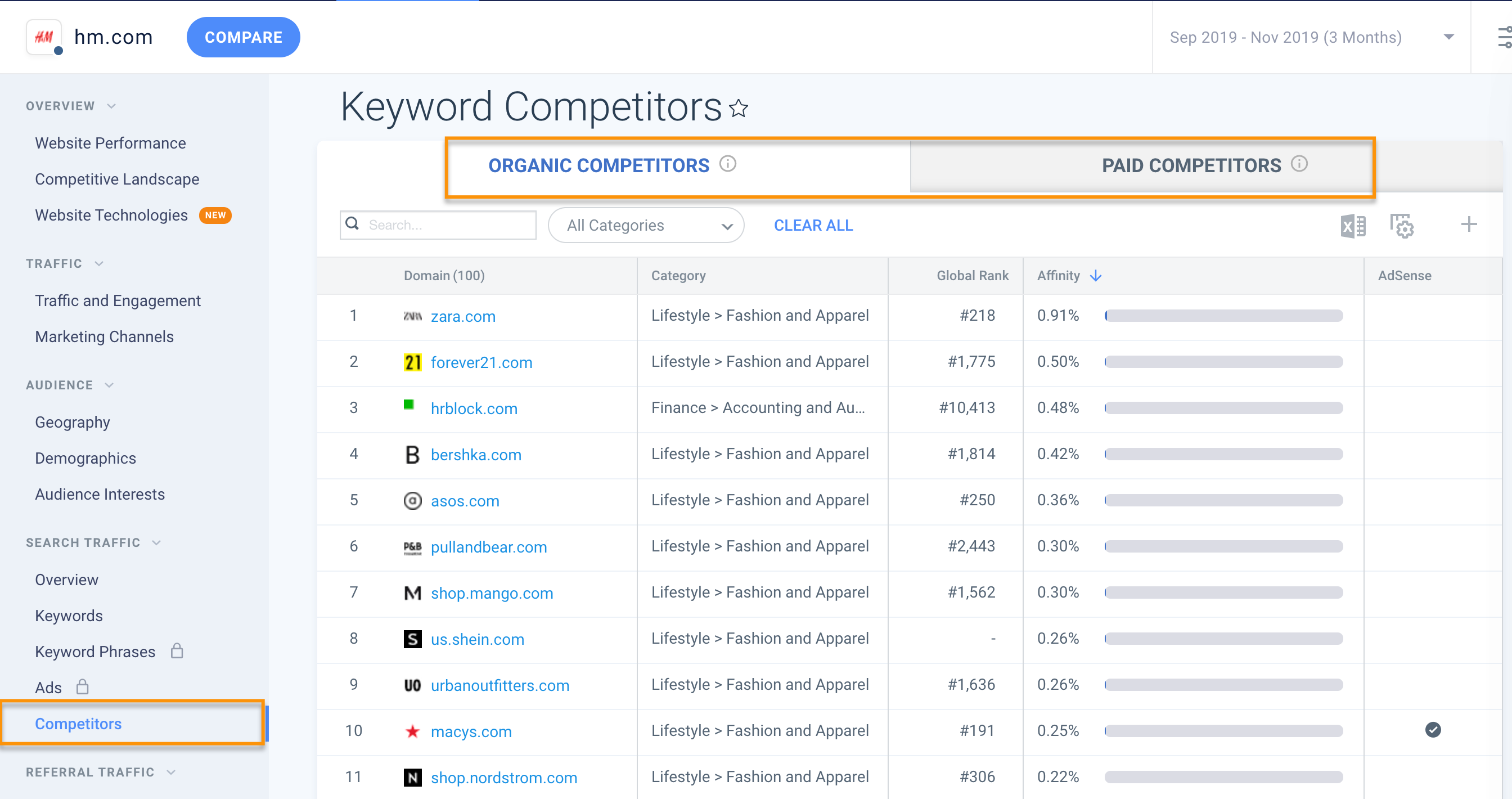 Audience Interests
On the left-hand navigation bar, click on 'Audience Interests', under 'Audience', to follow the consumer journey over a 24 hour period and see the most commonly visited websites in conjunction to the one you're analyzing. Using this feature is beneficial, as it will give visibility of the real-time competitor environment and highlight new or previously un-considered competition which is ordered in terms of relevance to the consumer, based upon your chosen website.