Analyze a website's performance by leveraging Sales Intelligence to improve conversions and win more deals through a consultative approach.
What is the Value of Website Performance Analysis?
Before you begin any type of sales conversation, you first need to understand how the client is performing. Using Website Performance insights will enable you to identify key insights on your client's business, allowing you to make informed suggestions on the ways in which their website engages within the right context of their competitive landscape.
We'll cover the following key points:
Get started by choosing a prospect you want to engage with, either in an email, a call, or an in-person meeting.
From the Sales Intelligence home page, type your prospect/customer's domain in the Search bar, and follow the instructions below.
Benchmarking your prospects' website reach and analyzing the quality of their traffic is important in understanding how effective their marketing activities are. This analysis will allow you to better understand the growth potential, areas for improvement, and competitor strengths.
Use the 'Compare' button to add up to four additional domains as a comparison - choose websites that compete with your prospect. Not sure who you should use as a comparison? Click here to learn how to find the right competitors and benchmark their performance.

From the left menu, select Traffic and Engagement to understand and benchmark their reach, health, and performance.
Use the following metrics to assess your prospect's reach and generate the right insight:
Use total visits to understand the total audience reach of your prospect vs. their main competitors.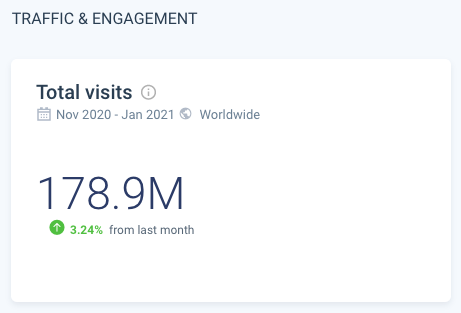 Use Device Distribution to understand how their audience is behaving based on the devices they are using to visit the site.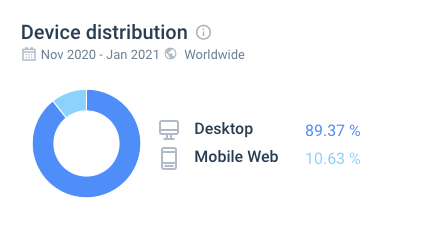 Engagement overview: See a summary of how successful a website is in generating and retaining visitors, which also highlights key insights on website experience.

Pages/Visit: The average amount of time spent, or amount of pages being viewed, on an average user visit to the site. For eCommerce sites, a low amount of time or number of pages means consumers are likely not being exposed to enough products or even reaching the checkout page.

Bounce Rate: This is a vital performance metric within the e-commerce industry in particular, as it shows the average amount of visitors who leave a website after viewing only 1 page, hence not converting as well as viewing a limited amount of content/products.

Traffic channels show you the ways in which people come to a website and are a suggestion of the overall effort a business puts into its digital marketing strategy.
From the left menu, select Marketing Channels as a 'behind the scenes' view into the marketing strategies of your prospects and their competitors.
Tip: By viewing total visits, you can identify which website is stronger in different channels. By viewing a percentage, you can compare which channels are the most significant for each website.

Direct: Use this metric to assess a website's brand strength (awareness and demand)

Email: A website that receives a large amount of traffic from email is likely to have a large loyal customer base that engages via an owned mailing list.

Referrals: A website that receives a large amount of traffic from Referrals is likely to have a strong affiliate strategy or enjoy significant media coverage.

Social: A website that generates high and consistent traffic from Social is likely to have a loyal community of users.

Organic Search: The site is well optimized for SEO. When there's a correlation with Direct traffic, it indicates strong brand awareness as many of the Organic visits generated by branded terms.

Paid Search: A website that generates a large amount of traffic from Paid Search is spending advertising budgets to increase brand awareness or target relevant audiences for specific products

Display Advertising: A website that generates a large amount of traffic from Display ads is spending advertising budgets on increasing brand awareness or targeting relevant audiences for specific products.
If you want to identify the best way for your client to optimize their search engine strategies, for example, we can use the organic search channel to highlight keyword opportunities that your client is currently losing traffic for.
From the left menu, select Website Technologies. It's a great way to see what technologies are already embedded on a website. Use this to find the following insights:
Whether they are already working with your competitors

If you are offering easy integrations to certain technologies, check if they are already working with the relevant solutions.

Which other technologies are they working with, and is that an indication that they are likely to buy.