The business world is increasingly focused on being data-driven, and this mentality is changing the way we work. In every department, whether it be marketing, operations, strategy, and sales, we are looking for ways to test new ideas, measure their performance, and then double down on the strategies that bring the most value.
Before reaching out to a prospect, it's critical to be prepared for the conversation with meaningful insights about what's driving their business. Instead of opening with your own product and value proposition, Similarweb enables you to use data to understand your prospects' needs and pains and use that to start a conversation.
Similarweb Sales Intelligence can help you uncover the right insights about your customers or prospects to position yourself as a consultant and gain their trust. Research their performance, their competitors' marketing strategies, and the state of the industry. The result will positively impact your customer's objectives, and ultimately, for yours.
The problem is that some companies are working in a vacuum. Data-Driven for some businesses means using only your own metrics and, at best, comparing the performance of one tactic to another. Yet, there is a fundamental lack of context and visibility.
We will use H&M as an example to better understand why it is crucial to have the full context to evaluate performance.
Step 1: Analyzing H&M growth in November. November is a very important month for every eCommerce site. Accordingly, it's great to see that H&M had a 6.99% growth in November compared to October.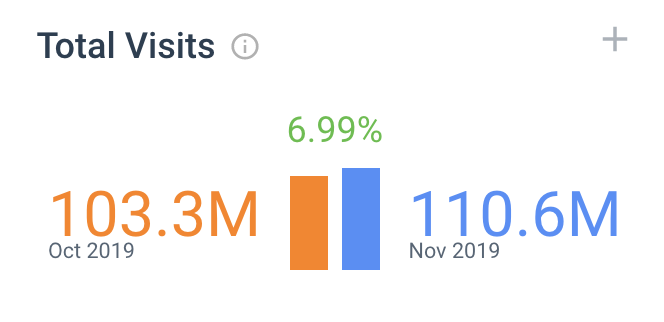 Step 2: analyzing H&M's growth in the right context. H&M's competitors had a much bigger growth with 19% for Zara and 37% for Gap.

H&M may seem like a great growth trend when analyzed individually. Still, the key is comparing performance against a business' competitors to truly understand whether the company was able to grab a bigger share of its potential audience.
Sales Intelligence brings meaning and value to data by providing context from their industry and the wider digital world.