The Total Traffic and Engagement Growth feature allows Similarweb clients to see period over period (YOY, QOQ, etc.) website traffic and engagement growth in compare mode - i.e. across multiple websites.
Note: When selecting the data range, make sure to mark the Compare to checkbox.
Total Visits Growth is presented in the form of a graph, and is available in two viewing modes:
View by website: This viewing mode gives you insight into the growth of a particular website compared to a competitive set over time, to understand who is the strongest player in terms of traffic growth. Below we see that all visits to all the fast fashion sites in the set declined YOY in Q2 2019. However visits to forever 21.com decreased the most YOY, -27.25%, and visits to hm.com decreased the least YOY, -8.6%.

View by period: This viewing mode gives you insight into the growth trajectory of a set of websites over time, indicating whether traffic to the group is growing, stagnating or decreasing. Below we see that visits to the set as a whole is decreasing YOY.

Traffic and Engagement over time is presented in the form of a line graph and provides more granularity on what is driving the change in total site visits. This feature allows you to easily understand if a website is growing in monthly visits, monthly unique visitors, average visit duration, pages per visit and/or bounce rate - compared to its main competitors.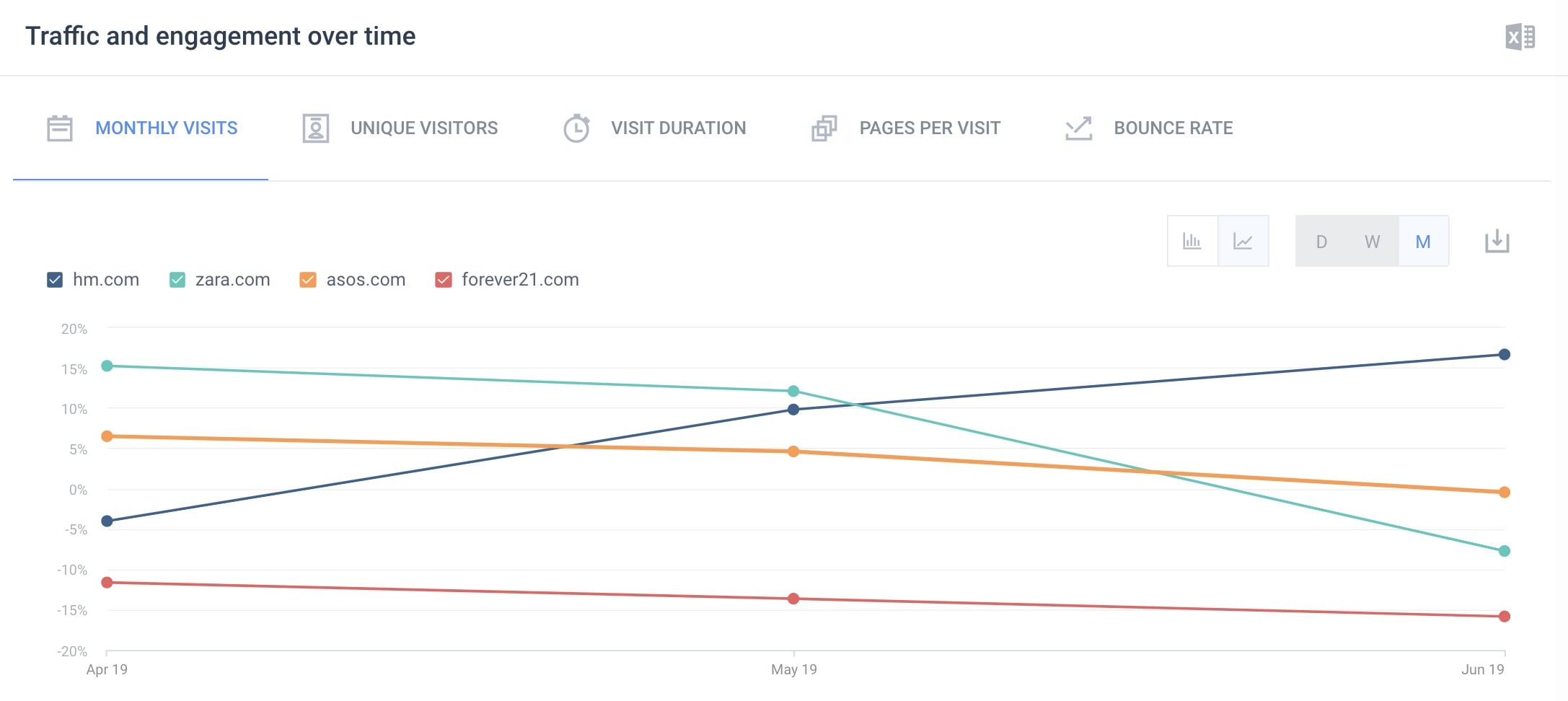 Get in touch with support or your account manager for more info on how you can gain maximum insights from this feature!
To build your analysis:
From Market Research > Company Research, select Website Analysis and enter a website you would like to analyze.

Go to Traffic > Traffic and Engagement.

Click Compare and add up to 4 of your competitors.

From the date picker, select the period of time for your data, and then mark the Compare to checkbox.

Note: You can select previous year or previous period.
The Total Traffic Growth graph will be presented above the Traffic and Engagement Growth graph. The default view is by website, showing the growth comparison between a set of websites.
Users also have the option to view in period mode to show the growth trajectory for a set of websites.
Average change is displayed in the top left of the Total Traffic Growth section and shows the weighted average growth of the sum of all visits across the group of websites in period 1 versus period 2 - whether you are viewing the graphs in website mode or in period mode.
The Traffic & Engagement over time graph is presented underneath the Total Visits Growth graph and compares growth over time The default graph shown is monthly visits but you can easily switch tabs to view the growth of the other engagement metrics.