View app engagement metrics to delve into the behavior of any app's active user base with the app Engagement tool.
App Engagement is a high-quality group of metrics for audience analysis and behaviors, including usage habits, user lifespan, and overall user engagement for the analyzed app.
Engagement rates are an indicator of how well your app meets user expectations after they download and use the app and over time. Retention is often dependent on the value your customers find in your service, and one way to measure that is with engagement insights.
Gain a complete understanding of an app's performance and strength and compare engagement with publicly reported KPIs using Similarweb's app Engagement metrics to generate insights. With these insights, you can create a plan to increase mobile app engagement.
To analyze and compare app engagement metrics for up to five apps, follow these steps:
In the Engagement overview chart, you'll find an average per metric, per app over the selected time period. With this side-by-side comparison, you can easily identify which apps are winning across engagement metrics.
Scroll down to the Engagement over time graph to view the monthly performance of the analyzed app(s) per each engagement metric over the selected time period.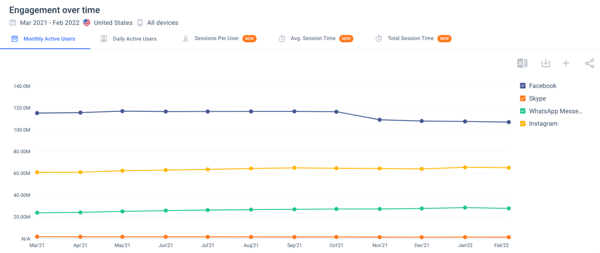 Sessions Per User, Avg. Session Time, Total Session Time. To learn more about these metrics, visit Session (Apps).
Note: If analyzing an iOS app, you will see only Monthly Active Users data.
Try it now! App Analysis > Enter an app and go to Engagement.