After setting up your lists based on new leads generated or your existing book of business, learn how to manage them more efficiently with a few easy-to-use tips.
Your everyday work with Similarweb:
If you want to get the full value from your Similarweb workspace, this is how we would recommend that you work with your lists:
Open your day by visiting your Similarweb Homescreen (bookmark for easy access)

View each list of leads/clients to see what are the most recent changes and prioritize your tasks for the day

Did something catch your attention? Take a deeper dive by further analyzing the relevant lead in the Research section
Set yourself up for success with these quick tips to customize your view and help you get the most out of your Workspace:
1. Add/edit metrics in your table
Click on the gear icon to see all the metrics you can add to your view.
Select any metrics you wish to see and click apply to add them to your table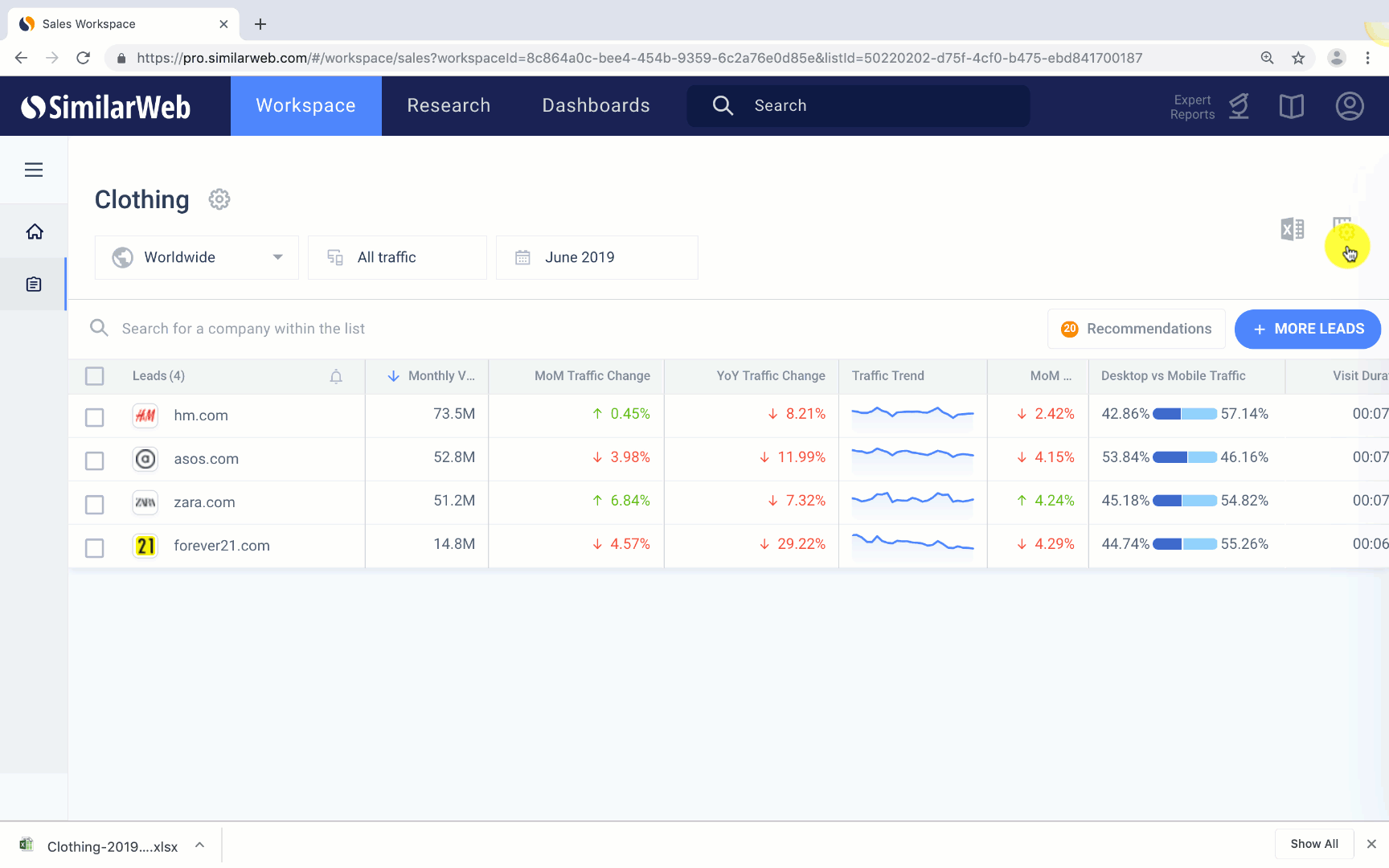 2. Sorting out leads to prioritize outreach
Your time is limited and you obviously can't reach out to all of your leads in one day, therefore you must learn how to prioritize your leads based on potential. Start by having a clear definition of what are the most important things that will make a lead a bigger potential for you.
For example, if you are an Ad-Tech company looking for publishers to partner with, you would want to prioritize your list of leads based on total page views or unique visits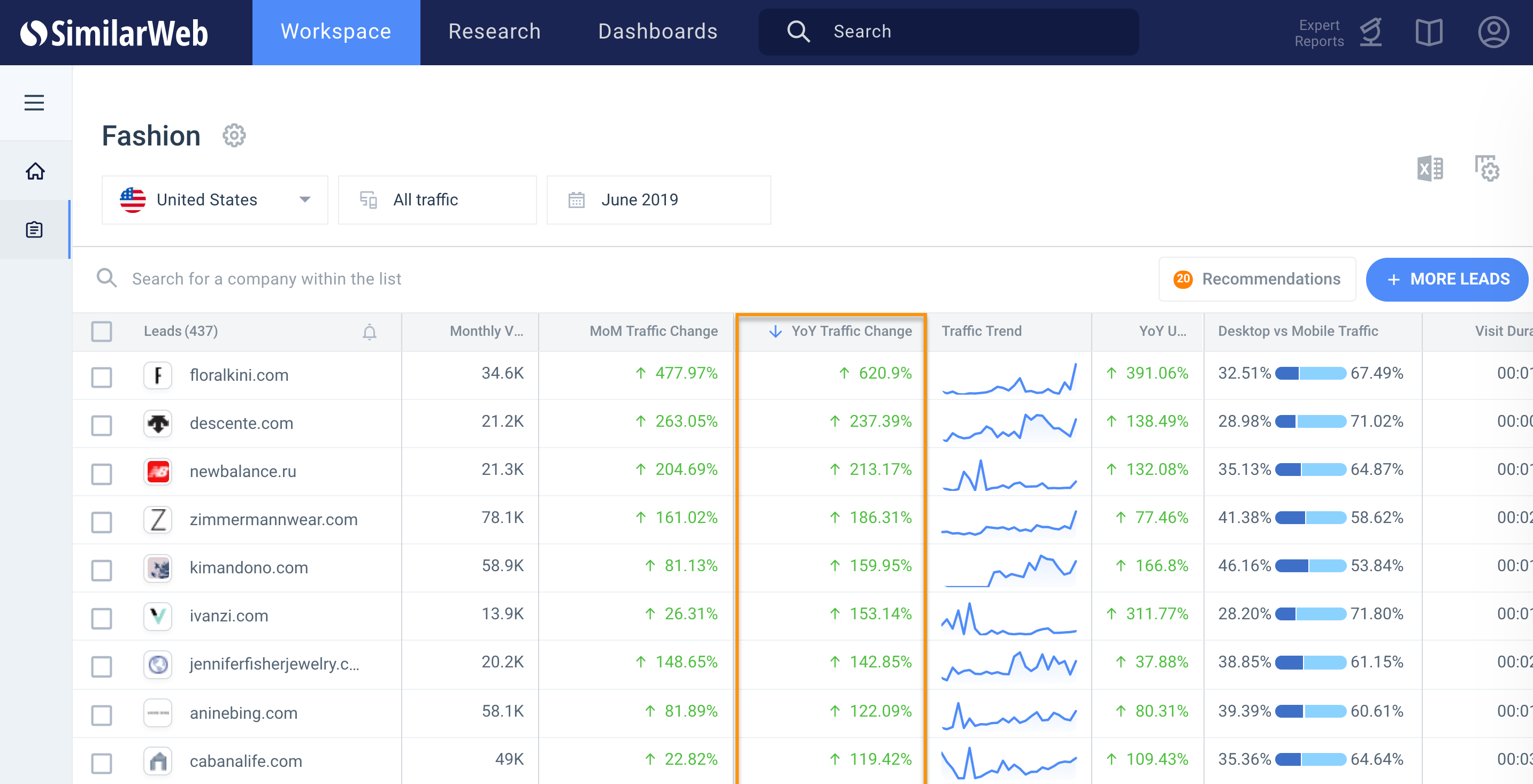 3. Qualifying
Use the sidebar to determine if the lead is relevant:
Evaluate growth potential based on visits trend - is it increasing or decreasing?

Evaluate brand size & reach based on unique visits

Evaluate on-site performance by analyzing engagement - time spend/pages per visit/bounce rate.
If you concluded this lead is not relevant, consider removing the lead from your list.
PRO TIP: Low engagement for an eCommerce site is an indication of a low likelihood for conversion.
4. Setting up your alerts
Make data work for you
Set alerts on traffic changes, and get notified when traffic from a specific market for a website you are following is changing. A change in traffic could be a strong indicator there's an opportunity to reach out and engage with this prospect/customer. Simply set the websites and countries you want to monitor and the platform will do the rest. These alerts will automatically be included in your list.
To edit the countries in which traffic is being tracked, click the gear wheel next to the list title, and click Feed. You will then see in blue 10 Countries Measured. By default, these countries are the top 10 most searched for countries within Similarweb. In order to change or add to the countries being tracked, click the pencil button next to 10 Countries Measured and add, edit or remove countries from the alert.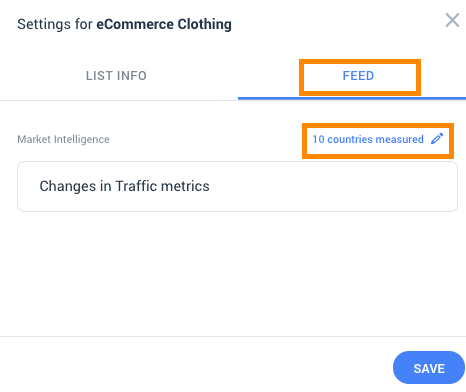 Within your lead list, a blue bubble will pop up next to the domain name to indicate an alert for a change in traffic.