When building your organic search strategy, it's important to know your SEO competitors and identify strengths and weaknesses in their strategies.
With Similarweb's organic search data and insights, you can identify your top organic search competitors, analyze your traffic share, and pinpoint opportunities to close the traffic gap.
Organic Traffic is the litmus test for any online business. Organic traffic is driven by user searches and it represents customer interests, awareness, and engagement -- which makes it a core focus for SEO and marketing teams. Understanding how to best position your site to earn more than its share of organic traffic is what makes a best-in-class marketing strategy.
Questions you should be asking:
Who is pulling clicks away from us online? How does our site stack up against the competition in terms of organic traffic? Which search engines are driving organic traffic, and what's the quality of that traffic?
In this article, you will learn how to find and evaluate traffic insights to help you optimize your marketing strategy using fresh and reliable data.
Skip ahead:
Similar Story: In this article, we'll provide an example of how a company can find valuable insights and put them to use to grow their business.
| | |
| --- | --- |
| Similar Story: Meet Stumptown Roasters | |

Stumptown Roasters is a popular, award-winning coffee roaster competing in a crowded market. Throughout this guide, we will use Similarweb insights to discover opportunities for Stumptown to improve its organic traffic strategy.

Bring on the buzz!
One way to zero in on your competition is to look at the websites that are pulling organic traffic from the same search terms that you're using. Put it this way: if you're in the coffee business and another company is gaining organic traffic with search terms like "organic," "roast," or "fair trade," then they're a competitor.
Step 1: Identify competitors
In the Competitive Analysis module, enter your website domain in the search bar. Then, navigate to the Organic Competitors page to find the list of your top competitors in the organic search space.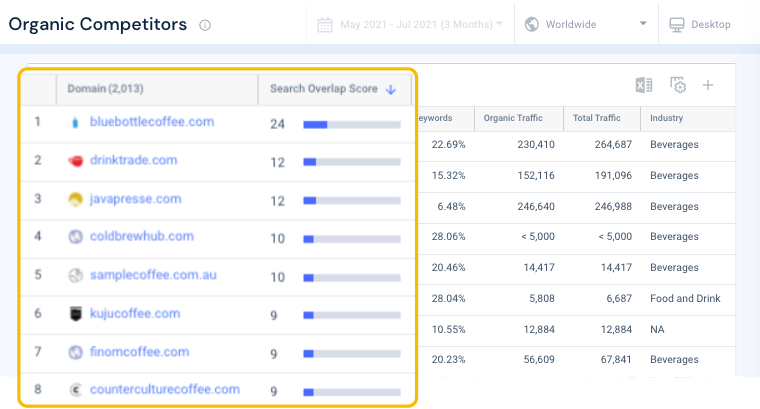 | | |
| --- | --- |
| | Metrics that Matter: The domains that top the list are your leading organic search competitors. Competitors are listed in rank order based on Similarweb's Search Overlap Score, which reveals the sites competing for organic traffic |
Step 2: Uncover competitor's traffic performance insights
With the list of top organic search competitors in hand, you can evaluate the traffic metrics and insights for the competitive set.
Go to the Website Performance page and click +Compare. Add up to four competitor sites. Use the Time, Geography , and Traffic Type (desktop or mobile) filters to refine your analysis.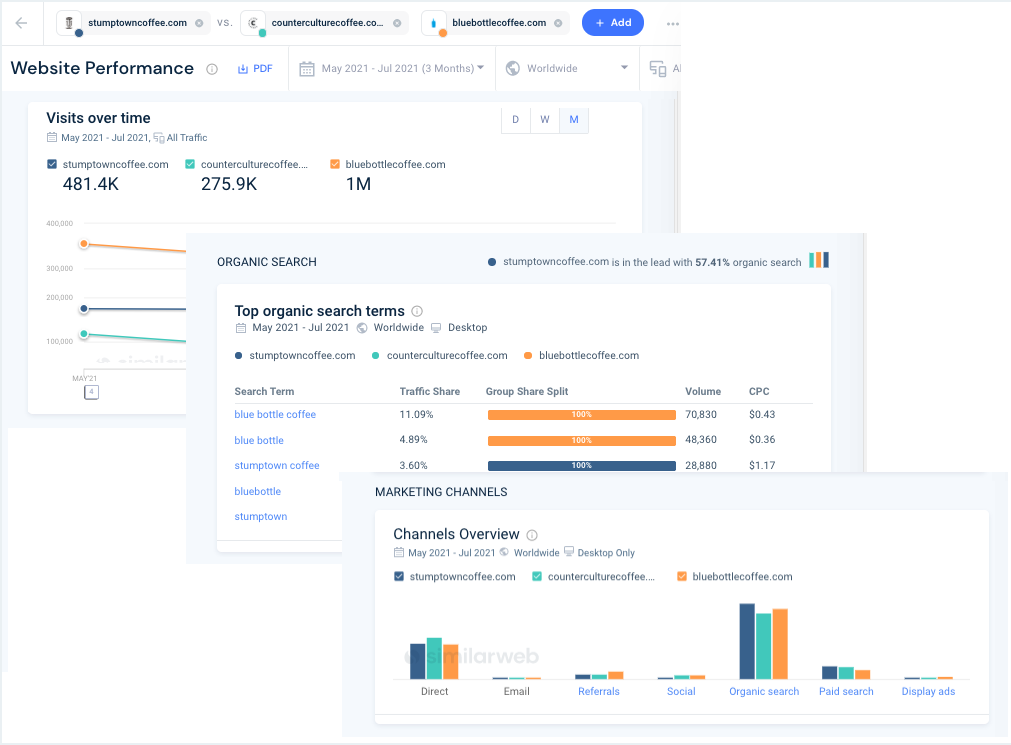 Metrics that Matter: Based on your business objectives, use a combination of insights to identify and evaluate your key competitors and opportunities.

Compare Visits Over Time to understand traffic trends, Marketing Channels to see traffic source distributions and Organic Search for a measure of audience interest and intent... and easily benchmark overall performance across your competitive landscape.
| | |
| --- | --- |
| Similar Story: Stumptown Roasters | |

On the Website performance page for Stumptown and its competitors, the Geography module shows competitor Blue Bottle Coffee is dominating in South Korea. Stumptown may want to explore this region if they want to gain a foothold with the coffee lovers in APAC.
Give it a try! Start your own competitive analysis now.
Now, let's talk about traffic share.
How does your site compare to your competitors when it comes to organic search traffic? How can you discover the organic and non-branded keywords that are driving clicks?
When it comes to attracting new users with organic search, you'll want to look at the available market -- that part of the addressable market that you can really compete for.
Step 1: Traffic share by marketing channel
On the Website Performance page, scroll to the Channels Overview chart for a view of the traffic distribution across Marketing Channels.
Tip: Hover over the graphs to see the % of traffic distribution for each channel
Step 2: Traffic share by organic search
Click Organic Search to drill into the Organic Search Overview page. The three widgets at the top of the page provide a gauge of overall search activity including Total Search Visits, Organic vs. Paid, and Branded traffic.

Step 3: Top organic search keywords
To dive deeper into the Organic traffic insights, go to the Search>Keywords page. Set the filters to Organic Keywords, and Non-Branded Keywords to see Total Search Visits and Competitive Traffic Share for organic search, and get a list of top organic keywords and related insights.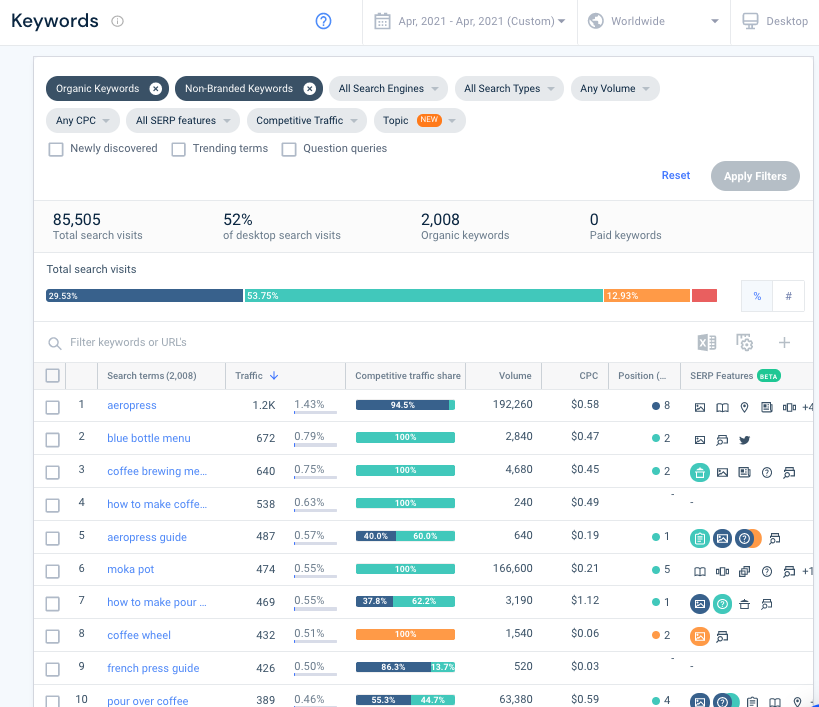 Metrics that Matter: All together these insights show which organic, non-branded terms are driving the most traffic volume, who is receiving this traffic (competitive traffic share), and how this traffic is priced (CPC).

Use these insights to inform your organic search strategy and increase your share of the addressable market.
Tip: Want to see which searches are driving traffic on mobile? Toggle the Desktop filter to Mobile Web to do a similar analysis. Looking across desktop and mobile traffic can help you figure out who is looking for what and where.
| | |
| --- | --- |
| Similar Story: Stumptown Roasters | |

Based on Stumptown's analysis, the competition is winning the top keywords like "coffee brewing methods" and "moka pot." Stumptown might want to invest in these informational terms.
Just like good friends, when it comes to organic search traffic it's not necessarily about quantity -- it's about quality. Digital signals like Visit Duration, Pages Per Visit, and Bounce Rate act as proxies for customer engagement and even loyalty -- the more time spent and the more pages visited, the more they seem to like you.
What percentage of your online traffic is engaged with your brand as compared to competitors?
To assess the quality of your organic traffic, navigate to the Search - Overview page and scroll down to the Search Traffic & Engagement. Set the filter to Organic Traffic.
Metrics that Matter: Looking at the tabs across the top of the Traffic and Engagement graph:

Visit Duration: Average time per visit across a set timeframe. Look out for the website with the highest average time spent across the competitive set.

Pages Per Visit: Average number of pages seen per visit. Look out for the website with the highest average out of the competitive set.

Bounce Rate: Percentage of visitors that navigate away from selected sites after viewing just one page (no... come back!). You'll want to identify the website with the lowest rate this time.
Ask yourself questions as you go through the data. Think like a detective. What's happening across these metrics? What could be the cause of any drastic changes in engagement? See who's shaken up their strategy and what you can learn.
We know Google is the most popular search engine in most regions. But you could be missing out on a local search engine that's driving traffic to your competitors. Or, you could discover a percentage of your customer base that prefers a more private search engine like DuckDuckGo.
In any case, it's important to know how search engines come into play as you go about your competitive landscape analysis.
Step 1: Find traffic volume distribution by search engine
Go to the Search - Overview page and scroll to the Search Sources widget.
| | |
| --- | --- |
| | Metrics that Matter: Search Traffic by Engines is the share of search traffic sent to analyzed sites from the same keywords. See which engines, in addition to Google, are driving traffic to sites within your competitive set. Choose a search engine that you'd like to learn more about. |
Step 2: Find top keywords by search engine
Go to the Search - Keywords page. Use the filters to refine your analysis to Organic and Non-Branded, and switch All Search Engines to a specific search engine. For this analysis, we're using DuckDuckGo.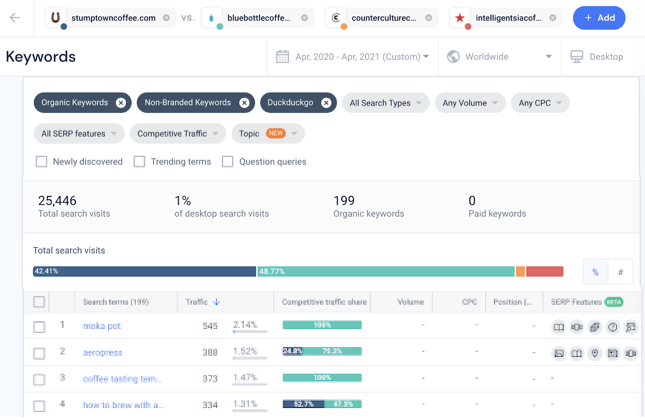 | | |
| --- | --- |
| | Metrics that Matter: View the number of Total Search Visits, the number of Organic Keywords, and Competitive Traffic Share driven by different search engines. |
How does this search engine compare to Google? Think through how you can leverage these insights for your keyword strategy on this platform.