Location: SimilarWeb PRO > Keyword Analysis
Description: Keyword Analysis provides a deep-dive into any keyword on the web in order to discover the competitive landscape for any search term.
Keyword Analysis measures actual traffic generated by a particular keyword to a particular site from any search engine - not just a snapshot of the keyword position on the results page. In addition, it includes information on keyword CPC and Volume, as well as website position and landing pages related to the SERP.
Business Implications:
SEO/PPC Managers – Qualify whether to start optimizing for a new keyword. Understand the difficulty of obtaining traffic from the keyword, by understanding who is currently competing for it, and better understand revenue potential for untapped keywords.
PPC Managers – Understand keyword market share, who is bidding for your optimized keywords, and which landing pages would work best for a particular keyword.
Content Managers – Generate content based on trending keywords for your industry, and drive organic traffic to your company's website and social pages. Understand which other companies are also incorporating the keyword into their content and optimize accordingly.
Use Case Examples:
Gaining Insights with Keyword Analysis
An analysis of the keyword "website builder" reveals that competition is fierce among companies offering this type of solution.

With over 1.8 million annual searches and a CPC approaching $18, this could be considered a critical industry keyword.

A leading player such as Wix.com would likely continue to optomize for and bid on this keyword to ensure it retains a high position for both paid and organic search, with the company receiving 18.10% and 22.26% of traffic, respectively:


Finding Less Competitive Keywords with Keyword Analysis

Newer players can use the Keyword Analysis feature to examine less competitive, and therefore less costly, keywords for their SEO strategies and PPC campaigns. Pursuing a number of longer-tail and/or less popular terms can generate a significant amount of increased traffic. For example, the term "website creating" is considerably less expensive than "website builder". In this case, Wix.com receives only 6.76% of the organic traffic from this term, leaving plenty of ground for a new player to conquer.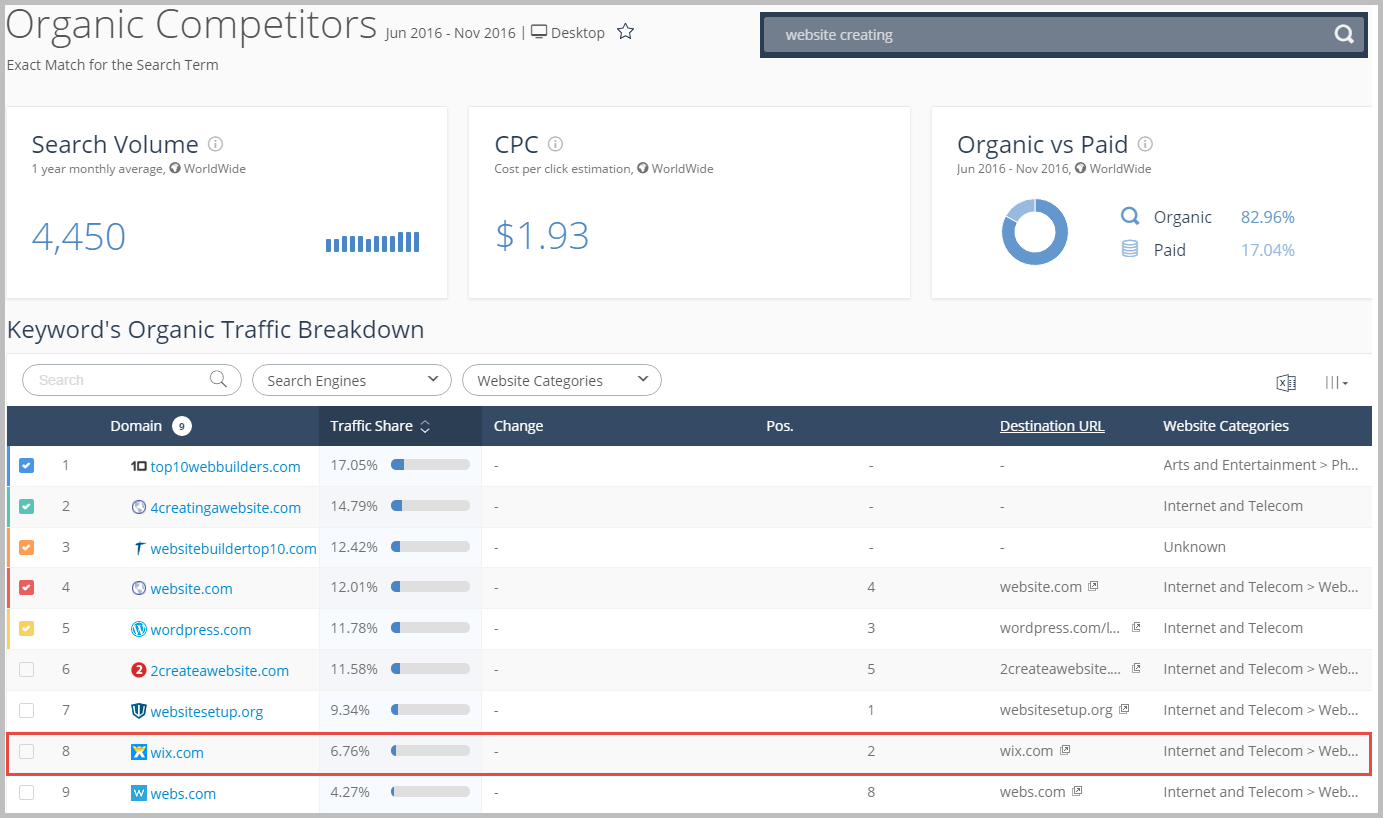 Visuals: