Location:  Industry Analysis module from the main menu
Description: Uncovers the competitive landscape, and a company's position within a market. Discover expansion opportunities using industry level data for over 250 categories, 60+ countries and 15+ US states.
Industry Analysis includes data for: 
Leaderboard:
Top Websites - A list of domains that are ranked based on SimilarWeb's Website Rank algorithm.
Leaders By Source - Industry leaders according to each traffic source (Referrals, Search, Social, Display Ads, Direct and Mail).
Industry Index (based on an index of the top 100 websites in the category):
Business Implications:  Make Strategic Business and Marketing Decisions with Industry Analysis. Assess new markets and learn how to penetrate them, identify industry leaders, uncover their secrets for digital success, and build the best growth strategy for the targeted industry and market.
Use Case Examples:
1.  Enter a New Market: 
The car purchasing industry in the UK market mainly includes car dealership websites; 'Autotrader.co.uk' dominates, holding 28.97% of the market share. Auto manufacturers can easily penetrate this market by partnering with this site and others in the list.
Industry Analysis for 'Car Buying' in the UK market for September 2016: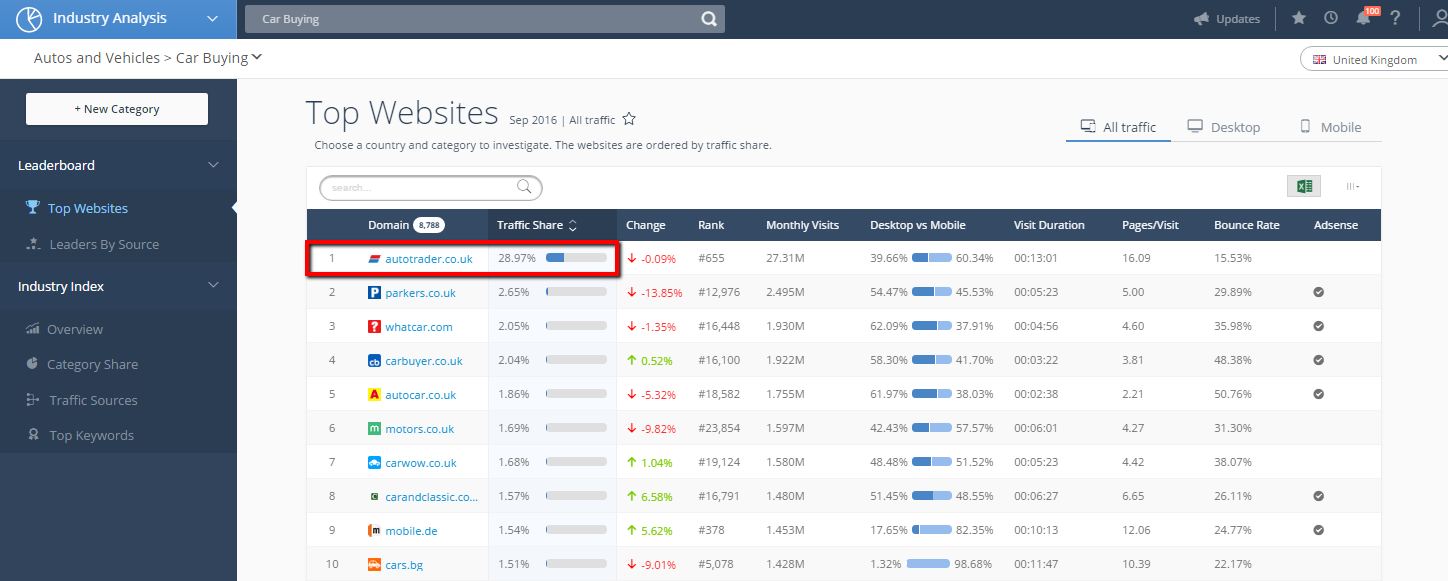 2. Discover & Qualify Potential Investments: 
An online retail giant is looking for local expansion opportunities via classified sites. Using the Top Sites feature the retailer can easily access a list of these sites, including the following important qualification and benchmarking metrics: industry traffic share and website rank. Download this list to Excel for further analysis via SimilarWeb's Website Analysis module or via SimilarWeb's API.
Image for Industry Analysis for 'Car buying' in the UK Market for September 2016 - Top referring sites: