SimilarAsk is an AI analytics tool that gives you the ability to ask a question and instantly navigate to the data you need.
What's the value of SimilarAsk?
Whether you want to learn which of your competitors spent the most on ads this quarter, understand the leading players in your market, or see how your audience interacts with your competitors, SimilarAsk leverages the power of Similarweb's data to enable you to gain instant AI-driven insights into whatever you need in just a few clicks.
How to use SimilarAsk
Open the SimilarAsk tool

From any page, open the left-hand sidebar and click the "SimilarAsk" logo on top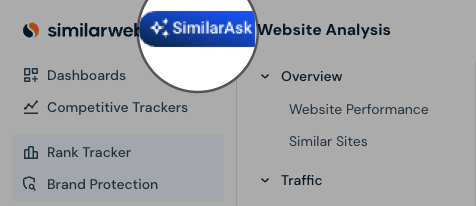 Tip: You can use the keyboard shortcut alt-K on PC (cmd-K on Mac) to open SimilarAsk from any page
Enter a prompt
Tip: Not sure where to start? Look through SimilarAsk's sample prompts!
Click "Enter"

SimilarAsk will automatically sort through Similarweb's data to provide you with reports relevant to your query

Click the report you want to view

You will be routed directly to the feature/page that the report is on