Similarweb's Viewer feature lets you share business critical insights reports with anyone in your organization.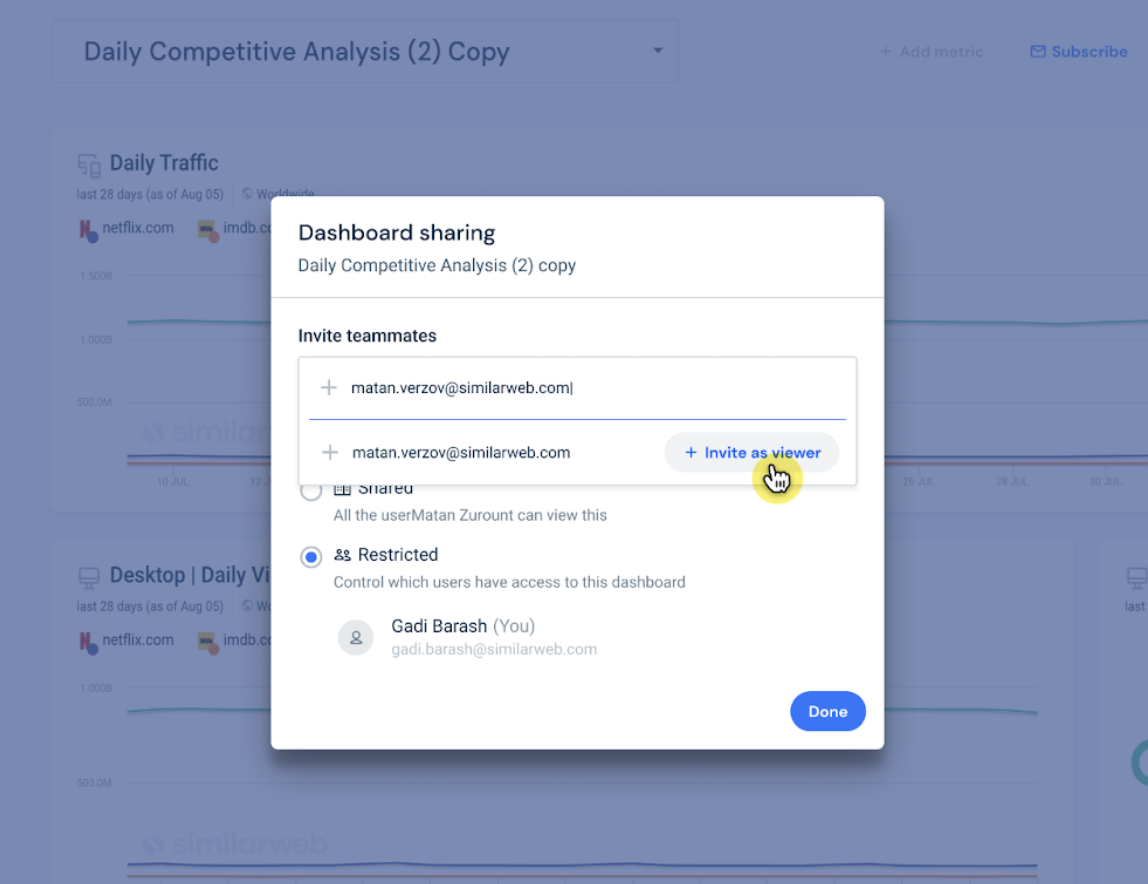 Want to send a competitive overview to your manager? Perhaps you need to show a performance snapshot from a recent campaign to other members of your team but they don't have access to Similarweb? Well,now you can with Similarweb's Viewer function.
What is the value?
Sharing your tailored dashboards with other internal colleagues, leadership or team members allows them to get the latest campaign performance, competitor benchmark, or market analysis insights…exactly when they need it. They can also subscribe to the dashboard so they get regular monthly updates on that specific dashboard without having to access the platform.
Increased visibility and reporting: give visibility into market performance and competitors insights to Managers and Leadership quickly.
Democratized data: Give more teams and business units access to critical insights and data at no extra cost
Insights on demand: Viewers can review regular basis without having to access the full platform
Team Alignment: teams can stay up-to-date on current insights, thus aligned and working towards the same goals -- increasing collective productivity.
Better allocation of seats: stakeholders and leadership teams have visibility into important reports, while Similarweb seats are allocated to those who benefit from full platform access.
Important:
Viewers must have the same organization email domain.
Viewers can access shared dashboards whenever they want, but cannot edit them or access other parts of the platform.
The Viewers function is only available for customers on our Business and Enterprise packages.
How to share dashboards with Viewers
To setup and invite a Viewer for your dashboards, follow these steps:

From a Dashboard:
Log in to your Similarweb Account and access a custom asset. For example, open a dashboard or custom industry that you've created.
Click the Share link.
Access the dashboard that you would like to share, and click on the Share button.
Under the Invite teammates table, view the list of existing Account Users connected to the dashboard.
Enter the email address of the desired viewer, and click Invite as Viewer.
The invitee will receive an email notification explaining they have been given view-only access to the shared dashboard. The viewer much click the link and register in order to gain access to the shared asset.
Note:
Invited Viewers will be shown as 'Pending' until their first visit to the dashboard.
You can re-invite pending Viewers by sending them another invitation notification.
Viewers and Users with access to a Dashboard will have a corresponding Viewer [Icon image] and User [icon image] icon next to their name.
Once a Viewer accepts their invitation, they are then added to the account as a Viewer and their access can be managed by Account Administrators.
What can a Viewer do once in the platform?
Once the invited viewer clicks the invitation link in email, they are required to register and setup a password. They'll use their email and password each time they wish to view a Dashboard that has been shared with them.
Once logged in, Viewers can access the 'Shared with me' section to view shared dashboards. In viewer mode, all editing, sharing and export options are disabled.
Subscribe to a Dashboard
Viewers have the ability to subscribe to any of the Dashboards shared with them. This will allow them to receive monthly updates on those important performance insights straight to their inbox.
Removing Viewer access to a Dashboard
To remove viewer access, simply click the X next to the user/viewer name or email address.
Viewers access can also be managed by the Account Administrator by going to the the Account Settings section of the platform.