Allow users to assess a market at a glance by answering questions like:
How big is the market? Is it growing or declining?
Who are the top players in place?
How consolidated is the market?
How difficult will it be to compete or enter this market?

What is the Value?
Using Market Overview could support you in the early stages of your market research and equip you with insights on key areas:
Assess market dynamics and potential challenges.
Support strategic choices and resource allocation
Track category's performance over-time to identify opportunities.
Important: All calculations and metrics provided in this section are based on the top-100 websites in an industry.

How to Use Market Analysis
Within Market Research > Market Analysis, choose an industry. Or, create a custom industry to analyze a personalized view of your market. Once selected an industry, continue to Overview to start your market analysis.
To specify your analysis, Select the country and the time period you want to analyze the market for - using the filters at the top.
Definitions and Metrics

Audience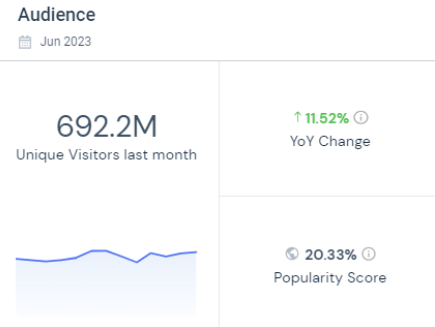 Audience - Unique Visitors (how many people are included in this market)
YoY Change - The audience growth compared to the same month in the previous year.
Note
Market size is based on unique visitors in the most recent month.
Popularity score: The share of unique visitors to the selected market out of the entire digital population in the selected country.
Use this metric to understand how well your market reaches a specific country's population.
Key Sizing Indicators
Knowing the size of the audience is often a great proxy for market size, however different markets operate under different business models. In order to assess the attractiveness of a market, different KPIs should be used in addition to Unique Visitors. The Key Sizing I(ndicators widget aims to collect different Traffic & Engagement metrics that will help inform market sizing models for all kinds of markets.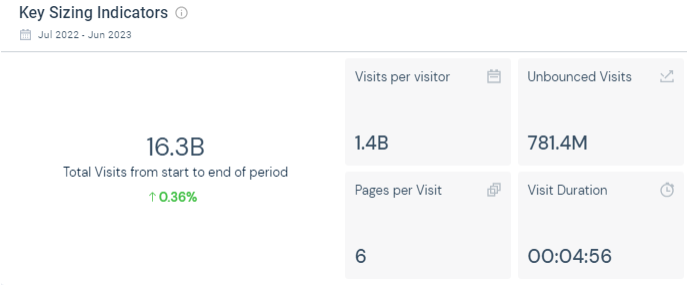 Visits/Visitor: The average number of visits per unique visitor in the given time frame. This is calculated by dividing the number of monthly visits by the number of unique visitors. This could be a strong indicator of engagement (the higher the frequency of visits, the more engaged within this market).
Unbounced Visits: Sum of visits where the visitor does not immediately leave after viewing a single page. Unbounced visits out of total visits could also be a good measure of the market size, focusing on more engaged visits.
Pages/Visit: Average pages per visit for the selected time period.
Visit Duration: Average duration of the visit in hours, minutes, and seconds (this average includes bounced visits).

Monthly Visits: Sum of all visits (non-unique, desktop & mobile) per month. This is a great metric to understand the overall size of a brand.
Unique Visitors: Average number of unique visitors per included month.
Use this graph to analyze the market dynamics over time.
Read more: Market Sizing: Measuring Your TAM, SAM, and SOM
Top Players
Provide you with a high-level overview of the market leaders and their traffic share (monthly visits) in the last month.

PRO Tip: Tracking digital market share is a vital way to assess your competitive position, evaluate performance, identify opportunities, and make strategic decisions.
Top Countries
Top countries that send traffic to the market.

PRO Tip: Knowing the most dominant countries in a market is important in order to identify opportunities, target marketing efforts, make informed market entry decisions, and adapt strategies to cultural factors for sustained growth and success.
Market Difficulty
Goal: Assessing the level of difficulty to enter/compete in a market, as indicated by the difficulty score (High, medium, or low).

There are 4 factors allowing you to assess the level of difficulty of the market:
Loyalty - Indicated the % of users who visit only 1 site in the industry.
Consolidation - The share of traffic consolidated by the market leaders (top 1%).
Cost - A calculation of the estimated spending on PPC search terms per site in the selected industry.
Brand - The % of visits landing directly on the brands' sites or via branded searches.
Note
These rules and concepts are indicative of market difficulty. For example, a large player might find it easier to compete in a market they already dominate. We focus here on general rules as opposed to specific cases.
Market Distribution
Reveal the overall shape of your industry (how fragmented or consolidated it is) and whether market leaders take a bigger percentage of the traffic share.

Note
Market Distribution is only available for pre-defined Similarweb industries.

Related Articles
Market Players
Market Segmentation
Check it out! Market Research > Market Analysis > Select Industry > Overview

FAQs
How do you determine the top 100 websites?
The Top 100 websites in an Industry are based on the most recent month's data. This means that with the release of each new month of data, the Top 100 sites in an Industry may change based on which sites received more visits in the most recent month.
The list of top sites will not change when the time frame is adjusted because we are always showing the Top 100 sites based on the most recent month's data.
How are Unique Visitors calculated?
Please check our article on Unique Visitors and their calculation method.